As part of the Galle Literary Festival, I had the opportunity to speak with Shashi Tharoor, whose writing I've immensely enjoyed read since my University days in India. As the festival's website notes,
Shashi Tharoor is the prize-winning author of twelve books, both fiction and non-fiction, including the classic The Great Indian Novel (1989), India: From Midnight to the Millennium (1997), Nehru: The Invention of India (2003) and The Elephant, the Tiger and the Cellphone: Reflections on India in the 21st Century (2007). He is an elected member of the Indian parliament, former Minister of State for External Affairs and former Under-Secretary-General of the United Nations.
Our hour-long conversation at the Festival was anchored to The Elephant, the Tiger and the Cellphone: Reflections on India in the 21st Century, a collection of essays on India which I noted flows naturally from his earlier collection Bookless in Baghdad.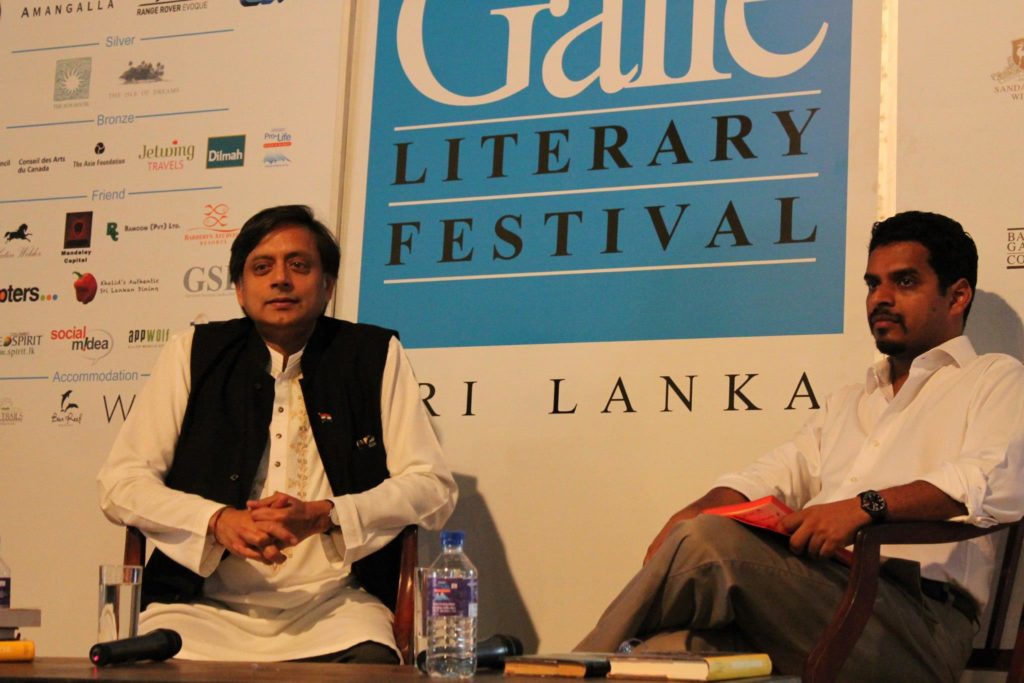 We begin our conversation with an exploration of relative truths, and whether under India's national motto ("Satyameva Jayate" or literally, "Truth Alone Triumphs") a dalit's truth, for example, is perceived to be as true as Shashi's, and how if not, the construction of truth occurs in 21st Century India. We move on to a detailed description by Shashi about how Information and Communications Technologies in general and the mobile phone in particular have changed the modes of production, access and dissemination of information in India, and through that, impacted many aspects of social, political and cultural life. Shashi talks about the Indian government's vastly different attitude to telecommunications from the 1980's to date. He also noted that the impact of mobile phone on Indian life flagged his book is woefully outdated today, given the strides made in regulatory reform and the growth of markets since it was first published.
We move on to cultural symbols and 21st Century India's cultural fabric, with a question anchored to a letter by one Shahnaz Habib quoted in Shashi's tome who asks "why are there so few Muslim or Christian symbols in our public spaces if cultural assimilation has been so successful" and goes on to note that she wishes for Shashi "… the knowledge of what it feels like to be a minority". I noted that given Sri Lanka's own post-independence history of ethnic marginalisation, this was quite a resonant turn of phrase, and asked Shashi to place his locate his optimism over India today against real, systemic problems of governance and government.
In his book, Shashi's essay on Indians who shaped his India includes only two women. Flagging Kiran Bedi, Kalpana Chawla, Hema Malini, Rekha, Lata Mangeshkar, Asha Bhosle, Arundhati Roy and even Aishwarya Rai, I asked him why he didn't consider more fully the role of women in the shaping of India. His answer naturally progressed to the furore over his essay on the sari, and whether he regretted as a columnist ever saying or writing something (Shashi comes back to this point when a member of the audience, during question time, asked him about his 'cattle class' tweet!)
The rest of our conversation probes a number of areas – from diaspora engagement (NRI's to ABCDs!), the freedom of expression and the censorship, including of online media, to Shashi's deep scepticism over Indian elections as an event juxtaposed against his faith in Indian democracy as a larger process that warts and all, works. He also took a number of interesting questions from the audience that gave him an opportunity to reflect on Indian life and politics today.
The organisers of the Galle Literary Festival kindly provided the following podcast of our conversation. Total playing time is around an hour and five minutes. To download the file as an MP3, click here. The audio file is around 77Mb.