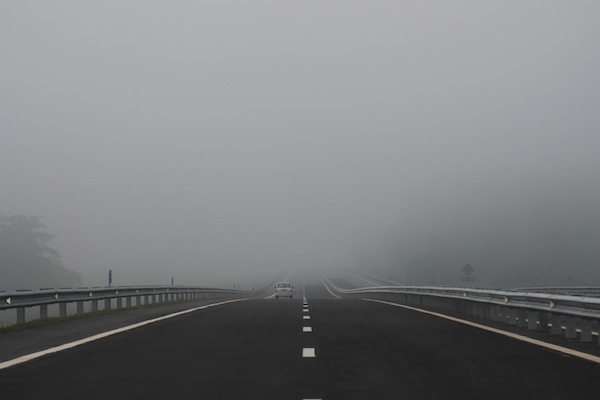 We drove down to Galle today on the newly opened E01 road, more commonly known as the Southern Highway / Expressway. Setting off at 6.33am, we were in Galle at 7.45am, and setting off after a leisurely breakfast at around 9.45am, we were back in Kottawa around 10.45am. Many will take this same journey in the days and weeks ahead just to experience the road, Sri Lanka's first highway. To be able to go to Galle and return in such a short time is, for those used to the 3 – 4 hours it takes along Galle Road, nothing short of incredible.
Our impressions of the journey follow along with some photos of E01.
The drive just before sunrise, weaving through countryside as day breaks is nothing short of spectacular. It is beautiful to the point of distraction, since though driving at over one hundred kilometres an hour demands complete attention on road conditions, the eyes are in constant competition with the pull of the scenery. The complete absence of any billboards and advertising is wonderful.
There is very little traffic on the road. And yet, the toll gates in Galle and Kottawa (the Colombo side entrance) struggle to deal with traffic. There is no automated toll system / lane, there are too few lanes at the toll booths, the ticketing is manually conducted and exiting the expressway takes time on account of the payment. These are bottlenecks, and will grow worse over time as traffic flows also increase. Doesn't seem to be room for expansion of existing tollgates, but we hope there are some plans for enhancing and increasing them at every entry and exit point.
Road conditions from Kottawa to Nugegoda vary widely. The famous 'debichchiya' on High Level Road remains a bottleneck, and though the road has been considerably widened on both sides, the Delkanda Junction is also a major bottleneck. The junction is currently under construction, adding to the delays. The Maharagama area is full of pedestrian traffic. The widening of the road from Maharagama to past the Pepiliyana Junction (up until the Nugegoda flyover) has been done without any consideration at all for a pavement. People are forced to walk on the main road, amongst cyclists, three wheelers and other faster moving traffic. The newly carpeted road is considerably high in some places from the ground and for the elderly, shopping laden pedestrians as well as cyclists, this is extremely dangerous. Though another was promised, the Nugegoda fly-over is still a rather small affair, with traffic from two lanes nudged to a single lane on it. Bus halts placed too close to it, coupled with the atrocious driving habits of private buses in particular, add to the congestion. At school times, traffic basically comes to a complete standstill in this area.
What all this essentially means is that travelling from the heart of Colombo to Kottawa will take, particularly during rush hours, far more time than travelling from Kottawa to Galle.
E01 clearly cuts through the countryside. This means that it cuts through areas previously inhabited by wildlife. It is unclear how effective measures to prevent wildlife from entering the road are successful. Even during the day, the animals on the highway are a life-threatening danger. This is a serious problem, and we do not recommend driving on the road at night.
We counted at least 50 dogs on the road going to and returning from Galle. They are on the driving lane and lounge as well as sleep on the overtaking lane. The highway undulates, and upon reaching a crescent, there are occasions when corrective measures to avoid running over a dog result in driving that can lose lives. The mist that enshrouded parts of the highway in the morning makes this worse. Dogs were seen crossing the road, lolling on the emergency lane and in between the road dividers, and darting across the highway.
In addition to dogs, there are sections of the highway were low flying birds almost hit the vehicle, suggesting that the highway is cutting through what may have been traditional nesting grounds. A photo above captures the problem – we weren't able to make out what this bird was, but it just cut across the vehicle, which at the speed one travels in, is most disconcerting.
As another photo above shows, there are also sections of the highway where there are a lot of peacocks. They literally glide down from the cliffs alongside the road, and then meander across the highway.
We didn't see any other wildlife (e.g. cows) but the abundance of stray dogs alone poses a risk we believe can lead to serious injury and even the loss of life if unchecked.
We noticed a number of vehicles stopped by the side of road with mechanical defects, suggesting that motorists keen to experience the new highway aren't aware of the toll it takes on a vehicle at sustained high speeds.
Police presence was marginal. Those who were roadside seemed more interested in lane discipline than checking speed. We averaged around 110 – 115kmp/h. Many cars, including for some reason a large number of unregistered vehicles and those with garage plates regularly overtook us doing upwards of 140kmp/h. Even the Minister in charge of highways publicly stated he went on the road at 180kmp/h. It is unclear therefore whether the stipulated speed is going to be strictly enforced. The road itself allows for higher speeds, but encountering a stray dog at this speed is not a physics experiment we are inclined to try or experience.
There is no signage at all with emergency telephone numbers, so if you do get stuck and need help, it's not at all clear to dial 1969, which is the highway's dedicated emergency hotline.
The emergency lane / hard shoulder seems far too small, and is barely wide enough for a family sized car, leave aside a larger SUV. The road itself lacks adequate rest areas for drivers to rest. Microsleep at high speed kills, and its unclear why there are so little places for R&R.
Google Maps does not feature E01. We don't know if local satellite navigation devices and databases (e.g. Dialog SatNav) have been updated with the road either.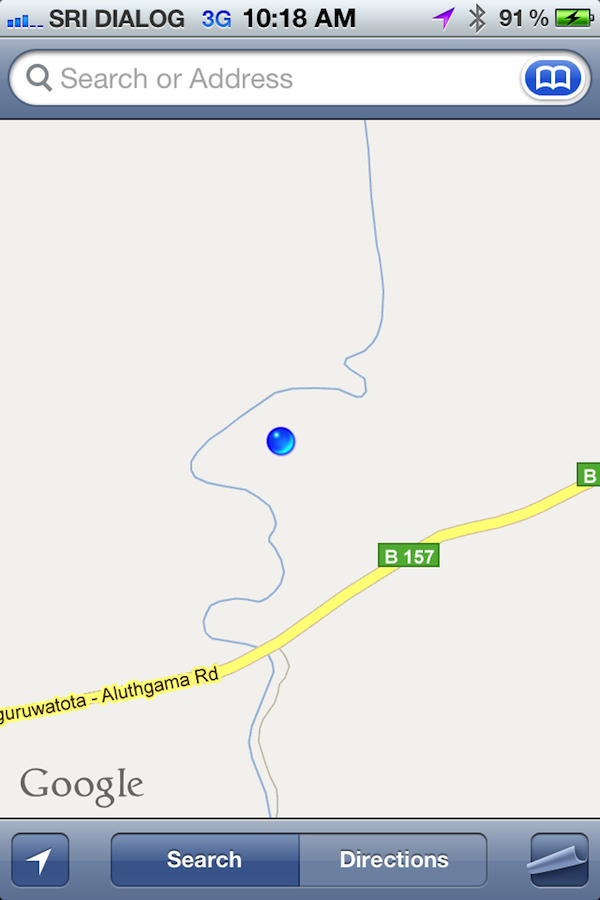 E01's greatest achievement is not so much in the engineering of the road, but in its ability to make Sri Lanka smaller and more easily accessible. We imagine the road will be extensively used during the up-coming Galle Literary Festival. But aside from this, the gastronomical delights of Spaghetti & Co in Hikkaduwa to the beauty and diversity of Galle Fort now feel closer, more easily reached. It's a great and welcome development.
Photos of the highway from Kottawa to Galle

Photos of the highway from Galle to Kottawa