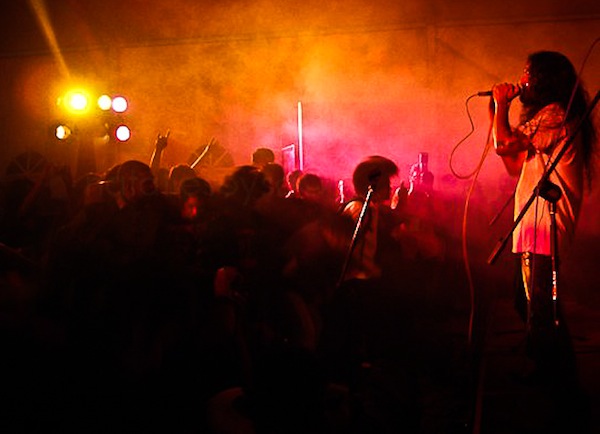 Our serendipitous isle is blessed with the gift of rhythm and a rare few who understand it so infinitely that they create music that transcends simplistic notions like preference and prejudice. This is an eye-witness report of sorts, of what young, home-grown talent is doing for a nation and its development.
Sri Lankan originality has begun to thrive at unexpected levels in recent years and our media is laced with names and faces of many more artistic pioneers than the handful we used to have along the lines of Martin Wickremesinghe or Geoffry Bawa. Home grown talent has become a buzz phrase with talented groups and individuals wanting to push the boundaries of their art or skill. It's no wonder that this wave of change found its way into, or was possibly manifested by, the local music scene itself.
The crux of this story happens in Colombo, where entertainment and night life have spilled over their habits to other parts of the country. Music has been and always will be a part of our nation's pulse, but it has also been a factor that we have willingly used to segregate ourselves; in most cases due to personal taste, intolerance, or quite simply – a life that hasn't allowed for or nurtured openness;
You're identified either as a gig-goer or a party-goer. We like tags, we yearn for a sense of belonging, and music has always been a key component in forming that identity. Yet, we also have a responsibility to be open to expanding those identities, become more holistic in order to genuinely come together and learn from eachother – the basics of synergy. It's also about learning to bend a little – in order that we don't break.
Some seem to have made this their subconscious credo; a handful of both DJs and bands who have bravely tip-toed into and have begun to find a connection with (for the lack of a better term) the 'other side'.
Karmic Sulphur (www.myspace.com/karmicsulphur), a young Experimental Rock band, were heard playing something that sounded like a vey sneaky take on Dubstep, an Electronic Dance Music (EDM) subgenre at Maelstrom, an out-and-out metal gig held earlier this year. OH.MY.GOAT., a beach party held this August that would have normally featured only DJ music, had a special session that combined DJs and rock n roll guitarists in a one-of-a-kind jam. The DJ/guitarist combos were NØkken/Sattva, Sajana/Roshan and Geve/Randev, each on consoles and guitars, respectively.  NØkken and Sattva went on to record one of their tracks which is presently in post-production.
Geve (soundcloud.com/g-v), or Givanke Goonetilleke, was incidentally a former metal band frontman and vocalist. Since early 2010 however, he has redefined himself, opting to change his medium of expression to that of a DJ, referring to his particular breed of mixes as Progressive-Psychedelic. Terminology aside, what that stands out when you listen to him is his obviously new found sense of equilibrium; it shines through in the hints of rock & roll you find punctuating his mixes. He is among a rare young breed of DJs that include Twigs (soundcloud.com/twig-2), Robin (robinjethro.blogspot.com/), Asvajit (http://www.myspace.com/asvajit) and since of late Sunara (a visual artist turned lady-DJ), among others.
Local Bands have also been venturing into the territory loosely known as fusion over the past few years. Thriloka (www.myspace.com/thriloka), referred to originally as a Jazz Fusion band have incorporated elements of psychedelic rock, Sri Lankan folk instrumentation, EDM and many other genres into their originals. Stigmata (www.myspace.com/stigmatasrilanka), Sri Lanka's first metal band's 3rd and latest album included Sri Lankan yak and geta bera, baila beats and Paganini styled arpeggios which came together to create a very Sri Lankan metal album. Even Hela Black Metal outfit, Funeral in Heaven (www.myspace.com/funeralinheaven) have included both violins and percussion in their lineup.
Musicmatters (www.musicmatterssrilanka.com), a music school run in Colombo host the 'Big Ears' series, a bi-weekly open evening, which include performances by experienced musicians and also encourages all genres and levels of musicians to jam and experiment together. The school has a host of unusual instruments from different parts of the globe, sound equipment and an in-house library that fosters growth. Be you a student of the school or not, you will not walk away not having learned something new. Musicmatters also have a series of events called Colombo 00800 Kinesthetics, evenings of experimental dance music that includes a fusion of EDM, rock, funk, jazz etc., performed by live musicians instead of DJs, thus far unheard of in the local music scene, especially in the case of EDM.
Music is changing our country. It's sneaking up on us in unexpected ways, reaching across cultures to offer a new way of moving forward together, not in spite of our differences, but celebrating them all the way. It has given way to myriad new sub genres of art around them in the form of photography, fashion, graphic design, painting, interior décor, dance etc – opening new avenues for many new types of artists to emerge where they normally would  not have had the platform to do so.
One by one, people have begun to change the way they see and most importantly, listen. Those who have thus far been seen only at parties have begun to drop by at gigs to see what the whole fuss is about. Metalheads have been seen trying to control their urge to headbang to some very tempting EDM. And just like that things are changing. And unknowingly a new culture of combination is coming to life, where we are no longer segregated audience members, but involved participants in the process. And that has made a world of difference. But we have only scratched the surface, bigger things are surely yet to come, if this trend continues.
Stubbornness has the ability to overpower our judgment sometimes, and so, some will still hold tightly to their own, but there are an equal number who have embarked on a journey forward with these artists and musicians who have unknowingly lead by example, having become trendsetters not merely in their respective art form but moreover in perspective.
Postwar Sri Lanka is heralding her way into a new era of culture and art that we would be proud to offer the world. This new wave of creativity has the potential to benefit industries across the country, including the expanding tourism industry. There is potential for turning the country into a hub of music and culture by way of festivals and events that will guarantee, for one, to increase the number of incoming foreigners. Sri Lanka is unique for a reason and we have a responsibility to let the world know how we have brought that one-of-a-kind quality into the 21st century. There are many new avenues opening to carry that vision forward, all it takes is a shift in perspective and some good music to keep you company on your way there.