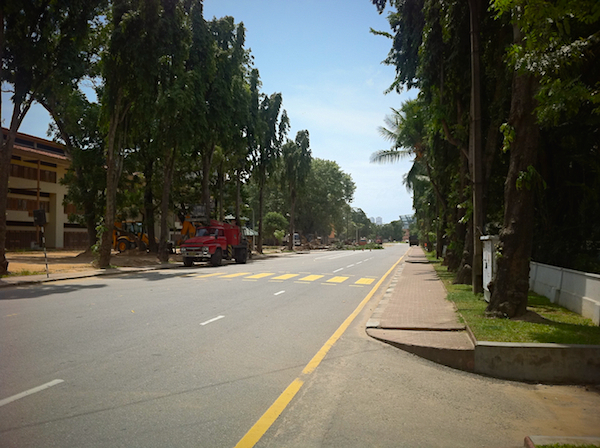 Trees that have stood for decades are being wantonly cut down in Colombo today. Being a Poya Day, there's not much of people and traffic in Colombo, which make the task of those around Independence Avenue easy. We received a flurry of SMS messages mid-day from people who at first didn't believe what they were seeing. The Weeping Willows down Independence Avenue, which have been around since we are told the 1970's, are being cut down today.

View Independence Avenue in a larger map
Currently they are cutting down the trees only on one side of the road, the side the National Library and Documentation Services Board is on. Groundviews spoke to the workers cutting down the trees under the supervision of Army personnel, who were present driving tractors bearing Army insignia and giving instructions on how to cut the trees down. The workers laughed when we noted that what they were doing was a joke and defacing Colombo, noting that they were under orders which they couldn't and didn't question ("api kiyanade karanawa mahattaya") They also noted that instead of the Weeping Willows, Na saplings would be planted alongside the road. Na (Mesua ferrea) is Sri Lanka's national tree.
Groundviews also spoke with an Army supervisor present at the scene, who confirmed that Na saplings would be planted once the Weeping Willows were cut down. He noted it was all part of Colombo's beautification scheme ("Mahattaya balannako – mewa okkoma lassanta api hadanawa. Meka are Kolamba Udyanakarana viyapruthiyata ne ayath wenne") and that in a short time, everything would look rather spiffy.
The Army supervisor assured me that the Na, when it was fully grown, would look like a ball ("bola yak wage lassanta wa-vei"). Right now though, it looks really awful to see trees that have adorned one of Colombo's most beautiful areas cut down for no other reason than to plant Na saplings in their place.
It does also beg the question as to just how much transparency there is around the master plan for Colombo's urban renewal. Conducted under the Ministry of Defence and under the watchful eye of the President's churlish brother and Defence Secretary Gotabaya Rajapaksa, few really know what is planned. Fewer dare to ask. A lot of Colombo's urban renewal is being done by the Armed forces, including the maintenance of parks. Along with new traffic flow patterns and the tearing down of walls to reveal facades of buildings, parks and public spaces hidden from view for decades, there is much to be celebrated in post-war Colombo's development. What remains very disturbing is the degree to which even civil administration and planning is anchored to military minds, personnel and apparatus.