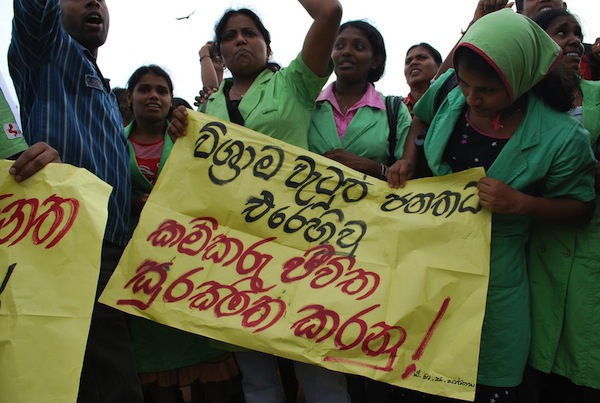 Vikalpa captured these images and video at the protest held yesterday in the Katunayake Free Trade Zone. Tens of thousands of workers have been involved in violent demonstrations this week against a proposed pension bill seen as grossly unfair. Over 200 were injured on Monday alone, by Tuesday, the demonstrations forced the closure of 70% of the factories in the zone, forcing the government to withdraw the bill. In March, the government noted how it would benefit the working classes,
Referring to President Mahinda Rajapaksa's recent statement on the proposed pension scheme in Parliament, Labour Minister Gamini Lokuge told the Sunday Observer that the Bill will be presented in Parliament next month. The working class in the country will be provided a permanent income for life after retirement under this scheme. "Although the private sector pension scheme issue was discussed with trade unions in the past, it would definitely be introduced this time in keeping with the Mahinda Chintana concept, he said.
Guess the Mahinda Chintana concept didn't resonate with the workers who would have been most affected by the provisions in the bill. As this article noted,
"Under current Sri Lankan labour law, women can withdraw their full savings from the statutory welfare funds when they marry, or reach 50 years of age. If the pension scheme is introduced they will have to work for at least 10 years first, and will not be entitled to payments until they turn 60. And instead of a lump sum, they will get a small monthly pension, estimated to be only about 1,900 rupees ($US17.27) per month for the low-paid garment workers. Most of the country's 250,000 garment factory workers will lose out altogether because they work, on average, for just five years. Moreover, the pension funds will be managed by the central bank, which will invest in the stock market, providing a new source of capital for speculation by the banks and financial institutions. In addition, the scheme will take 4 percent of workers' salaries (2 percent from workers and 2 percent from employers), in effect cutting wages."
Police fired live ammunition at the protestors, killing one and forcing the Inspector General of Police, due to retire on 18th June, to step down from his post with immediate effect on Wednesday.
On the 1st of June, protests had spread to Colombo.
Yesterday, the protests were directed largely against the Police brutality and anchored to the death of the FTZ worker. Vikalpa's citizen journalists who were on the scene said that there wasn't a policeman in sight, and those maintaining civil order amidst the unrest were from the Special Task Force (STF) and the Army.
A video of this protest can be seen below. A longer version will be placed here anon.