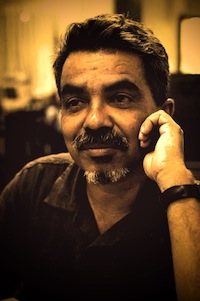 for prageeth eknaligoda
we didn't know we
stopped: the
undoing doing
its disappearing
the man himself
—disappearing
gone. what
to do? muttering him
through corners, hyde
park; lincoln
immemorial; where we
said speakers should
stand; silver shadow
moves for
coins in times
squared, because we
cannot hold the
hands of clocks.
which hand tips
land's hat
into sea?—shriek
your bids; speak freely
in kingdoms
measured carefully
suns shining. no rain
they say: still, insist
on umbrella over bird,
though feathers fall
fallow, shedding wings
widowed, shorn
but not shamed.
under wings, through
windows, hold the hands of
clocks—himself
to draw
himself to draw
himself—(
disappearing)
, and
once more, upon an
anthem now:
light us from the inside
out, on the face of the galle
clock green with
time: the salt marching
up from the sea,
our wounds filling
with it.