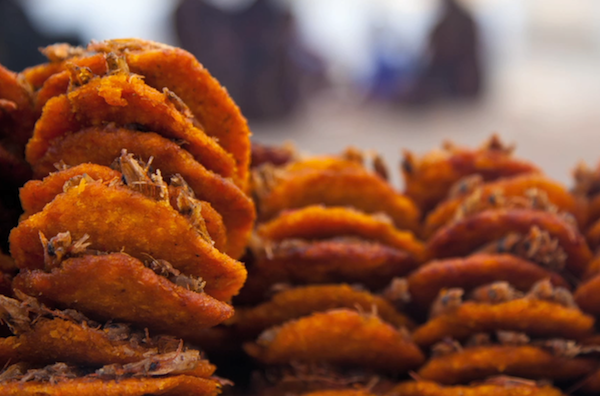 At 27 years old, Sugeeth Kumar is part of a generation of Slave Island's young entrepreneurs. Tiring of the long hours his previous job at Pizza Hut required, he decided that if he must work so hard, he would do it on his own time and for his own business: vending prawn vadai – a popular Tamil fried food – out of a cart at the Galle Face Green Promenade.
Like many Slave Island residents, Sugeeth's new livelihood is very much tied to his locality – his home is a few kilometers away from Galle Face Green and each afternoon, he must wheel his cart and ingredients to a rented spot, before setting up. Each vendor's process is different. Sugeeth prefers to make his prawn vadai in advance, even frying them halfway through before coming to Galle Face. That way, when his customers flock to him hungry for hot vadai, they are not disappointed. He drops the half-fried vadai into a pan of boiling oil and in under a minute, they're done. He fishes them out, bright orange and steaming, and after wrapping them up in newspaper with a few expert flicks of his wrist, hands them over into the waiting hands of his customers.
Read Sugeeth's story in full and watch his video here.
Produced by Sharni Jayawardena and Tarika Wickremeratne, as part of Walkabout: Slave Island. Watch the trailer to this series below, and visit the Moving Images website for more stunning content on Sri Lanka.