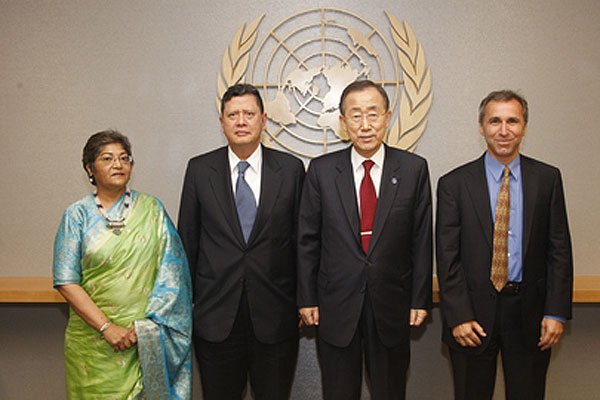 The Island newspaper published today sections of what appears to be a large excerpt from the report of the UN Panel of Experts looking into allegations of war crimes and crimes against humanity in Sri Lanka.
Inner City Press followed up with a report suggesting that the text was authentic, and that the UN deeply regretted the leak to the mainstream media. It also noted that the UN would publish the report in full next week, along with a response from the Sri Lankan government.
Groundviews flags below some highlights of this damning report, and places it alongside some other news article for context. Follow our tweets on this breaking story here. Our Facebook fan page will also carry highlights, and features discussions amongst the 6,000+ people already on it.
Some key highlights from the leaked report as published in The Island:
"In stark contrast, the Panel found credible allegations, which if proven, indicate that a wide range of serious violations of international humanitarian law and international human rights law were committed both by the Government of Sri Lanka and the LTTE, some of which would amount to war crimes and crimes against humanity."

"The Government shelled on a large scale in three consecutive No Fire Zones, where it had encouraged the civilian population to concentrate, even after indicating that it would cease the use of heavy weapons. It shelled the United Nations hub, food distribution lines and near the International Committee of the Red Cross (ICRC) ships that were coming to pick up the wounded and their relatives from the beaches. It shelled in spite of its knowledge of the impact, provided by its own intelligence systems and through notification by the United Nations, the ICRC and others. Most civilian casualties in the final phases of the war were caused by Government shelling." Emphasis ours.

"The Government systematically shelled hospitals on the frontlines. All hospitals in the Vanni were hit by mortars and artillery, some of them were hit repeatedly, despite the fact that their locations were well-known to the Government."

"The Government subjected victims and survivours of the conflict to further deprivation and suffering after they left the conflict zone."

"Despite grave danger in the conflict zone, the LTTE refused civilians permission to leave, using them as hostages, at times even using their presence as a strategic human buffer between themselves and the advancing Sri Lanka Army."

"From February 2009 onwards, the LTTE started point-blank shooting of civilians who attempted to escape the conflict zone, significantly adding to the death toll in the final stages of the war."

"Thus, in conclusion, the Panel found credible allegations that comprise five core categories of potential serious violations committed by the Government of Sri Lanka: (i) killing of civilians through widespread shelling; (ii) shelling of hospitals and humanitarian objects; (iii) denial of humanitarian assistance; (iv) human rights violations suffered by victims and survivors of the conflict, including both IDPs and suspected LTTE cadre; and (v) human rights violations outside the conflict zone, including against the media and other critics of the Government."

"The Panel's determination of credible allegations against the LTTE associated with the final stages of the war reveal six core categories of potential serious violations: Ii) using civilians as a human buffer; (ii) killing civilians attempting to flee LTTE control; (iii) using military equipment in the proximity of civilians; (iv) forced recruitment of children; (v) forced labour; and (vi) killing of civilians through suicide attacks."

"The Panel has concluded that the Government's notion of accountability is not in accordance with international standards. Unless the Government genuinely addresses the allegations of violations committed by both sides and places the rights and dignity of the victims of the conflict at the centre of its approach to accountability, its measures will fall dramatically short of international expectations."

"The work to date demonstrates that the LLRC has not conducted genuine truth-seeking about what happened in the final stages of the armed conflict, not sought to investigate systematically and impartially the allegations of serious violations on both sides of the war, not employed an approach that treats victims with full respect for their dignity and their suffering, and not provided the necessary protection for witnesses, even in circumstances of actual personal risk."

"Equally, the Panel has seen no evidence that the military courts system has operated as an effective accountability mechanism in respect of the credible allegations it has identified or other crimes committed in the final stages of the war." (On this score, see the BBC news story, CJ defends verdict on military courts)

"During the course of its work, the Panel observed that there were several other contemporary issues in Sri Lanka, which if left un-addressed, will deter efforts towards genuine accountability and may undermine prospects for durable peace in consequence. Most notably, these include: (i) triumphalism on the part of the Government, expressed through its discourse on having developed the means and will to defeat "terrorism", thus ending Tamil aspirations for political, autonomy and recognition, and its denial regarding the human cost of its military strategy; (ii) on-going exclusionary policies, which are particularly deleterious as political, social and economic exclusion exclusion based on ethnicity, perceived or real, have been at the heart of the conflict (iii) the continuation of wartime measures, including not only the Emergency Regulations and the Prevention of Terrorism Act, mentioned above, but also the continued militiarisation of the former conflict zone and the use of paramilitary proxies, all of which perpetuate a climate of fear, intimidation and violence; (iv) restrictions on the media, which are contrary to democratic governance and limit basic citizens' rights; and (v) the role of the Tamil Diaspora, which provided vital moral and material support to the LTTE over decades, and some of whom refuse to acknowledge the LTTE's role in the humanitarian disaster in the Vanni, creating a further obstacle to accountability and sustainable peace."

"During the final stages of the war, the United Nations political organs and bodies failed to take actions that might have protected civilians."

"The Secretary-General should immediately proceed to establish an independent international mechanism, whose mandate should include the following concurrent functions…"

"The Government of Sri Lanka should issue a public, formal acknowledgement of its role in and responsibility for extensive civilian casualties in the final stages of the war."

"The Secretary-General should conduct a comprehensive review of actions by the United Nations system during the war in Sri Lanka and the aftermath, regarding the implementation of its humanitarian and protection mandates."