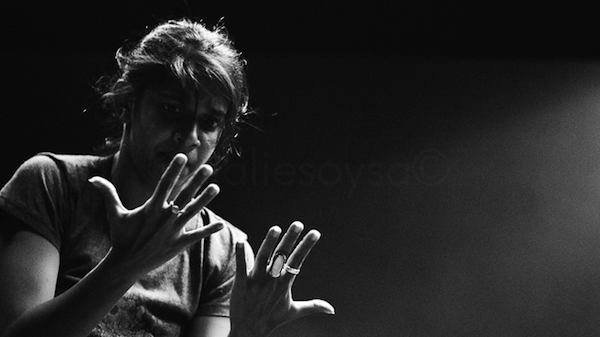 Image from 'Rondo'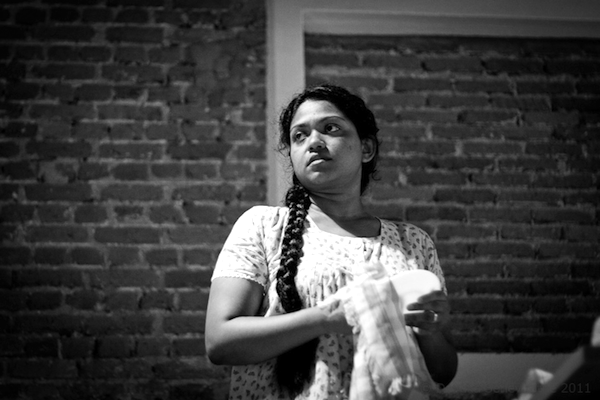 Image from 'My Other History'
"We are all capable of believing things which we know to be untrue… And then, when we are finally proved wrong, impudently twisting the facts so as to show that we were right. Intellectually, it is possible to carry on this process for an indefinite time: the only check on it is that sooner or later a false belief bumps up against solid reality, usually on a battlefield."
George Orwell, In Front of Your Nose
In early 2011, Tracy Holsinger of Mind Adventures Theatre Company and Jake Oorloff of Floating Space Theatre Company were awarded a grant from the Sunethra Bandaranaike Trust to interrogate, through theatre, the idea and theme of reconciliation. The resulting plays were staged in April under the title (Un)making Time and featured two compelling productions – 'Rondo' directed by Tracy Holsinger and Arun Welandawe-Prematilleke and 'My Other History', written and directed by Jake Oorloff. Though bound by a central theme and shared leitmotifs, the productions were fundamentally different. Brief impressions of both have been recorded on this site. Capt. Elmo Jayawardena said,
"Little plays like 'My Other History' wake us to re-think. The message was clear, it wasn't in fancy drapes and opulent neon but in dimly-lit candle-light. It showed the soul of the matter, surrounded by looming shadows that stalked to scare the admittance of the reality in each of us".
Award-winning human rights activist Sunila Abeysekara had this to say of 'Rondo',
"In the context of contemporary Sri Lanka, perhaps one expected a piece of theatre more directly related to our own current reality, in which the aftermath of a bitter and bloody war haunts our present. And perhaps not, actually. When the reality is too complex and difficult to even attempt to represent it, when the silences and absences that surround you are too enormous to be taken apart in a piece of theatre, allegory and fable become instruments of storytelling that challenge an audience to think about that reality in a different space, metaphorically".
I watched 'My Other History' first, staged at the newly refurbished Park Street Mews. This is a familiar venue for Floating Space, where just a few months ago, the Company staged a re-run of 'Gaza Monologues'. The renovated warehouse isn't an ideal venue for theatre – there is in fact no proper stage, seating is limited and ventilation is poor, making it uncomfortable for both actor and audience particularly given the sweltering April heat. However, no one who saw 'My Other History' that I know of had any complaints. Running for just shy of an hour, the production felt much shorter. Admittedly, I went in a sceptic. Having sadly missed both runs of 'Gaza Monologues', my last experience of a Floating Space production was 'War Reporter' staged the Goethe, a production that at my most charitable I recall without expletives as being somewhat bizarre. Refreshingly different, 'My Other History' was solid theatre, an almost back to basics production pitched just right. Basic lighting and blackouts plus a single multimedia projector was about as complex as this got in terms of staging. The technical prowess of the actors was another matter. Ruhanie Perera was almost faultless on stage, bringing a mannerism, idiomatic expression and a finely nuanced understanding of a character negotiating multiple realities and identities to stage. I hadn't seen Ruhanie actingbefore, and this was a rare treat also because so few of English theatre's best directors act anymore. Thushara Hettihamu, who directed 'Othello' at the Wendt last year, turned out to be a better actor than director, but that's not saying much. He was the weakest link in this production, though his expression at the play's dénouement looking at the Jaffna mangoes – one pregnant with conflicting emotion that rents asunder a confirmed worldview and conviction – was very nicely done. For the rest of the production, he never really convinced us of anything he was trying to say or do, which differentiated his acting from his stage wife, with whom an audience could immediately empathise. His character was complex – a Tamil man, married young and with family, displaced multiple times, traumatised and sans any connection to the land of his birth or the property he owned, both destroyed by war. The character is unhinged, an outsider even to himself. Hettihamu tries hard to render this complexity, but ultimately fails, which is a pity. Amaz Irshad playing the son was good – stiff and self-conscious at times, but generally able to pull off someone searching for an identity to define himself linked to a geo-location to call home. Freya D'Almeida, who appears only briefly in person and is for the most part projected via video, is also a natural on stage. The stage sister of Irshad, she brought a natural flair to her character – never going into caricature, but portraying what so many of us who have gone abroad for higher studies have felt about identity and home from outside of Sri Lanka.
Tracy Holsinger's 'Rondo' was in form and spirit, very different theatre. For starters, it wasn't anchored to any narrative, location, process, person or event in Sri Lanka. This was a courageous move by the directors, and could have so easily gone awry. It didn't. 'Rondo' works, and works so well, because it is not rooted in this country and because it affords the audience the space, using memory and perception, to complement or contest the production's narrative, during and after performance. This is the second devised theatre production of Mind Adventures. The first, 'Travelling Circus', I loved. 'Rondo', however, is different. With 'Travelling Circus' the allegory was more direct, the locations more specific, the temporal cues more succinct, the characters distinctly local. With 'Rondo', Mind Adventures eschews the local to paint a more dislocated space and time. The cast was much larger than 'My Other History', and a few clearly stood out. Tehani Chitty as the overtly vampish yet deeply sensitive Tally brings to any production a quality of acting and stage presence that raises the bar for everyone else in it. Ruvin de Silva, a permanent member of Mind Adventures, gave his most impressive performance to date. Ruvin's raspy rendition of The Watcher, a character of indeterminable intent and location, was as compelling as his memorisation of line after line of iambic pentameter, delivered with a fine brio. Subha Wijesiriwardena, another member of the Company, was equally memorable as O. O's character, for those who know Subha, mirrors a passion for petitions and activism in real life. That said, Subha wasn't just playing herself. O's petition against marriage results in a solitary vigil – she is very alone, and soon realises it. The blackout that soon results reflects our own blacking out of so many inconvenient truths – from the murderers of Lasantha Wickrementunge who are still free to the outrageous 18th Amendment to the constitution. The disdain towards O by those in control of the fictive town mirrors the violence against dissent in Sri Lanka by those in government. Subha in real life is no stranger to these stark realities, and brought to this production a nuanced rendition of a character that resonated with many who have, even in small numbers, stood very alone in Lipton Circus and elsewhere in Colombo, candles in hand, hope at bay. Venuri Perera is one of the most accomplished contemporary actors, and is almost overshadowed here by the stage-presence of others. And yet, the few times during the play she does appear as Marina, she commanded attention. Marina's history and her future are framed choices beyond her as well as those in her control. Her character resonates with O's submission that we control that truths we like to believe. Marina's desire for revenge is countervailed by love for an outsider who implores her to not repeat history. We are left unsure whether this is a panacea, for it is unclear what Marina would have done had the character of the Good Man not died. And that is the power of this production, which never once offers easy resolution or answers. Mind Adventures wanted to avoid a play that was didactic or moralistic. They largely succeeded. It is doubly annoying therefore that the production on one occasion seemingly succumbed to self-doubt. Brandon Ingram's rather long monologue in the middle of the production is most unfortunate, both because Ingram is an annoying feature in any production he is part of and because through his monologue, the audience is told what happened. Reconciliation is never a monologue and neither is history. Ingram as the Mason could have been trying to alert us to the dangers of writing and regurgitating, for example, the Mahavamsa's three new chapters on Mahinda Rajapaksa, but woven into the rich texture of 'Rondo', this was a weak fit.
You cannot compare 'My Other History' with 'Rondo'. The success of (Un)making Time was in getting two of Colombo's leading English theatre companies to grapple with an issue as contentious as reconciliation. Commendably, both Floating Space and Mind Adventures have not shied away from the interrogation of war and peace. It may not be immediately evident, but it is tough on many levels to do this. The economics of the sponsorship of theatre in Sri Lanka do not support serious, critical productions and indeed, actively try to drown them out or shut them down. Both companies are in a constant struggle to find financial support for the theatre they are interested in performing and producing.
Beyond this, even post war, Sri Lankans understand reconciliation to mean very different things. My own bias towards a meaningful process of truth-telling, truth-seeking and accountability often jars violently not just with government, but with ordinary people who cannot immediately understand why an end to suicide bombs and a perceivable increase in the quality of life must be questioned. Here too, the productions succeeded, because what they opened up was a debate on reconciliation and not a particular worldview on it, or what it should be and mean. This independence from what I know to be the own sensibilities of the directors is commendable, and couldn't have been easy. 'Rondo' and 'My Other History' are powerful because they force us to confront our own bias, our own self-constructed truths. It calls upon us to see that to propose any one idea of reconciliation is as bad as opposing or violently excluding another by someone else. The plays reveal that the contestation of multiple identities, both within and between individuals, deeply informs our perception of and approach to reconciliation.
And yet, it is sad that the State doesn't hold as enlightened a view as the directors. Sri Lanka's Public Performance Board censored 'My Other History'. The Board's somewhat convoluted vision, as expressed on its website, is to build "… a disciplined society, appropriate and comparative governing of public performance taking social responsibility to pave the way for a better Art." Emphasis mine. A 'disciplined society' today is a subservient one that should not, for example, question the Mahinda Chintanaya in its written form, or its wild interpretations that range from a schizophrenic foreign policy to the greatest systemic decay in constitutional governance this country has witnessed since independence. 'Social responsibility' is taken today to mean the promotion of everything that conforms to the sensibilities of a regime reeked in Sinhala-Buddhist majoritarianism, and ill-placed as a consequence to even understand how violent in expression and deed this is to the multitude of other communities that make this country Sri, Sanskrit for revered. The lines that were censored in 'My Other History' referred to the civilian aircraft used the Sri Lankan Air Force to bomb Jaffna in the 80's, which lobbed burning barrels of combustible material from the air resulting in more collateral damage of Tamil civilians than any great loss to LTTE combatants. The word the inhabitants of Jaffna used to call these aircraft and air-raids offended the sensibilities of those in the Public Performance Board, flagging a larger and more disturbing inability to even countenance, leave aside celebrate, multiple truths in art and theatre, or a history richer than the official versions recorded and promoted by government.
And yet this systemic failure is in fact supported by our indifference. Both sets of directors and producers, when speaking about their respective productions and completely independent of each other noted that they expected low audience figures. This was a revealing commentary on what is a marked disinterest in reconciliation as a process or idea in post-war Sri Lanka beyond that which is conducted and promoted by government for its own parochial ends. As Tracy Holsinger notes online,
"I suppose the biggest stumbling block for me as a director is that I don't believe that there is any attempt at reconciliation taking place in our country right now, that we have even begun to understand the pragmatic realities that accompany the full implications of that word."
The plays compel us to confront difficult realities. Many cried during the performance of 'My Other History'. Sunila Abeysekara observed an audience that, even after 'Rondo' ended, continued to sit for a good minute or two, trying to digest what had just happened. In a larger sense, do we know what happened in Sri Lanka? Do we care enough to give a damn? 'Rondo' and 'My Other History' are lightning rods to help us recognise the need for and challenges of reconciliation beyond that which we are made to believe, and ourselves would often like to believe. Yet, even after seeing them, if we are still unwilling and unable to ask ourselves and others vital questions on as issue so central to a just and lasting peace, perhaps as Shakespeare's Ceaser said, the fault lies not with the stars, but with ourselves.