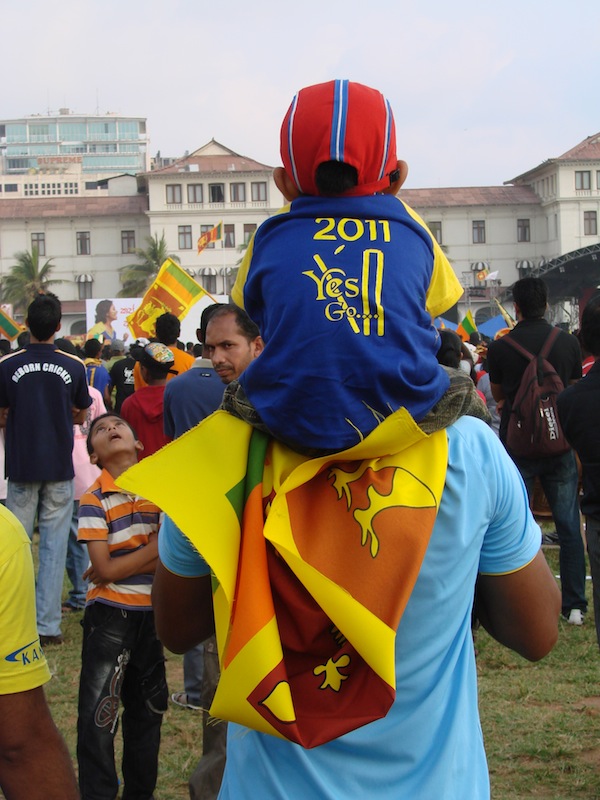 This was a big match.
Akin to a curfew, Colombo's streets were deserted on Saturday afternoon, but Galle Face was not. Over 7,000 people had congregated there to watch the cricket world cup final between Sri Lanka and India on a big screen erected on the grounds. Nearly all the electronics showrooms with TV's on display had tuned in to the cricket as well, resulting in small crowds who had settled in front to watch the match sometimes with deck chairs and stools. Traffic was chaotic in the morning in Colombo and its suburbs, with people thronging to stores to buy both genuine and imitations of Sri Lankan cricket sporting garb and other memorabilia. As we noted on Twitter,
"Never seen so many Sri Lankan flags on vehicles after the end of war."
Nationalism and over the top displays of patriotism were on a crescendo, leading up to and on Saturday. There was Sarath Fonseka who said that a victory at the world cup would be akin to the victory against the LTTE two years ago. All radio stations, and most social networking site status updates (esp. Facebook and Twitter) referred to the team as 'Lions' that were 'Roaring'. Many on Facebook, again like the days after war's end, changed their profile images to the Sri Lankan flag, tellingly cropping it to focus on the Lion – never the two stripes. Unsurprisingly, corporate marketing also took a nationalist twist. As we observed on Twitter,
"Dialog keeps referring to Sri Lanka as 'Lion nation'. Revolting & racist. We support #cricket as Sri Lankans."
Semi-erected structures around Colombo suggested the foundations of a mega, multi-day victory party and parades that were never to be. Given significant increases in petrol, diesel and gas announced on Friday night and Saturday, it was clear the government was hoping a victory to at least temporarily hide the burden of rising inflation. As the Editorial of the Daily Mirror noted,
Even before the winner of today's match is known, the politicians in true Sri Lankan style will be sharpening their spurs to ride on the Sri Lankan team. Some may by now be preparing statements or speeches for gullible audiences in the island while the rest would be rehearsing how best to pose for pictures with the team, just in case India end up on the losing side.
We didn't go on to win the match, but for a few hours last Saturday, glued to projections of a game played miles away, everything else was forgotten. Such is the power of cricket.
These photos were taken around Galle Face and Colombo during the first half of the game. All images by Iromi Perera.