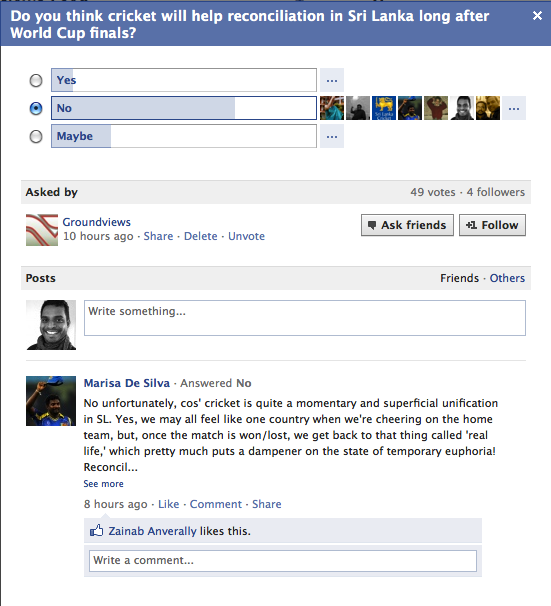 Groundviews is running a poll on its Facebook page (direct link to poll here) on whether its readers feel that the current interest in cricket can help reconciliation in Sri Lanka over the long-term. The visit of the Sri Lankan cricket captain, our beloved spin-bowler Murali and Ian Botham to areas most ravaged by the North was heavily covered by the media. Kumar Sangakkara's statement after visiting the North resonated with many and was very widely featured across Facebook and Twitter,
"[The people of the north] have been deprived for 30 years of everything that we've taken for granted in Colombo. Sometimes Colombo seemed a world away from the war. We've never felt it as much as the communities in the North and East did. And sometimes we have to understand that we owe them our very lives and all the comforts we enjoy," said Sangakkara."
As was noted at the last World Cup, Sri Lanka's cricket team is "…is a microcosm of what we should be and ought to be – a multi ethnic and religious group based on merit and performance and working together successfully as a team. It is something of which we can be justifiably proud of as a country." Indeed, the Sri Lankan team's performance in the 2011 World Cup has rekindled interest in the sport as a powerful unifying force in what, even post-war, remains a country with deep ethnic and political divisions.
Our poll, which readers can feature on their Facebook profiles, share via  Twitter or just email around is not meant to question the team's current popularity or performance, of which there can be no doubt. It seeks to interrogate what is often an unquestioned belief in the ability of the sport itself, long after the euphoria of the World Cup is over, to foster reconciliation in Sri Lanka. The problems of reconciliation are systemic. Cricket offers a happy, episodic escape, yet may not address these underlying problems. Cricket has little or no presence in some parts of the country, especially in the North and East. If you don't have grounds to play or facilities to train and practice, you won't see cricket, or any national sport for that matter, as a healing or inspirational.
But what do you think? Can a sport that will bring a country to a standstill during the final match on Saturday be leveraged over the long-term to push for the real political and social reforms that we need for meaningful reconciliation?
Please cast a vote and drop us a note on Facebook.