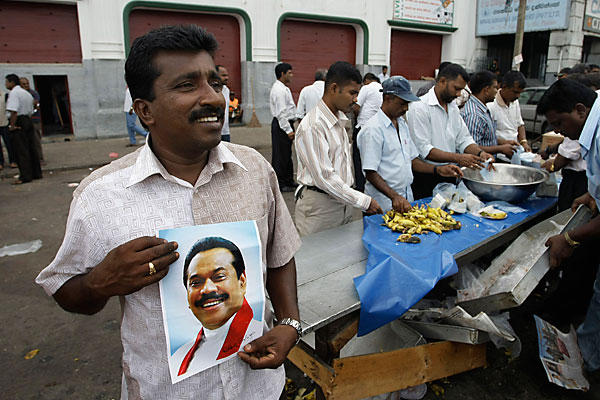 Photo credit: Eranga Jayawardena / AP, taken from Christian Science Monitor
Peace in our country cannot last long without reconciliation. And there can be no reconciliation until the people in the North and East and all those who were affected by the war come to terms with their losses, and pick up the threads, with hopes of a better future.
No matter how many highways and bridges are put up, no matter how many houses are built until and unless the grievances of the war affected minorities are looked into, there will be no lasting peace. The grievances of these people are not limited to food, clothing and shelter only. The 30 year civil war was not fought merely to get these basic needs. First and foremost they need to be free of fear and humiliation. Even today, twenty one months after the war a man or woman can be harassed by the police on mere suspicion, if he or she happens to be a Tamil. For lasting peace Tamils and Muslims need to feel they have equal rights as citizens of this country irrespective of their ethnicity or religion. And this can be guaranteed only through a political solution. How close are we to such a solution? And does the government actually feel the need for a solution to the ethnic conflict. Many in the government deny the very existence of an ethnic problem and therefore to speak of a solution is considered irrelevant.
In August 2010 Tamils in Wellawatte had to undergo the humiliating procedure of registering themselves with the police. Although there was no special circular the police spokesman of the time said that under section 76 of the Police Ordinance the OIC of the Police Station is vested with power to register residents in his area for "their security and well being". And obviously the OIC has the right to decide which ethnic group needs to be registered.
In February 2011 TNA MP Mavai Senathiraja complains that the military was obtaining money and forcing the people of Jaffna to pose for family photographs and sign various forms in Sinhala. This causes great fear and panic among the people he said. Reports from the Jaffna Army Headquarters say that this is done due to security reasons and the District G.A. Mrs. Sukumar says she was not officially informed and the army is not bound to discuss this matter with her. However, Major General Medewala rejects all these charges. Such situations don't help us to move towards reconciliation and peace.
There was also the question of the National Anthem being sung in Tamil. It is interesting to trace the history of the National Anthem, for it shows how much the political scene has changed since independence. Namo, Namo Matha had been composed by Ananda Samarakone in 1940, and it had been first sung at Mahinda College, Galle where he was a teacher. In 1951 Sir Oliver Gunathillake is said to have submitted this song to the cabinet recommending its adoption as our national anthem. He had also attached a Tamil translation by Mr. K. Kanagarathnam (Some say it was actually translated by Pandit M. Nallathamby) and an English translation by Dr. C. W. W. Kanangara. (The English version seems to have now disappeared). In March 1952 it was approved by the cabinet and adopted as our National Anthem.
But even in 1949 and 1950 it had been sung as the National Song at Independence Celebrations, at Torrington Square Galle Face Green and the Havelock Race Course. At these functions this National Song had been sung in Sinhala and Tamil. At that time there was no Wimal Weerawansa to point out the illegality of singing the national anthem in Tamil. Today times have changed. When the President of the country visited Jaffna during Thai Pongal, the Tamil school children had to be trained to sing the national anthem in Sinhala. (Sunday Times 16.01.2011) Worse than that is the assassination of M. Sivalingam, Deputy zonal Education Director, in Jaffna, by highly trained and well armed men who were able to break into his house in spite of the sixty thousand security forces personnel guarding Jaffna! We can also rest assured that the assassins will never be found. The Education Directors crime had been that he openly expressed his view that Tamil children should sing the National Anthem in Tamil and not Sinhala. Obviously the political will or need for reconciliation doesn't seem to exist among the present rulers.
Not everyone agrees that a political solution is a must, if there is to be lasting peace in Sri Lanka. Those who promote and defend Human Rights believe that Development is no substitute for 'Devolution'. But there are other views. One such view is that Devolution or power sharing doesn't mean anything to the war affected people. Once basic needs are provided and the North and East are developed, people will begin to enjoy their economic prosperity. There really is no ethnic problem and no need for a political solution. This perhaps is the view of the majority.
Regarding war crimes too there are many views. Human Rights activists believe that if war crimes were committed they should be investigated and justice meted out. The traumatised victims of war who want to know what happened to their loved ones must know the truth, so that they can at least grieve in peace. It's terrible for a mother or father not to know whether the missing son or daughter is dead or alive in a torture camp.
But this again may not be the view of the majority. They seem to say "let us forget about the war crime charges against the government and try to persuade the President to grant some kind of decentralization of power. Of course we were all appalled at the events during the last stages of the war, but focusing on accountability and prosecution will not be pragmatic, as the Rajapakses will not allow any investigations and they are likely to be in power for the next 24 years at least. Nothing can be achieved by confronting them. The minorities might as well gratefully accept whatever the Rajapaksas are willing to offer them. They must also accept the fact that they are only a small fraction of the total population and they cannot ever claim equal rights with the majority who form more than 75% of the population. Certainly not after Prabakaran. He and the LTTE have made sure that all Tamils now and for many more generations to come will be looked upon with suspicion as 'Terrorists'". This may be so but we must also remember that Truth must be faced before reconciliation. Wounds caused over the years must be cleaned and healed. If merely covered and plastered over, they could fester from within.