On a beautiful late summer day, the eighth of September 2010 to be precise, outside the railway station in the historic university city of Bridgetown, England, I found this Sri Lankan chap, Sivapuranam Thevaram, of whom we have read a bit in these pages recently: the structure of his name, his debt to his father and the sorrow of Sivahamy, his mother. Thevaram has been crying at the railway station when I caught up with him — crying over his bicycle which had just been stolen.
Grownups don't cry, we are told. Thevaram has made several exceptions to this in his adult life. Watching Nelson Mandela's release from prison on television was one such occasion. As the former prisoner walked past the gates with his raised arm and clenched fist, Thevaram could not hold back his tears. That's odd, we might think. It should be a happy event and why does one cry when faced with such good news?
The exact inverse also happens at times, and I will tell you a story on that. When Thevaram was a young fellow, he was visiting his uncle in Colombo on that day in July 1983 — the ugliest day in our country's modern history. Thevaram jumped off a second floor balcony when his uncle's flat was attacked by thugs, scaled a six foot wall, used his Sinhala phonetics skills to fool a woman into showing him directions to the local police station and got help to rescue his uncle and family. Thereafter they went to Jaffna by ship. At the KKS harbour, Thevaram's uncle was interviewed by a BBC reporter. "The Singalese have taken everything," lamented the materialistic uncle, "all gone." Three decades on, that interview has become a family joke in the Thevaram household. Just the other day, Thevaram was looking for a pencil, couldn't find one and shouted at his kids. "I had twenty pencils in this house, and I can't find any now." "Ah, may be the Singalese have taken them," mocked his kid, Samanthiram. "All gone, no?" echoed the other urchin, Senguthu, imitating a Sri Lankan English accent. How can horrific memories trigger laughter?
Note the function of "no" in "All gone, no?" It probably features in Michael Meyler's A to Z of Sri Lankan English. Thevaram has introduced Meyler's work to his kids as a way of getting them to identify with their roots: the Sri Lankan way of doing things, the Sri Lankan way of speaking things. Thevaram doesn't recall that luxury to Meyler's standards from his childhood, having learnt whatever little English he knows from W.H. Samaranayake's English with a Smile. "There is a breathless hush in the Close tonight…" and so on. Do you see the role-reversal here? Samaranayake, the Sri Lankan, seeking to give us the best English has to offer and Meyler, the Englishman, selling back to us our worst! Just like laughing and crying reversed, as we saw in earlier paragraphs.  Is there a philosopher in this forum who can explain this to us?
Another time, half way through a flight back to the UK, after visiting his father, Sivapuranam, recognizing that his old man wasn't going to survive the illness for much longer, he had remarked to his wife, Manimekalai: "After my parents are gone, I probably am going to end up cutting off all contact with Sri Lanka, am I not?" "What's left here for me?" That thought hit a nerve and brought out all the gin and tonic he had drunk straight through his eyes, something he skilfully hid from the wife. A further G & T to stabilize the system only made it worse: positive feedback, engineers call it.
Thevaram used to own a bike, the topic of out story today. It was an old one, the two wheels of which weren't entirely co-planar. As he rode it, he found the wheels dragging in different directions — one to the left and the other to the right. Whichever force was higher, which was often stochastic, determined which way the bike went. After some careful observations of this phenomenon with intrigue, he gave it a nickname: democracy.
"Democracy may not be a perfect bicycle", he had once explained to Manimekalai, borrowing a famous quote, "but it is the best I have".
During a train journey in February 2009, Thevaram was reading the Guardian, the edition that reproduced the last article written by Lasantha Wickrematunge, along with an editorial introduction that described it as an "extraordinary article". The writing was extraordinary indeed. Thevaram, reading some of its paragraphs again and again, lost control over the tears rolling down his cheeks. It could not have been Lasantha he was thinking about, for he neither knew the man nor much about him. Perhaps it was memory of Richard De Zoysa, whom he had met at drama workshops at Hilltop University, and the structural similarities in what happened to the two, which bothered him more.
Whatever it is, the systematic removal of the nuts and bolts that hold your bicycle together, those checks and balances that prevent it from falling apart, and the dishonest scholarly justifications that follow, certainly bring you much despair — if at all you actually care.
An old woman sitting opposite Thevaram offered him some tissues. "Are you OK, dear", she inquired kindly. "Oh, my bicycle", he snapped at her rudely, "It is going to be stolen." She was puzzled at the confidence in his predictions. Sure, any bike is likely to be the target of theft, but how can he be so sure it is going to be his? But we, followers of Sri Lankan politics know, don't we? Just the same way that editor was able to confidently predict his death, and its accuracy did not come as much of a surprise to us, Thevaram's bike theft prediction is also not outside our space of imagination.
Back at the Bridgetown railway station, a police officer by the name Orifice Vandonkey, had arrived to inquire into the theft of the bicycle. She was an analyst, highly qualified and never too shy to blow her own trumpet. You try challenging her conclusions and you will get the following response: "You know, I am very clever, I get my bike repaired at the corner shop over there. Do you know that Nobel laureates Sidney Brenner and Frederick Sanger also have had their bikes repaired in that very same corner shop?" That is establishing cleverness by loose association, something Orifice excelled in.
"Where did you leave the bike?" "Over there, at the bicycle stand."
"Show me, which row exactly?" "Here, 18A."
"Did you lock it securely?"
That embarrasses Thevaram. He had known all along that he did not invest in a good bike lock. Even the one he had, he often forgot to use, as did happen on this particular occasion.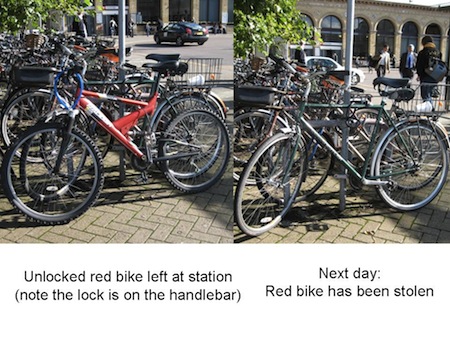 "You see," says Orifice, "you must know that if you use a bad lock, it is obvious that an opportunistic thief will pinch the bike." "The purpose of the lock," she goes on to lecture, "is to provide the opposition that can act as effective guardian of your bike and dissuade the thief from stealing it. It is entirely your fault you failed to develop and provide that opposing force to bike theft."
Thevaram feels helpless. "Catch the thief, please stop him from stealing more bikes," he begs. Orifice Vandonkey is unmoved. "Your fault dear!" she insists. Thevaram cries in despair.