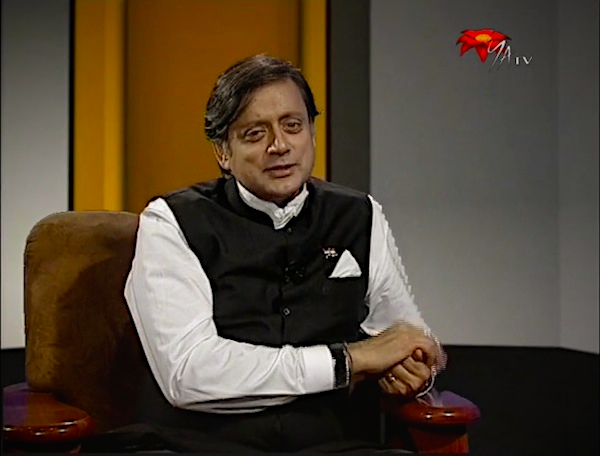 Having moderated a session with Shashi Tharoor earlier this year at the Galle Literary Festival, we met up again in Colombo last week to talk about the writer-politician's new book, and his views on literature, politics, the freedom of expression and our region.
Shashi Tharoor is a well known writer, speaker and politician. From Riot to Bookless in Baghdad, Shashi's books, whether fiction or non-fiction, are fulfilling to read. In Galle we spoke about The Elephant, the Tiger and the Cellphone: Reflections on India in the 21st Century, published first five years ago. He's just published his latest, Pax Indica: India and the World of the Twenty-first Century, which at the time of writing, isn't yet available in Sri Lanka. This placed me at a disadvantage in speaking about the book in detail, though we did start our conversation by going into what the tome addressed.
We go on to talk about Shashi's writing, and how he manages to do it with the demands placed on him as an elected Member of Parliament and politician. We spend some time talking about his foray into politics, and the many controversies he has, to date, been the centre of, either for something he's said (the infamous cattle class tweet), or allegedly did.
In most of Shashi's writing, and public speaking captured for posterity on YouTube for example, his love for what he sees as India is evident. We talk about why he sees India as he does, and this fits with many other competing ideas of India, including far more violent, intolerant, illiberal manifestations and avatars. He talks about how his latest book, for example, though anchored to India's foreign policy relations, can actually influence domestic policies as well.
We then delve more into international relations, and India's role in South Asia as well as beyond the region. The point is made that for so many in South Asia, India is Big Brother. The country is a lynchpin of the construct that is South Asia, and whether loved, reviled or indifferent, serves as an indispensable geographic, political and economic focus of so many debates and definitions that have to do with our region, and particularly within smaller neighbours. Shashi addresses the in some detail what he hopes will be India's role in the future of South Asia, and also on the wider international stage – hoping that the country will transform from the post-colonial legacy of rule-taking to a more assertive rule-making voice that inspires emulation and allegiance.
We then talk about Shashi's very active life on Twitter in particular, and his take of media regulation in general, and new media regulation in particular. India has in the recent past had a checkered relationship with the freedom of expression, and for those in Sri Lanka ever keen to take a page from the worst that any country has to offer, set examples through knee-jerk reactions to social media content that are disturbing and retrogressive. Shashi speaks about his own approach to balancing on the one hand, the freedom of expression, and on the other, the need to ensure media does not spread hate and harm.
Harking back to Shashi's student days at Tufts and how much international relations as theory and practice had changed, we then speak about an emergent policy of multi-alignment supplanting what was previously a policy of non-alignment. Shashi expands on this point in light of a question on India's role in the future of NAM and the Commonwealth. The follow-up question explores how, if at all, a country like Sri Lanka can also, like India, transform its international relations to embrace a multipolar world order. We also touch on the problems facing SAARC, and how greater leadership over some key issues, like cross-border telecoms regulation, can breathe some life into the ossified body.
Towards the end, we talk about Shashi's visit to Pakistan and how it resulted in some very interesting interactions. Shashi goes on to expand on how after his visit and also through his new book, he feels there are some real options for more harmonious relations and peace between New Delhi and Islamabad. We also talk about how Shashi sees his role as a public intellectual, seeing ideas that can go on to gain traction in ways he could not himself imagine, and long after he said or wrote what he did.
We end by recalling a parable from India Shashi recounted at an address to the student body of IIM Calcutta in January this year, titled "Who is an Indian? The Politics of Diversity". I ask him whether the parable, of how two persons from the farthest corners of India, upon meeting each other, find common ground, is more broader applicable to our region, South Asia.