Edwin Ariyadasa, who completed 91 years on 3 December 2013, is one of two grand old men of Lankan journalism still practising their craft (the other being D F Kariyakarawana, also 91).
The veteran journalist has been active in his profession for nearly all of Sri Lanka's post-independence years. During that time, he has played a variety of complementary roles: feature writer, newspaper editor, columnist, radio and TV host, journalist trainer, author and translator among others. He continues to juggle many of these and has no retirement plans.
Hailing from Unawatuna in the Galle district, Ariyadasa was raised in a traditional Sinhala Buddhist setting. But his education in English (BA from the University of Ceylon, 1948) and wide reading turned him into an effective 'bridge' between Sinhala and English languages and cultures. He straddles the East and West, as well as the arts and sciences, with admirable ease and versatility. He is a life-long learner and skillful, bilingual communicator of new knowledge to generations of monolingual audiences.
Ariyadasa worked for nearly four decades at the country's largest newspaper publisher Associated Newspapers of Ceylon Limited (better known as Lake House). He served on the editorial staff of Daily News, Ceylon Observer, Dinamina and Silumina newspapers before becoming chief editor of Nawayugaya magazine.
Along the way, he pioneered environmental journalism in Sinhala (in 1969), dabbled in science journalism (e.g. covering the Apollo Moon landings, chronicling the rise of information society, and introducing the ideas of Arthur C Clarke to Sinhala readers) and evolved his own styles of foreign affairs commentary and film criticism.
In all, he has written more than 17,000 newspaper and magazine articles over 60 years in both Sinhala and English. He also authored and translated several books. He also served as editor of the Illustrated Dhammapada (Buddhist scripture), a major publishing project undertaken in Singapore.
As a media trainer and teacher, Ariyadasa helped establish tertiary level education in journalism and mass communication in Sri Lanka: in 1973, he helped prepare the curriculum for the first such course at the University of Kelaniya. Since then, he has served as a visiting lecturer in journalism, mass communication and broadcasting at various Lankan universities.
In this interview with science writer Nalaka Gunawardene, originally filmed in Colombo in late 2012 on the eve of his 90th birthday, the nonagenarian looks back at journalism and broadcasting in Sri Lanka for over half a century.
His reminiscences are significant for several reasons. He recalls a time, only a generation ago, when newspapers produced by highly committed editors and journalists commanded readers' respect as a trusted source of public information and commentary. Having played a central role in pioneering mass media education and television broadcasting in Sri Lanka, he wonders what went wrong along the way to arrive at the banality and superficiality that dominates much of the Lankan media today despite advanced technologies for production and distribution.
In that sense, this is more than mere nostalgia of an individual or the simple bewilderment of an earlier generation. Introspection from a media guru like Ariyadasa can provide the impetus for much-needed reflection for the media industry which often hesitates to turn the spotlight upon itself.
In the first video segment, he pays homage to some giants in Sinhala and English language journalism in mid 20th century with whom he worked at Lake House. He also laments the sharp decline in bilingualism among today's Lankan journalists, which probably accounts for the insularism and paranoia that plague news and commentary.
In the second video segment, we ask him for his views on the 'Golden Age' of Lankan print journalism. He takes a realistic assessment of the quality of Lankan print media today, and wonders if newspapers in their current form would have a future. He then moves on to recalling the early days of television broadcasting in Sri Lanka, where he played an advisory role.
In the third video, he speaks of Lankan TV's missed opportunities and how 'blind emulation' has created a serious quality deficit in content across many channels. We ask him what audiences can do to demand better quality fare, and speculate whether Sri Lanka might ever have independent TV debates between presidential election candidates. The interview ends with Ariyadasa looking back at his long life with upekkha (equanimity). A fine example of active ageing, he has no time to idle as he goes in search of new knowledge — for example, learning about social media in his 90th year.
The transcript of the interview is published below. It has been edited in some places for brevity (but not opinions). Some annotations and weblinks have been added for better context.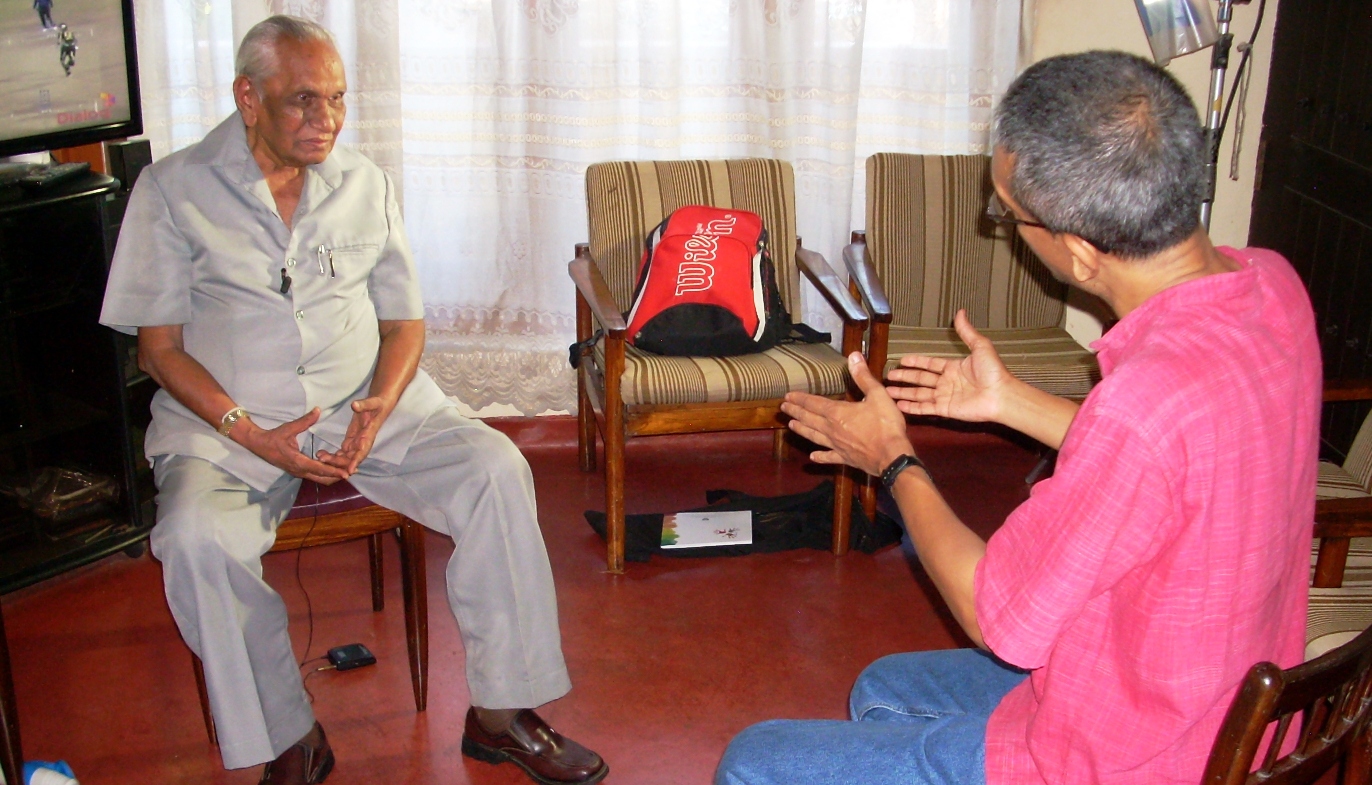 Nalaka Gunawardene: Looking back at your long career in journalism, you spent 35 years at Lake House, one of the oldest newspaper publishing houses in Asia?
Edwin Ariyadasa: Yes, from 1949 to 1985, actually 1987.
So nearly four decades in one media institution – and long memorable innings! How and when did you start your career in journalism?
That's a wonderful story. Formally I became a Lake House personality only on the 3rd of March 1949. But as a child of 12, I contributed to Lake House newspapers. There was in Silumina, for a segment called 'Kamala Lama Samajaya', where my name appeared for the first time in a newspaper as a contributor! Therefore, I have been participating in Lake House journalism in one way or another for a long time. But you asked a crucial question: how did I begin my career at a formal level at Lake House…
And also, why journalism — and not something else?   
Well, there is a history to it. I completed my studies at the University (of Ceylon), sat for my finals and went back home (to Unawatuna). There I taught at my former school, Mahinda College, for a while. While I was there, I received a message from Colombo from the All Ceylon Buddhist Students' Union. When I was at University, I was a high official in that islandwide group. We used to organise seminars and discussions and often travelled to places like Polonnaruwa, Sigiriya, Anuradhapura to hold meetings.
Its organisers told me: 'While you're in Galle, you cannot do any of that; please come back to Colombo! We have a nice job ready for you — with a car, driver, free petrol. You can have your weekend tours'. So I was tempted and I came over. My first formal job was as secretary of an insurance company. Imagine, for a young man just out of the University, having perks like a car, all the fuel I wanted for my travels, a driver and weekend tours to places we liked to visit! So I was okay; I didn't have much ambition beyond that.
Then one day I received a message from Mr Esmond Wickremasinghe, who was chief of Lake House at the time. He suggested that I should join Lake House as a member of their editorial staff. When it was first mooted, it was just another idea and I let it be. About a month later, once again the messenger told me, 'The chairman needs your response'.
I had an elderly friend with whom I used to talk about such matters – he was (leading author, newspaper editor and public intellectual) Martin Wickramasinghe (1890-1976). He lived at Samudrasanna Road in Mount Lavinia and our hostel was almost next to it. I told him that there was a request like this. He replied, 'From childhood on, you are interested in the media, so I think it's a good idea to join'.
I went for an interview and Esmond Wickremasinghe said, 'We will give you more money than you earn at your current job. Over and above that, we will also give you all the leave you want for your Buddhist student activities'. So I joined Lake House (in March 1949).
Which Lake House newspaper were you assigned to?
He (Esmond) told me I could begin at the English paper or Sinhala paper, and introduced me to editors of both Daily News and Dinamina. At Daily News, there was a wonderful scholar as editor: Jayantha Padmanabha — a grandson of Ananda Coomaraswamy (1877-1947) and a thoroughly cultured gentleman. I worked there for a short while, and then opted to work with Dinamina, whose editor was Piyasena Nissanka (1890-1970), another scholar.
What was it like, to report and comment on newly independent nation of Ceylon?
Piyasena Nissanka was a dark and tall gentleman, very much a Sri Lankan villager. He and I used to get together and write the editorial and he would go for a walk after writing the editorial. So I became his walking companion. He would walk around Galle Face: there was a tea room where he had cake and tea. When we come back to office, the proof was ready in spite of the fact the typesetting was done by hand. So, we started that way and that bilingualism was a hallmark throughout my career. I was on the editorial staff of both English and Sinhala newspapers; at one time, I was a feature writer for The Ceylon Observer (the oldest English newspaper in Asia).
Who were your other memorable contemporaries? 
I met some wonderful men in the profession of journalism. As I said, Piyasena Nissanka a wonderful gentlemen who knew his indigenous values and was not at all interested in money. There is a story that when he was recruited by (Lake House founder) D R Wijaywardene (1886-1950), the press baron had asked, 'How much money do you want?'. To which Nissanka is said have replied, 'No, Sir, I don't want money; I can bring money from my home'.
That was a kind of attitude he had. He was one of the most outstanding gentlemen in the editorial field at Lake House that I met. Then, of course, there was Jayantha Padmanabha, he told me:  'Even if you are on the staff of Sinhalese newspapers, please contribute articles relating to your culture to our (English) newspaper as well'.
Then in the Observer there was Denzil Peiris, one of the finest editors I have met. Those were people really committed to their profession. They did not have any other life than professional journalism. On one occasion, from morning till evening, he was working on the budget report, a top priority. He was getting sending staff out to check various facts. Ultimately, he realized that he had not taken any breakfast or lunch. He put his hand in the pocket there was no money. So he asked some one to lend him some money to get a cup of tea.
That was the kind of man Denzil Peiris was, and he was a very far-sighted journalist. He knew what was essential for Sri Lanka. He also had a kind of bilingualism to him. He was at one time the editor of Ceylon Observer later on he also edited Janata (now defunct), the evening Sinhala daily of Lake House.
One of the most interesting chapters in my journalism was working with Denzil Peiris. A Fleet Street editor had advised Lake House that although Ceylon Observer was an evening newspaper, but it should hit the streets by about 10.30 in the morning. So we had to come early in the morning and start writing. I would discuss an editorial topic for the day. Then he asked me to write it: as I finish a page, he takes it down to the printers (production) section while editing it; when he comes back, my next page is ready. I have never known any kind of editorial writing in journalism at that tensed level. Anyway, those who were the people who really inspired us…
This bilingualism resulted in a cross-fertilisation between the Sinhala and English language journalism – and perhaps with Tamil language journalism as well. That characterised your era, but does it happen in Lankan journalism today?   
I am extremely sad to say this, but it no longer exists. The kind of bilingualism that we had in a practical way at that time was solid and wholesome: there was a mutual respect and all the people wanted to uphold values in terms of their bilingual and multicultural essence. But there was no conflict as we knew we were together to serve the country and serve journalism.
But today, there is no value system to inspire our people. Bilingualism is not just a matter of someone writing both in Sinhala and English, or write in English and Tamil. It is matter of being very well versed in the cultures of these two languages represent. It does not happen nowadays. Of course, I am not condemning anyone — probably it is a reflection of the nature of culture in our day. So an in-depth awareness of the need to honour and respect values is not around among some of the people who handle newspapers today.
Can you tell us about the time when you served as editor of Nawayugaya Sinhala magazine devoted to new knowledge?
I was associated with almost all Sinhala newspapers and all English newspapers at Lake House. But what I cherish (the most) is the period I edited Nawayugaya.
Now Nawayugaya was a routine newspaper to help students to learn, something like a students' guide. It had mixed content, and did not have a well defined personality. The chairman asked me to take over and improve. Then I announced: 'I am not going write about cinema because there is a separate publication for cinema; or on women's affairs as there is a women's newspaper. I am also not planning to provide educational guidance, model questions, model answers, etc., because that is best supplied by teachers and tutors. I will concentrate on new knowledge.' So I made it a solid, youth-oriented language communicating the latest knowledge to Sri Lankans of all ages.
As one who grow up reading Nawayugaya as a schoolboy, I can vouch for that. In fact, Nawayugaya was a bit like a Wikipedia of the 1970s and 1980s: when we didn't have Internet, you sourced and gave us new knowledge!
Exactly. And people still ask me how did I get all that information…
Actually, how did you manage it?   
I was in the habit of reading whatever magazine was available, primarily news magazines. I also visited foreign embassies to get their special bulletins and communications. I was in touch with (US space agency) NASA, in fact had much correspondence with them to obtain the latest information about space exploration.
I got myself well informed first, and I also knew how to communicate that information in terms of the readership. So it was a commitment. I was keen to communicate information to the younger people and they are still grateful. I meet people of high calibre like you, who have able to achieve in a variety of fields: they praise and thank me. They still remember what they learned from Nawayugaya!
At Lake House, Nawayugaya was the newspaper I edited by myself and I feel very happy (not that I am unhappy about what I did in other papers). But at a time when news was scarce and information was difficult to get, I was able to help generations of young people…to satisfy their curiosity about what's happening in the world. Some people who grew up with Nawayugaya meet me occasionally and say that they have preserved old copies of Nawayugaya even todate…
To many of us, it was an institution!
Yes, I am very happy about the change I was able to make in the younger generation, making them develop a healthy curiosity towards the world, science and various new issues that matter.
I was also once editor of that scholarly section of Silumina, called 'Shasthriya Athirekaya'. When I think about the kind of subject I dealt with in that, I feel troubled by what happens today. In that supplement, I wrote about the interpretation of the Moonstone (Sandakada-Pahana) by Senarath Paranavitana. I took his articles from Artibus Asiae and, with his permission, translated them for Sinhala readers. They were learned articles but…where are the readers for those now? That is the pathetic fact we have to face.
You have to ask…we have to answer that larger question: where are the readers for that kind of serious material? Where is the curiosity of our younger people for those cultural, religious and other issues that matter to human beings in the modern world? If you look at today's newspapers…you feel that kind of in-depth understanding and deep wholesome curiosity has been taken away by some kind of force!
Yet, paradoxically, we now have the most modern technology to print colour, graphics, photography…but that depth is often missing?
That's my point! You can trivialise anything; you can hype even things that do not matter, give them tremendous amount of typographical glamour! But what about more serious issues? Consider the information resources available today, unlike in our day. You can press a button and get information on almost any subject. So much information and material is there for people who may want to write…
So, in your considered view, what was the Golden Age of journalism in Sri Lanka?                          
Objectively I would say it was the 1960's. Oh yes! 
Why do you say that?
Because there was this tremendous curiosity for learning! Which, to certain extent, began to wear off as time went on. It was revived after some time in the 1970s, but the 1960s were the best from my point of view. You look at even Lake House publications, and it reflected a kind of society that was quite keen to know; a society that was a wholesomely interested in what was going on — not gossip or things that hurt other people, but things that would deepen their personality and would enlighten them. There was a kind of genuine interest in the country through some influence — I can't quite trace what it was. If we can revive that influence, probably we can able to go back that era at least to some extent?
Do you believe that print journalism still has a future? I ask this because, in many parts of the world, newspapers are losing readers and advertisers, and closing up?
Yes, I do. I read in some papers that in a learned community, they were not able to have newspapers going, they had to close them down. And most of the people would take the easier route of going to Internet through computers for information, they won't bother with print media. There will come a time that print media will be a rarity. [But] I am not too sure within this century the print media will get totally outdated. That may be not happen [and] some newspapers may survive, but the popularity of the print media would not survive.
I have a feeling that people resort to the Internet even for their morning newspapers. They will have some kind of computer dominated, computer generated newspaper.
Well, we already do!
Yes, they may settle down for a digital newspaper in years to come. So the print media is not likely to survive with the same size and influence. It is already happening in books, too: you have now digital books. You can turn on even your mobile and have a book set up there and read in bits and pieces. Handling the printed book and having a feel for that may no longer be an intellectual pleasure…
See also: March of Printer's Ink: From Colombo Journal to Ceylon Today, by Nalaka Gunawardene
Moving on to television. Some say that the decline of reading in Lankan society was due to the advent of TV. You have been associated with the medium from its beginning, and indeed heralded broadcast TV in Sri Lanka! How do you look back at our 30+ years of TV?   
Let us go to the beginning…to recall how TV was introduced to Sri Lanka. In 1976, when we had the Non-Aligned Summit, we had close-circuit television. But at that time, the dream of [broadcast] television was going around. When people were thinking of introducing television, we held a series of seminars and workshops. Some people were alarmed: some well informed people, people who had high intellectual stature, argued that our culture would be destroyed if we introduced television.
M J Perera (1915-2002), civil servant who later became the first head of national television Rupavahini, has recorded in one of his books what I said at the time about the way television should evolve in Sri Lanka. He kindly adds that if [only] they had followed what I said, and later on if they heeded the advice offered by Arthur C. Clarke, our television would have been a lot better…
Sir Arthur also said that even bad TV is better than not having any TV. Do you agree?
There was this agitation when television was being introduced to our island (late 1970s). Some people believed that…total family life would be dominated by the magic box or the 'idiot box' and so on.
I asked [them] a crucial question: we are proud about 25 centuries of solid culture — a gentle, spiritual culture. If a new piece of [communications] technology could come and blow that off in a second, what on earth is the worth of 25 centuries of our culture, I asked!
That was my viewpoint at that time. I said we will be able to survive and we will [also] make use of television to promote our own cultural values.
But I must say that television has played a role that is likely to a lesson the cultural impact that other media have on people. I am not too sure that television has so far done all the things that it can or should do to promote our values. Television [we have today] is wanting, but as a medium, we [still] need to have it. That is my considered view.
See also: Get used to the Idiot Box, folks! By Nalaka Gunawardene, Feb 2012
The Japanese government gifted national TV broadcasting facility (Rupavahini) to Sri Lanka ostensibly for educational purposes in 1982. Now, 30 years later, do you think that intention has been realised?                            
We have to be very objective in this. The Japanese were extremely keen to see that this medium was used for the upgrading of the level of our culture, learning and worthwhile education. During the first few years, we were able to meet those objectives to a certain extent, but as time went on, we were caught up in something of an internal competition. Some stations were keen to earn as much money as possible: that is reasonable [too] because this was a finance intensive media.
So they introduced various programmes which ensured high incomes to those stations. But, sadly, even those stations which could have overlooked commercial imperatives became emulative: they also went for similar programmes which were popular but not necessarily with worthwhile cultural or educational depth. If we have failed to meet the objectives set by our Japanese donors, it was largely because we became mutually emulative, trying to copy each other…to earn more and more.
But that is pathetic! If [only] they knew that even by showing culturally and educationally valuable programmes, viewers would be with them and they could still earn money they! Even now, it is not too late to turn around and think about creating value oriented, educational oriented programmes that can be financially sound as well. It will take some effort but it is worthwhile.
I feel that despite the initial efforts we made, the television medium is not going in the right direction — we can't be happy about the way television is going in Sri Lanka. It can have a much more formidable national target and can achieve it: we have all the resources in terms of personal, technology and expertise.
A German expert once told me that Sri Lankans are wonderful in acquiring the technical efficiencies with alertness. He said that in no other Asian country could technicians acquire the television technology as quickly as in Sri Lanka. So, we have the advanced technology, technical personnel, stations and resource persons. But still something is wanting…
What do you think is the missing link?                  
The missing link is the urge to emulate, to copy! Some TV stations copy other's programmes without question or thought. They emulate blindly. Instead, if they do away with emulation and have original creations and personalities, we will go a long way in fulfilling those wonderful objectives we wanted to achieve with broadcast television. 
In other words, we need a lot more innovation in our broadcasting?
Exactly! Originality should dominate, not mere emulation.
How?
That is where the state should take a lead. Because state can even suffer certain financial loses and uphold the values for which this medium was introduced. Initially, even if they have to forego some financial profits, they can still do it. There are some TV stations that strive to do so, and they have to continue. We must set up a system of programming that is bereft of copying: original, culturally valuable and helpful for grown up and children.
I sometimes watch wonderful documentaries on NHK, BBC and CNN. Their discussions are in-depth: they keep you well informed and as with as much objectivity as possible, they give us a full picture. So why can't we emulate those wholesome presentations? Emulation of bad things should be done away with, and instead we should emulate good content wherever we find it.
What can the TV audiences do, to drive such a demand for better content?                            
You know, this was once asked about newspapers too. An expert in journalism said: 'If you are unhappy with one newspaper, go to another'. It's as simple as that: you have other options. But in our country, the range of television content fare is limited…
Yes, we have 15 or more (free-to-air, terrestrial TV) channels – yet sometimes nothing interesting to watch!
Exactly! But for the time being it may provide one element of human needs entertainment and even that entertainment is to a certain extent rather parlours. What is the kind of message given by some of those tele-dramas? Does a tele-drama give some kind of worthwhile message or guidance for a better living, for more culturally valuable form of lifestyles? I am not sure!
Someone told me that when they start viewing some mega tele-dramas episode by episode, families that have been living in peace also consider it necessary to have family squabbles! Because such dramas are focused largely on that kind of family conflicts…
So my view is that Sri Lankan television has a tremendous potential to be a powerful weapon for the development of the totality of our country, to promote our culture and values. We can draw on a cultural legacy of more than 2,500 years, and we have the technology to communicate it in a manner that can sustain attention. Why not make use of these assets and give up on endlessly superficial entertainment?
We have had TV for more than 30 years, and a whole generation growing up with it — I call them Sri Lanka's first TV Generation. What do you think of the first TV Generation of Sri Lanka? Are they different, and if so, how?
I have two grand nephews in my household who have grown up with television. Maybe due to home environment, they can select what they think is wholesome. But when they were children, they had a tremendous addiction to television.
I am fond of quoting an incident. One of them, when he was about to go to school for the first time, was asked to worship everybody at home. So he worshiped his parents, grandparents, elder brothers and then, he also worshiped the television set! To this young child, the television was very much of a personality in the household. But due to certain influences, they grew up as discriminating TV viewers. They now switch on only if they feel that it has some kind of specific purpose.
So if the right kind of family atmosphere is provided, children on their own will become discriminating television viewers. A western media expert once said television is the third parent: the influence of the television is much deeper than even of the [biological] parents.
TV is the most pervasive public information medium in Sri Lanka, but we still don't have a tradition of presidential election candidates having live un-rehearsed TV debates. When do you think we might evolve that?
It has become a tradition [in the United States] from the days of Richard Nixon and John Kennedy. They thought: when we have such a tremendous instrument like television, why can't we go to the people with our opinions to address them directly and make them see what kind of person the candidates are, persons the candidates should be?
In Sri Lanka, at one point I remember, a peripheral attempt was made, some candidates were allowed they were given some segment of time on television to address the people
But they appear on their own, one at a time, but not debating each other!
In our country…most stations would be self-conscious about such a thing… because if one party appeared to be a little bit favoured, probably that reflect up on the management of the station. So there are certain issues in our country which are not present in the US. If we can overcome those hesitations, [presidential TV debates would be] a wonderful way to take democracy to people…It will contribute towards good governance.
You will soon be completing 90 years. When you look back, how do you consider your life? 
Strangely enough, I don't feel that I have grown up! Years have got added to my life but some feelings I had in my childhood are wholesome and alive within me! And I still have my original sense of curiosity to know things.
I must say a specific thing of these 90 years. All people receive love from their family, neighbours — and if they are good — from their teachers and colleagues. I have been exceptionally lucky in that. From birth on, I have received tremendous love from my family, neighbours and teachers.
I was the youngest in my family: I had my parents, three elder brothers and two elder sisters. Never did they address me harshly in the whole of my life. It was the same thing at school. I was something of a precocious student. I was bright, so there was no reason why the teachers should be harsh to me. They loved me!
How do you keep an open mind when men and women half your age have already closed theirs?
Because…I never grew up! The secret is to have your curiosity. You want to know more! Once you are driven by the need to know, you become objective. For instance, on the first day of each year, I resolve that during this year I am going to study this [topic] in depth. I can always have some kind of subject I like. This year, I set aside for social media and the impact of social media.
And there is another reason why easy for me to be very objective: I am not angry with anyone, I am not jealous of anyone. When those two evil attitudes of mind are absent, objectivity is easier. This is what is described in Pali as Upekkha (equanimity).
Some people ask me how I remain very active at this age. Of course, my interests are many and varied…my secret is I am not angry with anyone, I am not jealous of anyone – that's all!
Finally, do you have any regrets?
Personally, none. I won't say that I want to live my life again, revising some of the things that I was not able to do well. No. I feel this is it. And in a way, I have a feeling that I am ready for any event therefore there is no regret. Most people who grow old waste their time thinking about what they were not able to do, what they should have done, etc. Fortunately for me, I do not have that kind of leisure for regret.
Interview transcribed by: Keerthika Nadarajah
Video edit by: Amal Samaraweera, TVE Asia Pacific
Photos by: Janaka Sri Jayalath