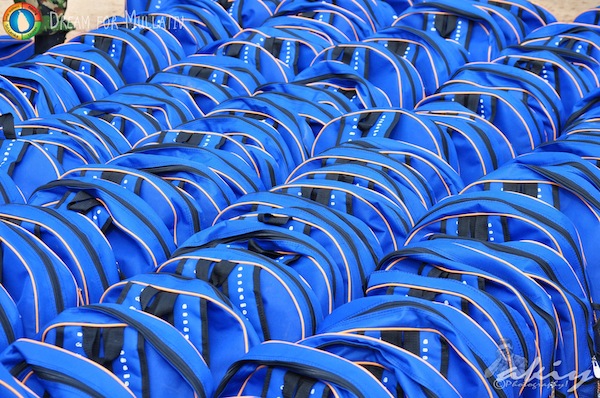 Image via Facebook photo set by Akiy Photography.
In the wake of a Project where essential school items, bicycles and other items were donated at the Seeniyamottai resettlement village in December 2012, much discussion has taken place in public forums as to certain concerns it raises including in the recent article in 'Groundviews' by Amal de Chickera (read Racing Tanks with Bicycles: A Parable of 'Reconciliation' in Sri Lanka). Sri Lanka Unites as a movement would like to reply and to clarify some of the mistaken assertions.
It must be stated at the outset, as indicated by Amal de Chickera himself, that his thoughts and ideas were spurred by browsing through images on a social media site. With all respect to the author's best efforts and the website for their citizen's journalism initiatives, it would surely have been better if the article was based on a wider and deeper level of information and the courtesy of a consultation with Sri Lanka Unites or connected groups involved in the project.
Sri Lanka Unites in Mullaitivu
Our journey with the people of Mullaitivu began in 2009. We gained access to serve the community at Menik Farm through Sarvodaya. At the time, the current Sri Lanka Unites National Director was a program coordinator for Sarvodaya – a position he took on because he wanted to serve his people during a very difficult period. He had been an IDP his entire childhood. He had lived in multiple IDP camps, been a student of 13 schools as a result of the war. He could be considered someone who understands at least a little of the people's plight in Seeniyamottai.
He could have easily continued to live in Colombo, pursue his education and write an occasional article about the injustice to assuage his guilty conscience. Yet he chose the difficult journey of living among his people and responding to them in their time of need.
In his own words, "I spent the first 18 years of my life, since the day I was born, in a war torn environment, repeatedly displaced and leading the life of an IDP, without proper clothing, food, shelter, healthcare or a proper education, living in the worst places within the worst environments. Though these were bitter experiences, it did have some benefit. As a result of my experience, I was able to understand the pain and suffering of the people living in poverty and I became sensitive to their needs and felt an urge to help them and it also sowed the seeds for a lifelong commitment in service of such people.
As a result, after my A/Levels in 2004 I had the opportunity to aid my people in the North and the East who were in great distress as a result of the conflict. Till 2011 I was able to reach out to thousands of people by going from village to village and to IDP Camps and serving the people and alleviating their pain, until the time they were resettled. I consider this to be one of the greatest privileges of my life. Today my goal is that no one should endure a childhood of despair such mine. People should not suffer without their basic needs being met; they should have the capacity to fulfill for their social, economic and political needs through just means, and to this end I will work."
The image of a top-down patronizing charity does not correspond to the reality of Sri Lanka Unites which rests on lateral relationships with the youth of Sri Lanka. One of our biggest strengths is the School Chapters Island wide. Vattapalai Maha Vidyalayam is one of our strongest school chapters nationally. The school has been part of numerous projects and produced some of our best student leaders over the years. These student leaders were instrumental in introducing us to the Seeniyamottai relocation site, which is situated a few kilometers from the school. It is our commitment to Vattapalai MV, and requests from our student leaders there that encouraged us to get involved here.
The People of Kepapilavu
In October 2012, 20 students from all across the country (including two students from Mullaitivu) visited Seeniyamottai during the Sri Lanka Unites School Relations Tour. Following this visit, the Sri Lanka Unites national team made two further visits to the area to meet the people and discuss what could be done. Our efforts were based upon their request, and the focus was on students. Since all the school-goers from the site attended Vattapalai MV, it made all the more sense for us to get involved.
Our student leaders in Mullaitivu carried out a survey in Seeniyamottai. Data as to the number of children, gender, age was gathered and their requirements were specifically noted and helped us to determine where we could get involved. We were not so arrogant as to second-guess the people's wishes in establishing priorities.
Students living in Seeniyamottai have a few kilometers to walk to school with very limited public transport. Bicycles are not just a mode of transport but also help in their day to day activities. The distribution of bicycles and essential school items has everything to do with the academic future of the children which is of vital concern. Just because the situation is not life or death, as it was in Goma does not make children's education petty or secondary!
Our Approach
SLU has always acted as a non political, non partisan, multi ethnic and multi religious youth based movement.
'Our decision to get involved is based upon humanitarian concern and the duty of a movement for reconciliation to be a ray of hope, however small it maybe, for the innocents who have been victimized by all parties. However, as a nonpartisan movement we do not endorse any decision made by any party in regard to this settlement. Our actions are meant to meet the immediate needs of the community.' – Sri Lanka Unites Newsletter (November, 2012)
There are obviously broader concerns to be addressed such as the legal and political matters which are admittedly direct concerns for reconciliation to materialize. Within the mandate and long term objectives of SLU we have identified our role in this process.
SLU has its own approach to Reconciliation. As a non partisan youth movement we need not necessarily involve ourselves in discussing politics publicly. We need not necessarily be a political agitator. We need not necessarily challenge and agitate against the state. There have been enough youth movements in our country who used violence to further political agendas. We will not risk using our movement to politicize our students.
SLU's approach is to invest in the next generation of politicians and leaders of Sri Lanka from every district, ethnicity, religion and economic background. We invest in the youth by implanting the seeds of altruism, leadership, and reconciliation which will lead to proactive and creative ways of achieving positive change in their communities and society.
In its brief existence SLU has connected youth from all over the island, creating a space for discussion, understanding and walking in one another's shoes. It has created a youthful enthusiasm, a spirit of adventure culminating in 'actual civil' action – people to people and Sri Lankan to Sri Lankan: through the Future Leaders Conference, the School relations Tour, Champions of Change, SHOW You Care and our other activities. We have still a lot to learn including from our mistakes and are always ready to listen to constructive criticism.
We don't believe in waiting for the government, military or political parties, international NGO's or anyone else to initiate activity. By the time the political deadlock is sorted, grievances are heard , political and legal settlement of land issues are understood, another generation will lose opportunities for a proper education, employment and connectivity with the rest of Sri Lanka.
Our movement consists of thousands of individuals. Not for one moment do we suggest that we as individuals do not have personal opinions and convictions on these larger questions.
Working with the Military
SLU on principle does not work with the military. We have consciously not had them to be a direct part of any of our activities.
Our previous projects in the years before as well as other projects in the same area bear testament to that matter. For instance the 'Shoebox Project' connecting children from Colombo directly with a child in Mullaitivu was done without any military presence and this was fully organized by Sri Lanka Unites members and civilians of Mullaitivu.
However admittedly there was a military presence at the Project at the Seeniyamottai Resettlement Village where school supplies, bicycles, kitchen tools and the likes were handed out. The Foundation of Goodness organized this event and most of the items were provided by them. The SLU Chapter in Australia donated money for 80 of the essential school items packs. Bikes for Life Campaign led by Kumar Sangakkara along with the Foundation of Goodness donated the bicycles. SLU was invited to participate at this ceremony in the capacity of a donor and also because we were instrumental in bringing the people's needs to their attention.
Our Future Plans in Mullaitivu
As noted above, Sri Lanka Unites has had a presence in Mullaitivu, and we intend to preserve it. Here we present some of our long term plans for Mullaitivu.
We believe that spreading the resources and opportunities for good education will pave the way for youth to become strong voices for their community. We will continue to push forward to ensure the next generation does not need to live dependent on anybody but can sustain themselves with a proper education.
By the end of the year 2013 we are committed to create 300 employment opportunities in Mullaitivu.
We have already begun to partner with corporate sponsors, Sri Lanka Unites Diaspora chapters and small business owners around the country to design a strategy that will create jobs for the community. We are ready to launch our educational and operational hub in Mullaitivu. The Reconciliation Center project – as we call it – aims to provide scholarships in IT, English and Business entrepreneurship.
To Help the People of Kepapilavu
A Sinhala member of the School Relations Tour registered her experience in Kepapilavu in the following words 'The tragedy and suffering we witnessed is truly distressing and we're all deeply moved. We spoke to several families living there and found out that they've just been relocated from Menik Farm into what they've been told are their permanent homes. These 'homes' are basically shacks made out of wooden pillars with rackety tin roofs. The lands these people once had are no longer accessible let alone theirs. They have gone through so much and the stories they tell have you inspired by their moral strength.'
The plight of these people has not changed. The houses promised by the Indian government may well take another three years to materialize. In the mean time there are no proper toilet or sanitary facilities available, and a water tank to provide water to the people is still needed.
Sri Lanka Unites also tried to create awareness about the plight of these people at the student workshops held in 7 districts (namely Matara, Galle, Hambantota, Colombo, Nuwara Eliya, Kandy and Puttalam), through photos, videos and direct testimonies by the student members of the School Relations Tour (a team comprising of students from 7 provinces). A Sinhala Buddhist boy from a district like Matara, speaking of the plight and injustice faced by the people of Seeniyamottai at a workshop held in his own hometown is characteristic of what Sri Lanka Unites is all about.
We don't believe that the reduction in the level of misery will delegitimize the inalienable rights of the people. You can stand back and watch, you can sit back and comment cynically – in which case the military will be the only body helping the people of Keppapilavu. Or you can do something about it. That is what Sri Lanka Unites has chosen to do.
Sri Lanka Unites believes in being transparent about its activities and making available information about our activities through our website, blog and periodic newsletters. However, a drawback in being a movement largely based on volunteerism is that at times we may have to sacrifice PR to have more hands on the deck for urgent and immediate action. However, if there are concerns or criticisms about the activities of Sri Lanka Unites, we are open to hear them, clarify and learn through them.