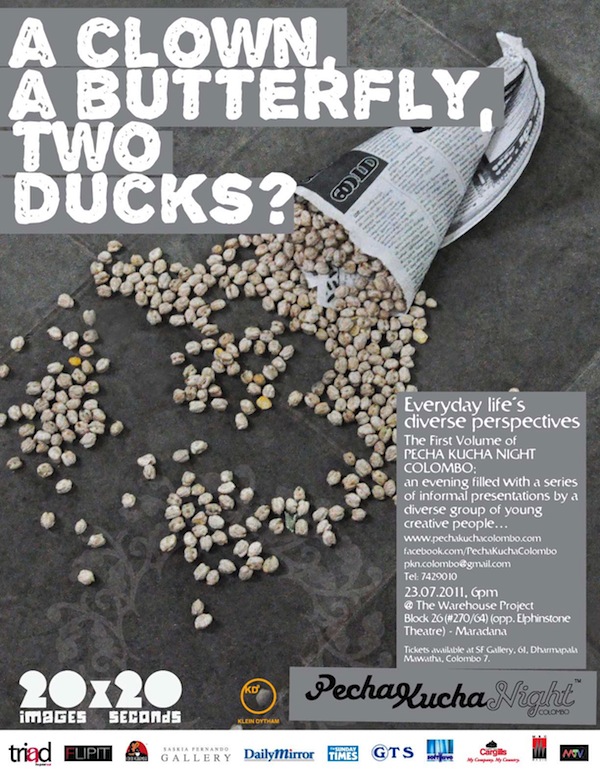 Groundviews was invited to the press conference official launch of Pecha Kucha Colombo. It's an interesting concept, more details of which can be read on its website here. Post-war Sri Lanka affords a space for this kind of event which was not present during the war, and this is something to be welcomed.
As the website notes,
"Pecha Kucha Night was devised in Tokyo in February 2003 as an event for young designers to meet, network, and show their work in public. It has turned into a massive celebration, with events happening in hundreds of cities around the world, inspiring creatives worldwide. Drawing its name from the Japanese term for the sound of "chit chat", it rests on a presentation format that is based on a simple idea: 20 images x 20 seconds. It's a format that makes presentations concise, and keeps things moving at a rapid pace."
The first event (there will be four over the course of the next 12 months) will be on the 23rd at the Warehouse Project in Colombo and feature presentations by fashion designers, artists, photographers, graphic designers and puppeteers.
Groundviews caught up with Saskia Fernando after the press conference, whose idea it was to bring Pecha Kucha to Sri Lanka.
[audio:http://groundviews.org/wp-content/uploads/2011/07/Interview-with-Saskia.mp3|titles=Interview with Saskia]
Questions at the press conference were asked as to why the festival wasn't moving out of Colombo, given that it doesn't discriminate against language and features presentations in Sinhala, Tamil and English. The organisers noted that while presentations were encouraged from all parts of the island, the actual event was anchored to Colombo, but that there might be a chance it would travel to Galle early next year.
Pecha Kucha's Facebook page can be accessed here and it's Twitter updates can be read here.