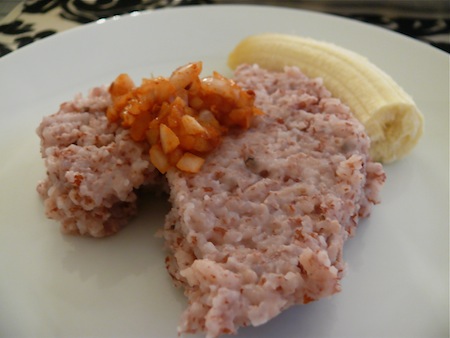 Photo of kiri bath courtesy le sauce
Most performances of Dhananjaya Karunarathne's brilliant script Last Bus Eke Kathawa (The Story of the Last Bus) are memorable not just because of the acting, but also because the audience becomes, without at first knowing it, part of the theatre. Chewing gum or boiled sweets are distributed to the audience before a performance begins. Most take one. Some take a lot. Everyone takes a bite. It is only at the dénouement of the play that the deeply troubling story behind the sweets is revealed.
Much like Karunarathne's script, those who take one bite, or many from the world's biggest rice cake (kiri bath) in Colombo today may come to realise that what they have eaten into is actually an outrageous obscenity.
Let get the facts. The UN's World Food Programme (WFP), as of September 2010, was feeding,
25,000 IDPs in camps
50,000 IDPs in host families
110,000 people on 6‐month return packages immediately following resettlement
120,000 people on extended rations after the 6‐month return packages
300,000 children under the school meals programme in the Northern and Eastern Provinces
200,000 pregnant/nursing mothers and children under five years in the Northern and Eastern Provinces
35,000 people under regular Food‐for‐Work and Food‐for‐Training programmes
30,000 people under soft Food‐for‐Work programmes
Furthermore, the WFP is the sole source of rice for 96% of hosted IDPs in the Jaffna district. To reiterate, it is the United Nations through foreign aid and NOT the Government of Sri Lanka that is feeding hundreds of thousands of citizens in our country, even post-war.
Though exact figures are hard to come by, the WFP has noted that it provides about 400 grams of basic food needs per person per day for most IDPs, consisting of 200 grams of rice and 200 of wheat flour. So for a week, an IDP would consume 1.4kg of rice.
In comparison, the President's record-breaking rice cake is 12,000kg. We can break that figure down in a number of ways. For the same quantity of rice,
A single IDP could be fed nearly 165 years.
An IDP family of 3 adults and 2 children could be fed for 41 years.
As of 8 October 2010, even if half the remaining 25,000 IDPs in Menik Farm are adults, they would require 17,500kg of rice per week. Over just a single day, the President's rice cake takes up nearly 69% of that requirement.
This obnoxious rice cake in Colombo will feed just a fraction of the children, women and men still displaced in Sri Lanka without proper food, and worse, many who don't need to eat rice cake for their primary sustenance. Even if the President wanted to have his cake, could it not have been distributed amongst those far more deserving, and genuinely hungry? Leave aside the IDPs – often out of sight and out of mind for most of us. There are thousands in and around Colombo who, after recent floods, could have used rice rations.
Satiated somnambulism, particularly in the South, appears to be a good recipe for the President's second term. Life does have an ironic way of imitating art.