[Editors note: This interview was conducted in April 2006]
 
Lisa Kois is a brave filmmaker, working right at the heart of today's dangerous and on going civil conflict in Sri Lanka. Her movie and television series on Sri Lanka's war have won her numerous international awards; she talks to Hugh Bohane, about her experiences making her first movie, "The art of Forgetting" and the television series, "Crossing Fires", which features British-Sri Lankan musician, M.I.A.
 
Tell us a bit about your background?
I am originally from the United States, yet do not identify with today's America, its policies, or its practices. At the same time, it's where I am from, it's what I grew up with, there is a part of it – I like to think the good part, the part that celebrates freedom and justice and rights and diversity – that I carry with me always… that is me. The longer I have lived outside of the US, the more alien it has become, particularly in the last seven or so years of Bush and the Neo-Cons. It's increasingly difficult to relate to it.
I have lived in Sri Lanka for the last 12 years. I'm a lawyer by training, a writer and now a filmmaker. But I'm not really comfortable with any of those titles. The work I do has always revolved around issues of justice and rights. So that means combating violence, raising awareness about violence, working with survivors of domestic violence and rape. It is also legal advocacy around rights abuses, documentation, writing, and now documentary filmmaking.
After working in various capacities within the UN and Sri Lankan NGOs, I became frustrated with what I saw as the limitation of traditional forms of human rights documentation and advocacy, with its heavy reliance on the law and legal remedies. I felt like we would write report upon report, but nobody was reading them. In search of a larger audience, I started experimenting with other forms, art forms and documentary film making.
 
How did you come to choose this line of work and Sri Lanka, as a country to work in?
There are issues… issues of justice, of rights, of power and the abuse of power; of violence… these are the issues that drive me.
I was a welfare child a product of the system, a system that is overwhelming and increasingly hostile and violent toward the very people it is supposed to serve. Then there was violence, episodes of violence in my life, in my friend's lives. It's virtually inevitable as a young girl, then young woman, you will experience some form of violence directed at you merely because you are a girl or a woman, so that's that. Then the work you do drives you further, working with survivors of violence, or working with women in conflict situations, you have the opportunity to meet, interact and work with the most amazing people.
As for Sri Lanka, after first coming to Sri Lanka for a few months in 1995 to work with the United Nations Special Rapporteur on violence against women, Sri Lankan lawyer and academic Radhika Coomaraswamy, I had returned in 1996 to continue that work.
Although employed by the UN, I was lucky to find myself based at a local research and policy institute, the International Centre for Ethnic Studies (ICES), in a community of intellectuals, activists and political leaders who encouraged my involvement and activism in human rights and peace movements in Sri Lanka.
At the center of this tightly woven community was a man named Neelan Tiruchelvam – an activist-intellectual, constitutional expert and moderate Tamil politician working to craft a political solution to the war, who was also the energy, passion and spirit behind ICES and a mentor to the many young scholars and researchers, like me, who worked there.
I was actually starting to think about leaving Sri Lanka in 1999… and then reality crashed the gate and left Neelan's body on the road and Sri Lanka, the conflict, peace, it all became very personal. Political violence has a way of breaking you open and laying you bare.
Throughout my time in Sri Lanka I have moved in and out of conflict areas. In some cases my outsider status – the fact that I am visibly foreign – made it easier for me to do that, to move, to go into areas that were very insecure and document rights abuses. My skin privilege provided me access and a certain level of security in areas and situations in which my Tamil colleagues couldn't venture.

 
Tell us a little bit about the film you made?
It's called "The art of Forgetting".
It is framed in terms of those moments I was talking about earlier… the moments when political violence enters the frame and alters your world.
The film explores issues of political violence and memory in Sri Lanka through the stories of ordinary people whose lives have been forever altered by the violence. It attempts to foreground the stories that don't get told. The stories that were being excluded from the peace process as it began to unfold in 2002 and 2003, to highlight the commonality of suffering for those who experience political violence and somehow to break through the silence and statistical anonymity that characterizes the dominant discourses of war by foregrounding the personal stories of the people whose lives have been forever altered by war and political violence.
Filming was done over the course of the two years – 2002 to 2004 – after the signing of the (now collapsed) ceasefire agreement. The project had two components. One was documentation of oral histories and places that had been inaccessible because of the war – to document them before they were all reconstructed and memory was erased. The second component was the film itself.
The project was meant to engage in what Alex Boraine, former Deputy Chair of the South African Truth and Reconciliation Commission and Director of the International Centre on Transitional Justice, calls the "intentional act of remembering". To look back and remember the past in order to move beyond it, so this is a non-vindictive memory, I'm talking about. It is an honest memory, a memory that need not be afraid of the light. A memory that must be exposed fully so that healing can begin.
Peace cannot merely be a political arrangement between two warring parties. That's part of it, of course, but what happened in Sri Lanka, and what is still happening, is that the official discourse of peace, the failed talks, the "peace process," leaves the people behind. I really wanted to challenge that. To make room for the voices of the people and the stories that isn't heard.
The film uses the metaphor of 'travel', from the majority Tamil North of the country to the majority Sinhala South- through government and rebel territory – to examine the ways in which those affected by violence and conflict have no choice but to remember and to challenge those who advocate amnesia. It was made with the hope that it could be used as a tool to promote dialogue on issues of political violence, war, justice, and accountability, on the question of how a country goes about balancing the past – and the suffering and rights violations of the past – and the future.
It has been really well received. More so than I expected, there is something that seems to touch people or something with which people are connecting with on various levels. Watching the film seems to be a very personal experience. It becomes a vehicle of expression for the pain and memory that people watching the film carry.
Although the film wasn't specifically about women, most of the people in the film are women, you find that women are often the ones who are left behind, they are the widows, the mothers, the sisters, the daughters … they are the story tellers… the past…the bearers of history.
 
Tell us about your last television series "Crossing Fires", who are some of the featured artists and how did it come about?
I worked as a Consultant on the series and producing a couple of the Programs for Young Asia Television. It is an Independent television production house. It produces socially relevant programming, for Sri Lanka and more broadly, Asia. They are conceived of a television documentary series that explores issues of women and armed conflict. Some of the issues that are being covered include women and combat, disappearances, displacement, war-related disabilities, migration, war widows, etc. One program in the series looks at issues of women, conflict and music, specifically how young women from Sri Lanka are using music to explore political questions and/or take a political stand on peace.
Now there are these young people in Sri Lanka – young Sri Lankan's whose lives have been lived always under the shadow of war. Who are exploring different ways of making political interventions, locally and internationally, through different art forms?
A really powerful one is music… so this program looks at music. From M.I.A – Maya Arulapragasam – who really stirred things up internationally ever since her first commercially released CD, Arula, in 2005.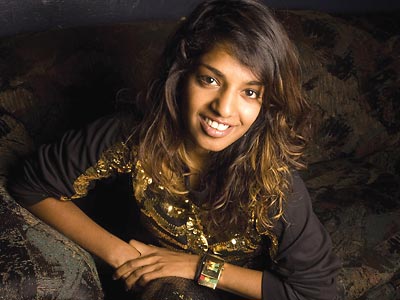 Mathangi "Maya" Arulpragasam. Photo credit Paul Natkin/WireImage.com
 
Although her music is only known by the young kind of independent hipsters in Sri Lanka, I must say I was really taken with it when I was first introduced to it by a friend in India. It's very provocative, very political and has a great danceable beat. It's what good music should be. And it gets people thinking.
Everybody wants to pin her down as pro this or pro that. I don't think she's that easy. I think she plays with images, experiences, identities and irony. She gets people talking and debating. I think that's brilliant.
The program put M.I.A next to these young Sri Lankan women who are experimenting in different ways with a more political kind of music, who recognize the power music has to impact people and want to use their music to promote peace.
This is my favorite episode of the program. It's a bit lighter, in some ways, but equally relevant. There is sometimes a tendency to get trapped in a victim-mentality when it comes to issues like women and conflict, to focus overwhelmingly on the ways in which women are victimized. But that's just one piece of the story.
Think of M.I.A.? Where would she be, who would she be, and what would she be doing if she had not been forced to leave Sri Lanka as a child? So there is this thing about conflict for women, in some cases it helps reconfigure space and make room for women to change their roles or challenge the dominant construct of what women should be doing. These young musicians are all about that.
 
What do you want for Sri Lanka?
Peace. Real, meaningful peace, which means that there, needs to be accountability too.
 
[Editors note: Lisa's work has been featured on Groundviews in the past. Lisa's introduction to her film The Art of Forgetting can be found here. A review of the film can be found here. Both submissions were first published on this site.]