Articles written to remember the anti-Tamil riots of July 1983 and 1958. This content was submitted to Groundviews in July 2008, 25 years after the riots of 1983 and 50 years after those in 1958.
Over 9,000 visitors read and engaged with this content from 23rd to 30th July alone. Nearly all submissions were exclusive for Groundviews and came from award winning poets and novelists, senior Government Ministers, Members of Parliament, renown scholars, human rights defenders, civil society activists, artistes, senior civil servants, a former Secretary of Defense and others.
A full list of the submissions follows.
Vikalpa's YouTube Channel also recorded 35 short interviews with prominent persons from civil society as well as from ordinary citizens on their thoughts on the events of '58 and '83. The combined playlist can be viewed below. For more videos, visit the channel here.
Largely on account of this content, Vikalpa Video was featured on the Top 100 Reporters list on YouTube.
Never Again in Sri Lanka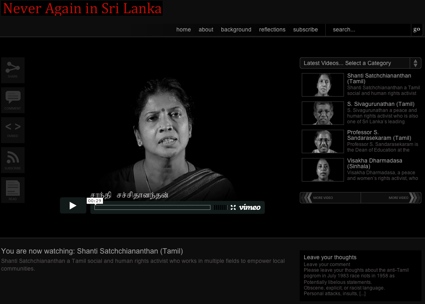 Never Again in Sri Lanka features 22 videos in Tamil, Sinhala and English on the anti-Tamil pogrom of July 1983 in Sri Lanka. The 30 second videos on the site feature renown Sri Lankan civil society, film, teledrama, entertainment, academic and religious personalities including:
Bellanwila Wimalaratne Thero
Asoka Handagama
Iranganie Serasinghe
Dr. A.T. Ariyaratne
Upekha Chitrasena
Sunila Abeysekera
Kasun Kalhara
Prof. S. Sandarasekaram
These videos were aired on the MTV, Shakthi and Sirasa terrestrial TV channels in Sri Lanka from 23rd to 30th July 2008.Â

Information, discussions, photographs and personal narratives on the anti-Tamil riots of July 1983 that complement the articles and videos on Groundviews are published in the Peace and Conflict Timeline (PACT), the award winning interactive timeline of the Sri Lankan conflict.
Visit PACT's entry on the July 1983 riots here. Groundviews is not responsible for the content on external sites.