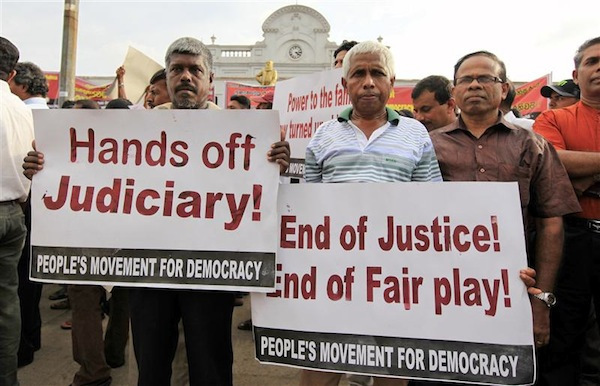 Photo courtesy Euronews
Just a few weeks since the impeachment of Sri Lanka's Chief Justice Shirani Bandaranayake, no one is really talking about it anymore. Interviews conducted by and featured on Groundviews at the time impeachment proceedings were on clearly flagged serious fears over the independence of the judiciary.
In order to ascertain the lasting impact of the impeachment in the manner it was conducted as well as to understand better the dynamics of public opposition or support towards it, Groundviews has created a brief online questionnaire.
The questionnaire will be open for responses from today until 21 March 2013. Depending on the feedback, results of the questionnaire, along with suitable data visualisations, will be posted on this site.
To answer the questionnaire, please click the button below OR click here to fill it out in a new browser window.
Please pass it on to friends and colleagues.