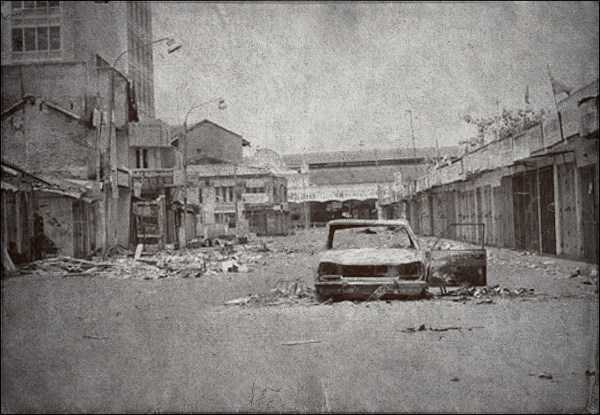 Original photo from Ilankai Tamil Sangam
School closed early today. Amma was looking very jumpy when she came to pick me up, but she wouldn't tell me why. When we went to get Loku and Chuti, Chuti was nowhere to be seen. We walked all over school looking for him and finally found him running around with a chair in his hand looking to 'hit someone'. Amma gave him a good scolding. Serves him right.
On the way home we saw a group of aiyas dancing around an uncle whose hands were tied to the lamp-post. They were pouring bottles of talcum powder on him, and he was starting to look like a ghost. They were laughing. He was looking sad. I think he was the uncle who worked in the Pharmacy we sometimes bought our Multi-Sanastol from. Amma said it was better if we looked straight.
Everyone was on the road today.
Lots of Aiyas. Lots of police uncles too.
Amma stopped to buy groceries. We asked for Icy-Chocs.
Later in the afternoon we found our neighbour's servant boy standing in our garden holding a siri-siri bag with his clothes in it. He was crying. Amma was angry, but she wouldn't tell me why. Sena, hoisted the boy over the wall back into our neighbour's garden. Chuti thought we should have kept him on our side, because he could have been a fielder.
We weren't allowed to play cricket that day.
Thaththa came home with uncle Gnana, that aunty and their son. They were also looking sad. Thaththa was looking worried but he wouldn't tell me why. I had to give up my room for them. I wasn't happy. Seela was asked to make more string hoppers for dinner. She wasn't happy either.
We were allowed to stand at the gate for a bit. But I was not to tell anyone I had given up my room. I am not sure why.
I saw an Aiya removing a piece of glass from his foot. It was bleeding. There was a lot of blood. It must have hurt him alot. One of the police uncles gave him a ride in their jeep. That was nice of him.
Sena kept asking us to repeat the words 'Baldiya' for fun.
We were allowed to stay up a little longer today. But we weren't allowed to change the TV channel from Rupavahini.
I am hoping we won't have school tomorrow.
(Unlearn. Relearn. Teach. Remember.)