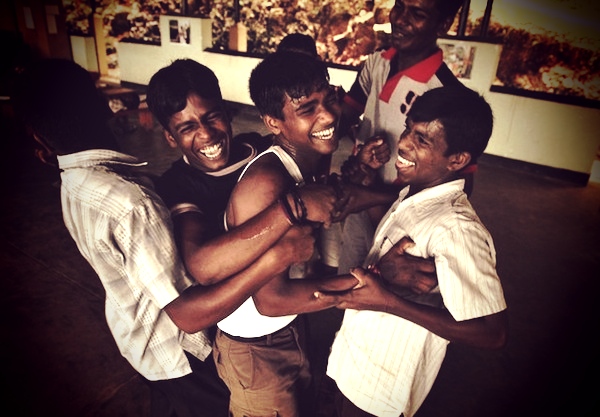 ASSOCIATED PRESS PHOTOGRAPHS Former Sri Lankan child soldier Warnakulasuriya Anthony Sunil Rexy (right) laughs with other inmates as they play earlier this month at a government rehabilitation center in Ambepussa. Original in The Washington Times.
The TV programme entitled Sri Lanka's Killing Fields, produced by Channel 4 of the UK, sparked substantial debate and discussion in every strata of interest on Sri Lanka, including the realms of high politics and diplomacy, national an international journalism, the non-governmental sector and the programme carried sufficient weight to trigger a renewed interest on Sri Lankan affairs in the West – which – due to the absence of key strategic interests in Sri Lanka, does not generally have a place in Western foreign policy agendas.
While the Government of Sri Lanka condemned the programme as false and criticised its intent at causing international embarrassment to Sri Lanka, Western governments reiterated their common request that Sri Lanka should seriously investigate the allegations of crimes of war and violations of human rights. The issue of accountability during the last phase of Eelam War IV thus remerged as the key concern in terms of Sri Lankan foreign policy.
The Tamil diaspora, especially the hardline nationalist elements within it, who continue to uphold a secessionist ideology and thereby cherish the political aspiration of the now dismembered Liberation Tigers of Tamil Eelam (LTTE), found the Channel 4 TV programme a worthwhile piece of evidence, that promptly justified their vehement opposition to Eelam War IV and the Rajapaska administration, thus highlighting that the Government of Sri Lanka is not in a position to respond to the political aspirations of Tamils. Despite the post-Nandikadal political order, they use opportunities such as Killing Fields to reiterate that secession from the unitary Sri Lankan state is the only way forward.
What, in essence, is the nature of the position of Western governments concerning Sri Lanka today, i.e. two years into the end of controversial Eelam War IV?
The position of the West as a whole is strongly embodied in the highly ambiguous reaction of the British Government. At question time, Labour MPs in the opposition benches were apt at raising the issue of Sri Lanka and the Channel 4 TV programme in particular. Prime Minister David Cameron's diplomatic and politically tactful response was that although he had not watched the programme, London will continue to press Colombo to carry out impartial investigations. Almost a fortnight later, the issue of Sri Lanka was once again raised, this time in the British House of Lords, by the Lord Laird of Artigarvan, a beautiful village nestled in County Tyrone of Northern Ireland, a province characterised not only by its contested constitutional position, but also by violent atrocities over a prolonged period. His question raised concerns over the British Government's representations to Sri Lanka on human rights issues in dealing with Tamil Tigers in 2009. It was followed by another question by Lord Patten, on the case of disappeared Sri Lankan journalist Prageeth Eknaligoda. Once again Minister of State the Lord Howell of Guildford responded to both questions reiterating the UK's repeated calls for impartial investigations and concern over human rights.
While such commitments were being expressed, it was reported that a member of staff of the Rt Hon. Liam Fox MP, the UK's Defence Secretary, was visiting Colombo, a visit reportedly arranged by a former Sri Lankan minister of foreign affairs. The objective of the visit, as it was reported in the media, was extremely significant, in its heralding of a quintessentially neoconservative marriage of interests. Fox's representative apparently sought Colombo's support in preventing (read 'suppressing') any opposition that may arise to the deportation of a number of Sri Lankan Tamils whose applications for political asylum had been rejected by the British Home Office. This provided Colombo, a stark opponent of the Tamil Diaspora (especially after the Oxford Union debacle of December 2010), with a fine opportunity to develop a working partnership with the Tory Government in London, despite the gaps caused by the issues of war crimes and accountability. For The British Government, this was a fine arrangement, as it enabled the smooth enactment of its resolve to cut down immigration and especially asylum, as part of its highly tightened immigration policy. When targeting Tamils over asylum cuts, the Tory Government, which professed in both houses of parliament to press Colombo on accountability, seems to have comfortably forgotten the allegations over war crimes and human rights violations (committed against the Tamils). As one newspaper noted:
It is good to know then that the Home Office is convinced that the Island went from a country where disappearances and extra-judicial executions still occur in the country, as its report on Human Rights in Sri Lanka, published in April this year, says, to a place that is now absolutely safe. Another option however might be that despite concerns for human rights, work is work and the immigration quotas still need to be respected (International Business Times, UK, 16 June 2011).
This essentially ambivalent Sri Lanka policy, with calls for accountability on one hand and neocon cohorts on the other, takes place in a context where news from the Northern capital of Jaffna is replete with one case after another of murder, assault, abduction and violence, as in the recent cases of an attack against a meeting hosted by Tamil MPs, and a young man's body left tied onto a football goal post in a playground. The most shameless act of violence, highly symbolic of the approach of those heading the Sri Lankan military apparatus on issues such as minority rights, equal opportunities, a durable political settlement to the ethnic question and related concerns, was the killing of a dog owned by a TNA politician. The dog's head was completely amputated, and was left fixed on the gate of the said politician's courtyard (pictures of this incident can be found on Sri Lankan news websites). The rest of the body was also left in the premises. This according to a leading TNA MP, was the military's reaction to a statement he made that Tamil politics in Jaffna are marred by military suppression (those interested may find many a news report on this issue on the cyberspace).
It is beyond doubt that the British High Commission in Colombo is fully aware of the continuing dodgy deeds in Sri Lanka's North, and includes them in updates sent to the Foreign and Commonwealth Office. But such atrocities, irrespective of their degree of violence and intensity, no longer have an impact on Britain's treatment of the Tamils, whether British Tamils like it, or not. The issue of Sri Lanka provides Western governments with a useful case from the developing world to 'finger-point' in their most respected representative assemblies, thereby expressing their own soi-disant commitment to human rights, accountability and minority rights. All such statements remain limited to theory, and practice, as we can see, is a completely different and essentially paradoxical ballgame.
At the time of writing, and in a manner that aptly symbolises the above-mentioned ambivalence, Liam Fox himself is on a visit to Sri Lanka, to deliver the Lakshman Kadirgamar memorial lecture. It was an event planned for late 2010/early 2011, but had to be postponed due to President Rajapaksa's Oxford debacle and possible unfavourable reactions within Sri Lanka. This is exactly how the neocon psyche works: cautious waiting until the tide goes down, and then tread along, cautiously.
In this situation, the Government of Sri Lanka is indeed in a position to gain full control over its foreign policy, mend its relations with the West, and rework its image abroad in both diplomatic and public realms. But doing so requires competent personnel, capable of grasping the emerging trends and ambiguities of foreign policy planning and diplomacy. As Sri Lanka's woes at the UN (especially UNHQ), the USA and New Delhi demonstrate, placing the right people at the rights places does not seem to be the present regime's cup of tea. This certainly does not mean that all appointments are questionable – some diplomats (including political appointees) are indeed highly capable and do possess the potential to move Sri Lanka on a strategically promising path. But the diplomatic corps of Sri Lanka today seems to be marked by the absence of a cohesive strategy in dealing with the substantial foreign policy challenges and strategically minded personnel to put such strategy into practice. Instead, what we do have is a range of personalities including USA-based businesspeople, retired judges and lawyers, literary critics, writers and professors of literature dealing with the trickiest of issues in terms of foreign affairs. While some are indeed successful in demonstrating their mastery of the English language and literature, debating skills, wit and related attributes, their work as a whole is marred by the absence of diplomatic tact to hold the mantle of Sri Lankan diplomacy.
Questions on our own morality
Someone who stood at the highest realms of political power in Sri Lanka some six years ago, recently noted during a discussion with this writer that every single Sinhalese ought to watch Sri Lanka's Killing Fields. This writer fully agrees with this statement. The reason for such approval is simple: a large majority of Sinhalese have been rendered uncritical and unquestioning in their acceptance of what is being said to them, especially by the state-owned media. News and analyses with a dissenting voice are barred from Sri Lanka, worsening the situation. The result is a community narcissistic about their political views, happy enough to swallow anything the state media throws at them. In a democratic political system, this is a dangerous trend for the future of the Republic. It is also venomous, and possesses the potential of making us move on a backward march in an era of internationalisation and cosmopolitanism.
Many Sinhalese are simply unprepared to accept, for instance, the reality of what happened during the last stages of Eelam War IV. They deliberately ignore the fact that it was a counterinsurgency operation, and that such an operation simply cannot be devoid of fierce warfare and ensuing violence. It was also a war of tremendous hatred. The official stance of the Government of Sri Lanka is highly paradoxical with regards to this point. Throughout its existence, the LTTE was composed of Tamil youth from impoverished (often low-caste) layers of Tamil society. The young people who enlisted largely did so in the absence of any other alternatives. When children were forcefully conscripted, parents and family members simply had no choice. We must never forget this social dimension, which shares a parallel with the social composition of Sri Lanka's state armed forces. The armed forces are largely composed of Sinhalese youth from underdeveloped rural areas, in many a case with low O level results (often failing key subjects) and in a tremendously large number of cases, they end up joining the army in the absence of any other choices. Ultimately, Sri Lanka's war, or more specifically its last stage Eelam War IV, can indeed be read as a battleground confrontation between young Sinhalese and Tamils in the same boat, i.e. from the less able strata of Sinhala and Tamil society. The only difference lay in the fact that the Sinhalese youth were members of the legitimate military forces of a sovereign state, while the Tamil youth were members of an armed militant group with pronouncedly secessionist motives, proscribed in many parts of the world, with a notorious reputation as one of the most ruthless terrorist organizations the world has known in the latter decades of the 20th century. The position of the LTTE, especially its feats in terms of suicide bomb attacks, has left a legacy of deep hatred in the Sinhalese community in general and among the rank and file of the armed forces in particular. The military defeat of such an organisation by a counterinsurgency operation is bound to be marked by tremendous violence, and violent, or near-barbaric expressions of anti-LTTE hatred.
This living reality is what can be glimpsed from the videos of female bodies in one of the amateur videos in the Killing Fields TV programme, where bodies of stripped young women lie on the ground. In putting one of the dead, or half-alive female corpses on to a tractor, one soldier comments 'oka honda kañda'. This, and other words of Sinhalese filth exchanged among the military men amply denote that raw sexual abuse has been inflicted not only upon young women with the slightest evidence of connections to the LTTE, as well as on women whom the perpetrators of abuse found attractive. The scene of naked men (presumably LTTE cadres – the last among them to fight the Sri Lankan military to the very end) being humiliated and shot point blank, is yet another example of the anti-LTTE hatred. The same goes for the apparently deliberate shelling of hospitals and the cold-blooded murder of LTTE political wing leaders and their families. The Channel 4 programme did not allude, quite strangely by the way, to the ultimate fate of LTTE leader Prabakaran and his family. While readers may not find it difficult to imagine what happened to them, a detailed account of the manner in which the Prabakaran family was killed appears on a UTHR-J special report released in the aftermath of Eelam War IV. Despite the inability of confirming the deeds, those familiar with counterinsurgency operations (anywhere in the world) in general and the Sri Lankan conflict in particular may note the high plausibility of this account. While the UTHR-J account is too long to be summarised here, suffice to note that it is highly reminiscent of accounts of the manner in which the Tsar's family was executed soon after the Russian Revolution of 1917.
If the girls in question were indeed sexually abused and killed, there is a key point that we Sinhalese ought to reflect upon. What if, in the context of a rapidly militarised society (in the 'Sinhalese' South), such sexual abuse and murder were inflicted on Sinhalese girls? The recent physical assault on the District Court Judge in Matara by army personnel demonstrated how the militarisation of Sri Lankan society is bound to unfold as post-Nandikadal Sri Lanka moves on. The repercussions over the compulsory leadership programme for university entrants is yet another example. It is clear that the concept is definitely not that of the Minister of Higher Education, and that given the Rajapaksa administration's power structure, the Minister is simply ill-disposed to implement such a decision on his own initiative. Thus it can only be read that this decision emanates from the highest command of the Sri Lankan defence administration, with the clearly apparent but cautiously hidden political agenda of making a generation of young educated individuals who will dare not raise a single finger or a single word against the Government and its defence establishment.
In hindsight vis-à-vis the rape allegations, one cannot afford to forget the precedents. It is a list of shamelessness. Thanks to the legal action supported by the then Executive, the world knows about the Krishanty Kumaraswamy case. Unfortunately, even under a command of the armed forces that prioritised peace negotiations and political reform, such a horrendous atrocity could not be avoided. The list of cases with next to no proof, and are therefore not taken into account, may indeed extend from Point Pedro to Dondra Head (and maybe further down the sea), but then, there's the Haiti case. This is one that none of us Sri Lankans, especially Sinhalese, can afford to ignore and turn a blind eye. The Sinhalese are known to have short memory, but this writer hopes few would forget the fact that the UN shipped the Sri Lankan peacekeeping contingent in Haiti back home over charges of sexual abuse, especially on minors languishing in refugee camps. To this year and very day of Our Lord, the military and its political leadership has not said a single word about this black mark on our relations with the UN as a responsible member state. The government has not denied the charges. Nor has there been any news of a court marshal – which indeed warrants some publicity – at least in the state media – in order to demonstrate the credible, law-abiding and responsible nature of the defence establishment. Rien du tout!
A reflection of the issue of alleged 'war crimes' and calls from the West for 'impartial' investigations is incomplete in the absence of a discussion of some pertinent international implications. All through military history, the usage of rape as a weapon of war, or as a means of celebrating war victory, have been common.  The military forces of the world's foremost superpower, The Land of the Free and the Home of the Brave, could be considered as the most experienced in this respect. Their feats, especially in terms of rape and use of local women for sexual pleasure of troops in Japan, Vietnam and elsewhere speak tons about their apparent commitment to human rights and accountability. The same goes for the torture of war victims. One may recall US military personnel (in one of the most publicised cases female military personnel) having a good time humiliating and abusing Iraqi prisoners. The military forces of the Zionist state are also known for such feats. The same applies for the military of our former colonial masters, whose unruly past dates back to a good few centuries and covers all the continents on the face of this planet. The military forces of our powerful, overpowering neighbour and regional superpower, whose diplomats love to finger-point at us to get the 13th constitutional amendment implemented in full, are even worse, and many an insurgency and popular uprising in that great land have been suppressed by acts of repression using the most violent weapons of torture and rape.
A point worthy of being made crystal clear is as follows: no one, absolutely no physical or moral person in any foreign government or supranational body, can afford to finger-point the Sri Lankan military for torturing LTTE prisoners, abusing female cadres and civilian Tamil women after the war victory and engaging in related (and so far unreported) atrocities. This is a game where everybody, including those Western 'protectors' of human rights and civil liberties, has lots of bloodstains in their hands. Them accusing us is identical to one criminal accusing another. Following this line of thought, it must be made clear that if the high command of the Sri Lankan military, its political leadership or the Head of State are to be charged internationally, or if the West is to take coercive action of any form against Sri Lanka, they first have to set a precedent for such action by clearing up their own backyards, by launching similar procedures on the most powerful military forces in the world, which are under their control and command. This by no means is intended to imply that the Government of Sri Lanka should comfortably forget that rape by military personnel took place in Eelam War IV and that acts violence amounting to crimes of war did occur. It is in the best interest of the Rajapaksa administration and the wider Sri Lankan community to bring the perpetrators of these excesses into book, ensure severe punishments, and most importantly, to record, in the best possible manner, all the atrocities that took place, especially in terms of rape. Such recorded information should be stored in the National Archives, and be made part of public knowledge. The story of Eelam War IV in its most authentic and critical form should be taught to young people from across the ethnic divide (especially Sinhalese males and females), with no cowardly hiding of facts. It is only such a 'call a spade a spade' attitude that will enable Sri Lanka to regain its own moral standards at national level, any pressure from the West or elsewhere put aside.
Moreover, we must never forget that the world is an unequal place, and that the rich and mighty have extra means that the poor and feeble do not have. This reality strongly applies to the world of international politics. As Barack Hussein Obama walks up to the speaker's podium at the UN General Assembly, all the chairs in the caucus are likely to be occupied, with the press, UN staff, observers, interns and God knows who else gaping through the balcony and every available loophole. When Percy Mahendra 'Mahinda' Rajapaksa walks to the same podium, the audience reaction was captured in a photo taken at last year's UN General Assembly published in a Sri Lankan news website not long ago. It showed that more than half (or even more than a good three quarter) of the blue seats were empty, with a senior Sri Lankan cabinet minister drowsing away. In terms of framing foreign policy, the fundamental inequalities and disparities in the international system (symbolised in the most telling manner in the audience presence at UN speeches by national leaders) are living realities that we need to take into account, in the best interest of our country and our people (read people of all ethnic, religious, sociocultural, linguistic and economic groups).
Patriotism is indeed a driving force, and as a community, we need to cultivate the values of patriotism, and ensure that future generations grow up with a deep love and affection for their motherland. But patriotic thought should not be shaped and limited by the narrow boundaries of ethnocentrism; this can only be done by providing constitutional provisions – that are eventually enacted in practice – to ensure that the fundamental rights of all citizens are protected, so that all citizens feel at home in Lanka. The recent attack on a political meeting in Jaffna, in the presence of TNA MPs, and the public secret that the defence high command in Jaffna has been advised by his superiors 'eka demelekutavath Yapané oluwa ussanna denna epa' ('don't allow a single Tamil to raise his head in Jaffna') and the military high command's clearly apparent intent to keep not only the North and East, but also the entire country under control, by providing military training for bright youngsters, the military taking over mayoral duties and many other non-military chores, hacking email accounts and computers of opposition politicians and foreign diplomats – are all proof that the contrary is currently underway in Sri Lanka. It is thus made clear that the word 'patriotism' as used by the present regime, is one that strictly speaking implies a Sinhala (and most importantly) pro-government patriotism. In other words, you could well be Sinhala and Buddhist, but if your political views align with the UNP or JVP, you are no longer a patriot. The accusation could even amount to the level of considering you a clear threat to national security and a quintessential persona no grata. In this context, the only logical conclusion one can reach is that we Sinhalese who support the ills of the present regime are driving Sri Lanka towards very tough times.
From Krishanthy to Chenmani, gross atrocities committed by the military occurred under the Kumaratunga administration. In fairness to President Kumaratunga, her insights into the management of foreign policy and international affairs, together with her deployment of able hands in handling the foreign affairs portfolio (and erroneously managed cases aside), we were by and large able to avoid debacles similar to what's happening today. Steps were taken to investigate the gory deeds, and ensure that legal action was taken (though this writer firmly believes that tougher measures were indeed warranted – as what we do need as a nation is a thorough revamping of our morals and value system/s – in a sincere mannerism – thereby shunning the fake heap of morals in which many of us take immense pleasure and pride).
The Patriotic, The Liberal and Prospects for Lanka
The final point this writer wishes to mention is that with regards to present-day realm of Sri Lankan politics, one can distinguish two main colliding groups expounding their positions and trying to overrun each another. The first group is composed of the liberals, i.e. the cosmopolitan folks, who have seen the world, are widely travelled, more open-minded than the majority of their fellow countrymen and women, and thus uphold principles of inclusion and accommodation. In their cosmopolitanism, they are inclined to give little importance to patriotism and to overlapping concerns of national sovereignty and territorial integrity. Some of them are also consistently prone to view the Sinhala Buddhist polity as the villain in the ethnic question, and their perspectives on the issue are essentially black and white. The second group, as a Sri Lankan political scientist once quipped in a discussion with this writer, literally wrap themselves in the national flag, are unquestioning in their patriotism, believe that the Sinhala Buddhist sociocultural tradition is the dominant discourse in Sri Lankan public life and that it should continue to be so. They also have no problems with ethnic minorities being downgraded to second-class citizens, as they see themselves as inherently superior to the minorities, and take pride in their Sinhalese identity. Accusations against the military are anathema to the second group, and they are bound to do everything within their means to protect their insular and majoritarian views of Sri Lankan society and politics.
What is frighteningly absent is a viable middle ground, where both above-mentioned 'extremes' are read in a critical perspective. Sri Lanka is a country with a Sinhala Buddhist ethnic majority, hence the dominance of the Sinhala Buddhist discourse. Sri Lanka is also a multi-ethnic and multi-religious country, and the dominant position of the Sinhala Buddhist social, political and cultural discourse should not infringe the rights of ethnic and religious minorities. Sri Lanka is a multi-lingual country, and while taking all possible steps to ensure the teaching, learning and propagation of respective national languages, national cohesion requires the development of a single common language that belongs to each and every linguistic group, through which people can communicate across ethnic, religious, linguistic, social and cultural boundaries. That language is, unarguably, the English language, which requires the status of official language, and should be actively used by the state to the maximum. In a country like Sri Lanka, this common language should be used, for instance, when filling in civil status documents such as identity cards, birth, marriage and death certificates. As a forward-looking multi-ethnic nation, Sri Lanka ought to take prompt and steadfast steps to do away with its ethnically segregated system of education, which exists even in the most high-profile seats of education managed by non-state boards of governors. In order to address existing social and sociocultural prejudices, a good starting point would be a policy that gradually puts an end to gender-segregated education, and introducing a system of quotas (contrary to certain EU-member states who shun quotas for parity) in order to ensure that parity is respected in all levels of public service, the private sector and, most importantly, in electoral politics. In par with such reforms, existing laws on homosexuality require prompt amending, with the legalisation of homosexuality and the legal acceptance of same-sex unions, coupled by state-sponsored campaigns to strongly counter existing homophobia and stigma over homosexuality.
As progressive reforms are enacted, Sri Lanka has to ensure that her national sovereignty and territorial integrity are protected. Not only should the defence establishment be strengthened, but it should also be better equipped with multilingual specialists, increased military intelligence within and beyond Sri Lanka's shores, and sustained efforts at transforming the ethnic composition of the armed forces. Symbols of nationhood, while outlining the dominant sociocultural discourse, should be shaped in such a manner that all Sri Lankans can cultivate a strong sentiment of patriotism, without the use of governmental force (which is the Rajapaksa administration's mantra to promote patriotism among ethnic minorities). The National Anthem, for instance, should be available in both Sinhala and Tamil, and citizens may choose between the two languages. Given the scars of a thirty year war, the Northern and Eastern Provinces need to be provided with a viable system of provincial governance based on the devolution of powers, with local people's representatives enjoying the freedom to engage in their politics without any interference, violence or hindrance. While matters of national importance and interest are managed by the Centre, issues pertaining to the everyday lives of Northern and Eastern people are best left to themselves. Symbolic acts such as enabling them to give pride of place to their regional flag (the cases of Scotland and Wales could be analogous here), providing more amenities for the learning and propagation of the Tamil language, opening up pathways for investments and exchanges would help Colombo avoid a return to any form of violence and atrocities in future.
The absence of such a dominant and consistent national policy that simultaneously espouses a PPC approach, i.e. Patriotism, Pluralism and Cosmopolitanism, means disaster to present-day Sri Lanka. Economically, the island will end up in further enslavement to the IMF. Investments will not see the increase predicted by the Government, as a political climate of violence and atrocity thrives. On the international front, Sri Lanka will continue to get repeatedly hammered, and there is indeed the vague but non-negligible possibility of excessive (and coercive) external interference in Sri Lanka's internal politics.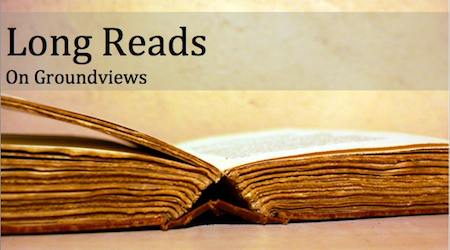 Long Reads brings to Groundviews long-form journalism found in publications such as Foreign Policy, The New Yorker and the New York Times. This section, inspired by Longreads, offers more in-depth deliberation on key issues covered on Groundviews.