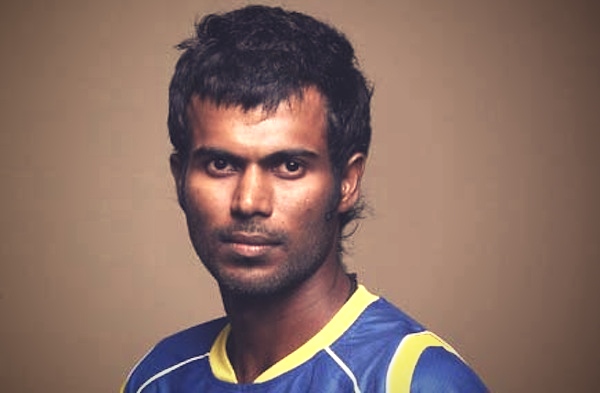 Sri Lanka opening batsman Upul Tharanga, who was found guilty of committing an anti-doping rule violation. Photo courtesy International Cricket Council (ICC)
In the world of international governance and law, where definitions of human rights, sovereignty, and even war are hotly contested, one rulebook is quite definite in denotation and rather absolute in punishment. An athlete has either been using performance-enhancing drugs, or he has not; he can compete and retain the titles he has won, or he cannot. The punishment for infraction usually entails a stripping of awards and banishment from international competition, while a clean test means business as usual. And Sri Lanka is no stranger to the world of international sport scandal.
Enter the accused: boxer Manju Wanniarachchi; weightlifter Chinthana Vidanage; rugby players S Swarnathilaka, Keith Gurusinghe and Saliya Kumara; and cricket player Upul Tharanga – all Sri Lankan and all found to have been using banned substances during international competition. This series of scandals and the subsequent rulings by international sporting bodies has set in motion a Ministry of Sports investigation that plans to roam the country administering doping tests at the primary school level in an attempt to root out the problem. The question then becomes: why have allegations of rule breaking in international sports prompted a strong response from the Government, while allegations of human rights violations have not?
Strange Bedfellows: The Nexus of International Sports and Politics
The idea that international sports are wholly divorced from international politics has been both hotly debated and largely discredited. Not only do sporting events provide an occasion for the display of athletic prowess, but they can also serve as a rallying cry for national pride as well as an opportunity for international relationship-building and cultural dialogue.
On rare occasions, events surrounding and even directly involving international athletic competitions have had great political and social impact—even influencing the bad behaviour of certain rogue states. For instance, the banning of apartheid-era teams from international sporting events helped to cement the pariah status of South Africa and contribute to its eventual fall. And, the four gold medals awarded to Jessie Owen, a black American, at the 1936 Berlin Olympics helped to discredit belief in the Aryan-superiority language of the Nazi regime.
Nevertheless, sports and politics make an odd couple and many fans chafe at the thought of government behaviour preventing hard-working athletes from competing. For this reason, loud denunciations by human rights organizations calling for the boycott of the 2008 Olympic Games in Beijing failed to influence countries to keep their athletes at home. Amnesty International's campaign—Sri Lanka: Play by the Rules—that was launched during the 2007 Cricket World Cup was heavily criticized within Sri Lanka and failed to produce any positive results. Similarly, as pointed out by Guardian journalist Andy Bull, the political decision to send MP Sanath Jayasuriya to play in a Test series six days after the release of the Channel 4 Killing Field Documentary and two months after the release of the UN Panel report, ruffled few feathers. Besides protests by Tamil expatriates in London, the move caused little stir.
So when can happenings around international sporting events alter the behaviour of states? Since the end of the war, the Government of Sri Lanka has fiercely invoked the notion of sovereignty when accused of breaking international law and has maintained a policy of non-interference in internal affairs by external actors. As such, why has the Government reacted so boldly and quickly to the doping scandal brought by international sporting regimes on Sri Lankan citizens?
Three aspects of the specific case of Sri Lanka can provide some insight into this apparent paradox. First, the question of guilt is both easier to determine as well as assign in cases of doping. Science provides the answer to the first part of the equation, while the individual athlete himself assumes sole accountability for any rule breaking. Second, the rigid and, more importantly, enforceable rulebook of the international doping regime contrasts sharply to the limited enforceability of international human rights law. Third, the notion of sovereignty has limited relevance to international sports.
Innocent until Proven Guilty
First, propelled by the rash of doping scandals in the 1990's including the infamous affair involving Chinese swimmers, the world's anti-doping regime has steadily strengthened its abilities to investigate infractions including the establishment of WADA (World Anti-Doping Agency) and the development of more sophisticated testing methods. A transparent list of banned substances as well as newly designed methods of testing both urine and blood means that players are acutely aware of both the illegal substances and the testing procedures.
While players can claim ignorance – and there have indeed been cases of trainers or coaches forcing their athletes unknowingly to take illegal substances – according to WADA the athlete is ultimately responsible, no matter the circumstances. To be sure, there is a system of appeal for certain extreme cases, but no matter what the final outcome the athlete must abide by WADA's ruling if they want to continue to play at the international level.
There is, of course, the inevitable disputed listing of certain drugs, such as caffeine—which was removed from the list in 2004—and the nasal-decongestant Pseudoephedrine, but the rules have generally been maintained since WADA's inception. Unlike the anti-doping rules of international sport, international human rights law is not so sharply defined, agreed upon or easily proven.
Sri Lanka is party to numerous international humanitarian and human rights treaties, including the four 1949 Geneva Conventions, that are designed to protect the rights of all by painstakingly outlining the obligations of signatories. Despite its commitments to such treaties, the Government of Sri Lanka simply claims to not have violated any of the laws to which it is a signatory. In this instance, it is not an argument over the definition of human rights or to whom they apply, but rather of the ability of the Government to claim that no infractions occurred and the inability of the international community to prove otherwise.
Unfortunately, no international body can test or measure truth in a lab and must instead enter the murky world of contradicting narratives that relies on the findings of independent investigations, witness accounts, and physical evidence. The Government of Sri Lanka called the final report of the Accountability Panel established by the United Nations to investigate allegations of human rights abuse during the final phase of the war 'flawed' and denies the report's findings of credible allegations. Without critical backing by strong states, there is little the United Nations can do to compel the Government to seriously investigate potential infractions.
What Happens After? Wrongdoings and Punishments
Allegations of cheating in sports can damage the reputation of athletes and their home countries as well as preclude them from participation in international events. Guilty athletes are banned for a set amount of time and their countries lose the prestige gained from being holders of gold medals or world titles. If found guilty, there is no middle ground; one cannot play "half" a game.
For a country, as in the case of China in the 90's, multiple doping infractions can raise questions as to a country's willingness to play by and respect international rules and regulations. As Sri Lanka is currently launching a high-profile bid for the 2018 Commonwealth Games to be held in President Rajapaska's hometown of Hambatota, for which incidentally Tharanga was to be a spokesperson, a clean record and faith in its ability to hold a respectable international sporting event is key for winning international recognition—and the bid. Not only does the Government want Sri Lanka to be seen as a major player in South Asia, but also a place where investments and tourists are welcome and safe. For these reason, the Government has taken the allegations of doping quite seriously and wishes to be seen as actively responding in order to clean up its act.
The history of international human rights law, on the other hand, is full of half-heartedly imposed sanctions routinely violated by regular offenders. If one country strongly imposes sanctions against another, a third just might as well provide what was needed from the first. With Russia and China routinely voting against stronger sanctions for proven human rights violators in the Security Council, punishments are difficult to approve and even more difficult to enforce.
In the case of Sri Lanka, the most vocal critics of the Government's unenthusiastic response of allegations of abuse, including the United States and members of the European Union, have not been strong in their condemnation—urging only that the UN Panel's recommendations are implemented. Perhaps this attitude is changing in the UK with the release of the Channel 4 documentary, but that is still unclear. As it is, lacking a final authority capable of enforcing humanitarian law: Sri Lanka is still being allowed to play the game.
Sovereignty and Sports
To be fair, the comparison between alleged violations of human rights law and breaking the rules of international sporting events is not quite equitable, given that one involves accusations against sovereign governments and the other against individuals. Nevertheless, both do show to what degree a country or a government is willing to adapt its behavior, and that of its citizens, to international norms.
In that sense, international sporting bodies in and of themselves rarely become involved in political happens within a country. For instance, notorious international pariah North Korea sent a team unimpeded to compete in the 2010 FIFA World Cup. The International Cricket Council does not care about the degree of political freedom in a country or of the fairness of its elections, but rather only about the use of illegal performance-enhancing drugs. If an athlete is found guilty, all he will be forced to do is stay home—regardless of any draconian laws or repressive conditions within that home. Importantly, the baring of South African athletes from international competition during apartheid is a critical exception to this unspoken rule.
Nonetheless, international rules are still international rules and Sri Lanka's response to the rash of doping scandals, while controversial in and of itself as it involves the testing of school children, does shows a degree of respect for international bodies and their rulings; something not currently being shown to organizations such as the United Nations. That said, the Government needs to remember that winning only counts when you do it fairly and with respect for the rules, whether if playing at sports or waging a war—you are just gambling with different stakes.