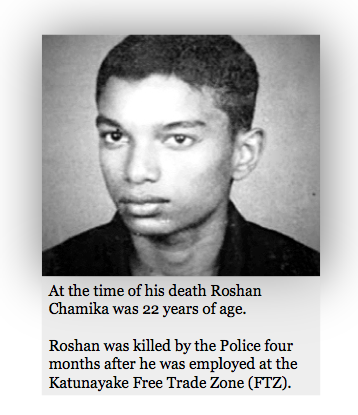 The 21 year old Free Trade Zone (FTZ) worker Roshan Chanaka, who was seriously injured during the clash between the police and the FTZ protesters on Monday, passed away mid-week to his deadly injuries. His death has now sent shock waves to the government. According to reliable sources, prominent cabinet ministers were seen at his residence this morning, shedding crocodile tears over Roshen's death. It is reported that all the SLFP party organizers in Gampaha district are advised to attend his funeral and console his family members.
Giving a new twist to this controversy, IGP Mahinda Balasuriya has resigned from his portfolio. He has sent his retirement papers to the Ministry of Defence and has gone on leave with immediate effect. Senior DIG N.K. Illangakoon has taken over the duties as the acting Police Chief. Therefore, quite obviously, this cannot be considered as just another premature death caused by 'misfortune'. It has toppled the top chair of the Police Department.
Apart from this tragic death, this brutal police attack against Free Trade Zone workers left more than 200 people injured. On Monday evening, Ragama and Negombo hospitals were flooded with injured protesters. It is, undoubtedly, one of the brutal crackdowns in recent history. There are several video footages which clearly show the barbaric and inhuman manner that some police officers carried out attacks against unarmed protesters. Those footages resembled the brutal crackdowns carried out by Libyan armed forces against civilians.
However, the Police Chief's sudden resignation could arise several questions about his role in this entire scenario. Is he the one who ordered the police officers to open fire at unarmed protesters? Though he is the Police Chief, does he have the authority to make such a big decision at a crucial moment like this? Before seeking answers for these two questions, it is better if we can recall the common 'prosody' which they often chime when the Department of Police achieve something 'good' and 'applaudable'. "…Under the directions of President Mahinda Rajapakshe and with the guidance and immense support from Defense Secretary Gotabhaya Rajapakshe…" Why cannot they sing this prosody now? What prevents them from chiming it? Doesn't it resonate well with this particular incident? We can still remember how a top level official attached to the defense ministry gave 'directions' to a senior police officer during a protest carried out by minister Wimal Weerawansa against the three member panel appointed by UN Secretary General Ban Ki Moon. That particular incident, I believe, provides a decent answer to all the above questions. So it's not so difficult to understand IGP's role in this melodrama. He's just a messenger who's placed somewhere in-between 'the top' and 'the bottom' and he's not permitted act in accordance with his own conscience. He's not so different from you and me , after all !
This particular protest, done by Free Trade Zone workers in Katunayake, has given an unexpected shock therapy to the 'big shots' of the government who are intoxicated with power and high-handedness. It has sent them a clear-cut message about people's agitation towards their snobbish political behavior.This political snobbishness and high-handedness stood behind all the blunders they made during the recent past. When media institutions and media personnel were attacked continuously and constantly, the government did not utter a hoot about any of these incidents. No serious investigations were conducted into these incidents and no serious approach was shown towards ensuring the safety of media personnel and media freedom. This is snobbishness.
This snobbishness was and is the main reason behind the entire 'process' against Former Army Commander Sarath Fonseka. This same snobbishness is the driving force behind violence against dissidents. It was the main factor and logic under the notorious 18th amendment.Snobbishness provided them confidence to come up with shameless constitutional amendments without any kind of hesitation or second thought. That is why they politicized all the independent bodies of this country, swiftly and diligently. That is why they crushed the backbone of democracy without any shame. That is why they murdered 'freedom' and 'rights of the people' in daylight. Snobbishness, with all its glory, prevails at the top above everything and everyone.
The snobbishness and highhandedness of the government encourages despotism. Despotism will always introduce kleptocratic policies, methods and rules. Despotism and kleptocracy go hand in hand all the time and Sri Lanka is gradually becoming a splendid example for that. The entire political domain is filled with motley fools and people who play hosannas for a self- proclaimed king. This appears like nothing but a black comedy in which humour arises from skepticism and cynicism. We all are struggling to get out of this stinking pool of mud.
Laws and legislative measures were drafted and passed above the head of the citizenry. The people were kept in dark about their ulterior and anterior motives. Citizenry was deceived and misled on many issues. The government's policy was to cover up every problem, using the 'splendour' and 'charm' of one person. This splendor was created and nurtured by henchmen, stooges and other flunkies in Media. People are blindfolded and the government is taking them away just like a flock of sheep.
It is true that the present government has an overwhelming majority in the parliament and President Mahinda Rajapakshe is keeping everything under his jackboot. UNP, the main opposition party has been dismantled and struggling with their internal conflicts on a daily basis. JVP, on the other hand, did not obtain satisfactory results during recent elections. But this doesn't mean that the government is in a position to dominate each and every sector of the society and make the people dance according to its whims and fancies. If someone thinks like that, it's nothing but a fatal miscalculation. All the powerful rulers who proceeded with such miscalculations were dumped by people through out the history and it will, undoubtedly, be repeated in the future as well.
This agitation, which took place in Katunayake, sends an alert message to the government. It says that the people are awakening slowly and gradually from a long, deep slumber. People are trying to open their eyes, after some long years of hypnotism. People are rallying around to remove the jackboot of despotism, nepotism and corruption. No one can deceive everyone, everyday.