Tamil National Alliance MP Mr. R. Sampanthan speaks of the anti-Tamil riots of July 1983.
Speaking of the "terrible experience for all Tamil people in Sri Lanka" he says that the riot was "premeditated pogrom… largely believed to be with the support of very influential forces within the then government". He notes that there were Sinhalese friends who helped Tamil friends in distress and says that the riots were a "determined effort by some forces within the majority community with the support of the government to teach the Tamil people a lesson."
Mr. Sampanthan ends by stating that only a political solution, not violence, will bring about an end to the conflict.
For more videos remembering the events of July 1983, please visit the the Remember 1983 playlist on Vikalpa YouTube Video.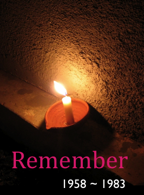 For more articles on July 1983, please click here.