The IDPs from Trincomalee District are scattered, in the Ampara District. There are few from the Mannar District too. Some are willing to return to their original places, some do not. These families prefer to live here. Some have bought small pieces of lands. These families need to be assisted to construct permanent houses here.
Few organizations are assisting for the construction, still a section of families are left off. Those who are living with friends or relations face this problem. If assistance is provided their participation in completing the house is very appreciate able.  There livelihood is another problem they have to contest with the local labour. Most of  them have been cultivators, they do not have any land to cultivate here. One person from Mannar had been a fisherman, now he works as a labour, as he had not worked as a labour he finds it very difficult to work, as per his wife he works two or three days in a week.
Sinnarasa  Kalathevi 40 years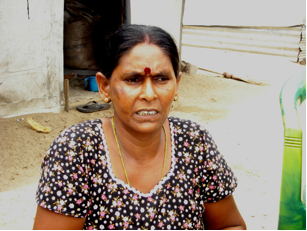 She is from Thopoor Mannampodi wattai.
"My elder  son  was abducted by the LTTE. One day he had escaped from them, one he way back home he was shot. After this the armed group  came home  requesting  my  second son to join them. During this period the Sri Lankan Army too  entered the area. We were subjected to harassment from both the Army and the armed group. There were shelling from both sides. After an incident all  youths and males were subjected to severe assault and torture by the SL Army. they were rounded up for questioning. To save our children from the two groups we had to leave the village. We came to Wakarai first, and from there to Valaichenai, where we stayed for some times, as we were new comers, the Government forces became very inquisitive about us. We found that this place to was unsafe, so we came to Alayadivembu,   we did not bring anything from our village. My husband and the second son are working as labour , one son has sat for the GCE/ OL examination and he is at home , the other two children are going to school.  My husbands  income for a  day is six hundred rupees, my son is saving his earnings .As we were cultivators we didn't have any shortage. There were coconut trees, Jack trees and mango trees in our land we had income from these trees. Which we do not have here. We have been provided with food stamps, flour ,sugar and coconut oil is provided. We are not used to consuming flour based meals. We keep some flour for our daily use and sell the balance and purchase rice out of that money. From the time we came we are living in this shelter.
Since 1987 three times, we have been in and out of our village  In 1987 we ran away due to the fight between the Army and the LTTE. After some time the situation became normal, so we returned to our village. In 1990 again we had to leave and return. It happened in 1995 too. 2006 was the worst, we were harassed by the LTTE and the Army,  especially the youths and men . Finally we decided to come here to save our children."
 
Ajanthan Sujatha – Â 28 years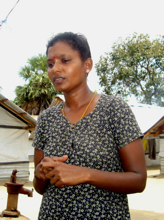 From Thopoor Mannampodi wattai
"We too came from the same village , when we were running away from our village my husbands younger brother was caught by the armed group, and taken away. We do not know where he is and what happened to him. After coming here I have sent my husband abroad. I have two children. If the government wants us to return to our original village, I am prepared to with my children, as my husband is not with us, I am not afraid to go."
 
Sellan Thambirasa – 72 years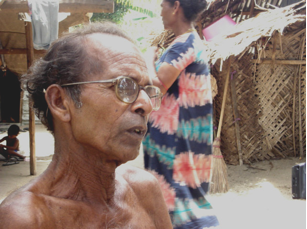 From Seruwilla
"In my  family  five children, all are married. I was a cultivator, had  five acres of land ( Paddy Field), cultivation was our main income source. We had a house made of bricks, my children worked with me. We did not have any shortage. Now we have no access to our land, The Government is denying access, we are not allowed to cultivate. During the last twenty five years ,we have been  running in and out of our village  four times. Every time we return  our paddy field would have become jungle. Once we return, we clean it for cultivation, after a year or so, we run again. I went  there recently all my lands are jungle. First time we were in Alankerni ,the next time it was Wakarai and Werugal .1992 returned and started to develop. 2005 again we were displaced went to Werugal  and it too was attacked attacked, from there ran to   Kathiraweli, and  Paalchenai. At last we have come to Alayadivembu. I have no income, my children are looking after me and my wife. Their income is the labour wage what they get for a day. We receive the Government assistance. Recently I went to my village it's a jungle now."