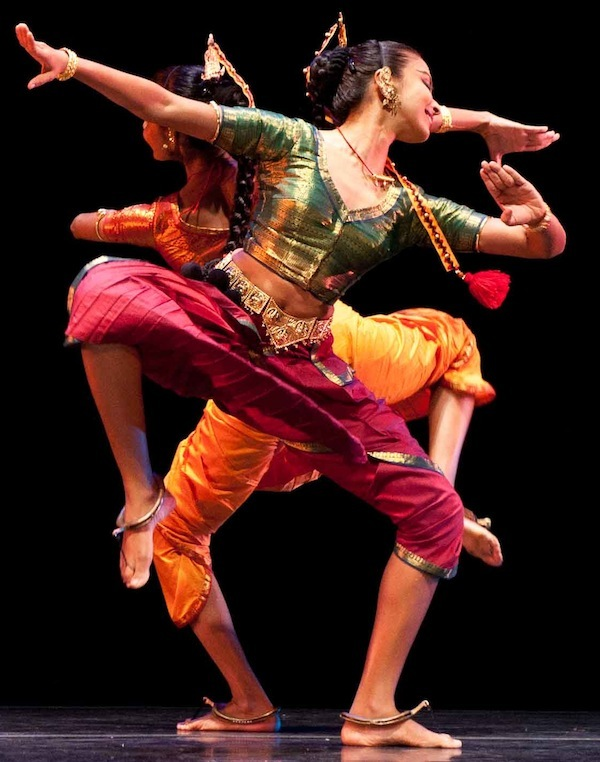 Photo provided by Nrityagram Dance Ensemble. All copyrights reserved.
Audiences in Colombo were over the weekend treated to Samhara, a collaboration between India's Nrityagram Dance Ensemble and Sri Lanka's Chitrasena Dance Company. Groundviews caught up with Nrityagram's lead dancer Bijayini Satpathy, the artistic director and choreographer of Nrityagram, Surupa and Chitrasena Dance Company's choreographer, Heshma Wignaraja.
We talked about the production, and the creative process that gave rise to it. The conversation focussed on rave reviews of the performance at the Joyce Theater in New York, and why they are averse to calling it a fusion of dance forms. We talk about the creative tension of modern day choreography juxtaposed with the form and tradition of Kandyan as well as Odissi dance, and how young, new audience with their own expectations are influencing each company to perfect their dance. Given the sheer technical prowess of dancers in this production, we also go discuss the problem of inspiring the next generation of dancers when so many are unwilling to make the self-effacing sacrifices needed to come remotely close to what audiences saw on stage at the Wendt.
The interview runs for just under 39 minutes. Some photos of the production sent to Groundviews by Nrityagram can be viewed beneath the video.
Groundviews and the Nrityagram Dance Ensemble have a long history. Nrityagram's Director of the Odissi Gurukul Bijayini Satpathy was first interviewed by us, at the Chitrasena Kalayathanaya, in July 2009. As we noted then,
What Orhan Pamuk is to literature, Bijayini is to dance. She is effortlessly captivating. Having seen her dance on a couple of occasions, I was delighted when I got the opportunity to speak with her at length on the art of dance, her sojourn in Sri Lanka, her take on our own dance traditions, her bond to the Chitrasena Kalayathanaya and, in general, her experiences as a dancer, life in Nrityagram and the nature of a relationship between the guru and the student.
A year later, we caught up with Bijayini in an interview broadcast on public television in Sri Lanka.
Groundviews has also interviewed Chitrasena Dance Company's Heshma Wignarajah. In that interview,
We speak about how difficult it is for a woman to be part of what is a predominantly male Kandyan dance tradition and form. Given the changing nature of audiences, I ask Heshma who she sees as her audience – her answer is interesting, noting that it is not just an older generation interested in the Company's productions. Towards the end of the interview, I ask Heshma about her approach to choreography, the sources of her inspiration and choreography's place in a dance production.