The Editor in Chief of the Sunday Leader and one of Sri Lanka's best known journalists Lasantha Wickremetunge was murdered on 8th January 2009 en route to work. He was beaten and shot repeatedly and succumbed to his injuries in hospital. The first post on Groundviews on the assassination can be read here.
Lasantha was 50 at the time of his assassination. No group to date has claimed responsibility. In a tremendously powerful and moving editorial published posthumously the Sunday after he was killed, Lasantha notes that "When finally I am killed, it will be the government that kills me."
For its part, the Rajapakse administration points to a mysterious armed force hell bent on discrediting the government. It has done what it does best – expressed outrage, ordered a full investigation and appointed a committee to investigate the attacks. Yet it conveniently forgets, inter alia, that the Cabinet subcommittee to look into the grievances of journalists set up in June 2008 is largely forgotten today. No one knows whether it exists, how to reach it, what it does, or came up with as recommendations to protect journalists. Journalist J.S. Tissanaiyagam languished in jail on the most ludicrous charges under the Prevention of Terrorism Act (PTA). The government was silent on his plight and case, despite widespread local and international condemnation and calls for his release.
Well over eleven thousand came to Groundviews from 8th to 13th January alone to read and actively engage with content published on Lasantha's assassination and what it portends for independent media and democracy in Sri Lanka.
Amongst regular voices was the former President of Sri Lanka, Chandrika Bandaranaike Kumaratunge, who wrote in to the site in response to a comment left by Dayan Jayatilleka, Sri Lanka's Ambassador to the United Nations in Geneva. You can follow this conversation here. This was the first comment by the former President on Lasantha's murder featured in any local and international media.
Also significant was the thrust and parry of debate between Indi Samarajiva, Sri Lanka's best known and perhaps most read blogger (and architect of the country's leading blog aggregation site Kottu) and Dayan Jayatilleke. Follow the conversation thread through to its interesting denouement here. Dayan's own article, The Murder of an Editor, expresses his unequivocal condemnation of Lasantha's murder.
Groundviews was also honoured to receive strong protests in verse from award-winning and internationally acclaimed Sri Lankan poets. Vivimarie Vanderpoorten, winner of the Gratiaen Prize in 2007, Malinda Seneviratne and Indran Amirthanayagam wrote strong poems against violence and Lasantha's assassination. They were joined by Cry Lanka, an anonymous poet. Most recently, Francesca wrote in from the US. Born in Sri Lanka, Francesca was moved to write about Lasantha's killing from the point of view of someone from the diaspora. Her poem is here.
Several others wrote in expressing their disgust, shock, sadness and concern. Lionel Bopage, a former General Secretary of the JVP states that,
These assassinations and the repressive culture being imposed upon the Sri Lankan society, culminating with the killing of Mr Wickramatunga, should provide the impetus to stimulate all political forces and individuals in Sri Lanka and overseas, who are committed to protecting the human and democratic rights of its people, to come together and oppose this state of fascism.
Prof. Sumanasiri Liyanage, who teaches political economy at the University of Peradeniya, suggests an alternative proposal for our consideration when he notes that,
Attack on Sirasa and killing of Lasantha Wickramatunga have made me convinced once again my earlier proposal that any protest and opposition to the present government should be a part of a bigger political exercise aiming at naming a non-party peoples' candidate with minimum transitional program that include the change of the constitution in order to make the state more accommodative, power-dispersed and the politicians more accountable through built-in checks and balances.
Groundviews also featured several videos on Lasantha's assassination taken from the Vikalpa YouTube video channel. These videos include interviews with civil society, coverage of his funeral as well as the first hours after he was admitted to the Kalubowila hospital. All the videos can be seen from the playlist below and also on the Vikalpa YouTube Video Channel.
As a mark of protest and respect Groundviews changed its homepage on the day of Lasantha's burial to black, featuring links to key articles on his murder.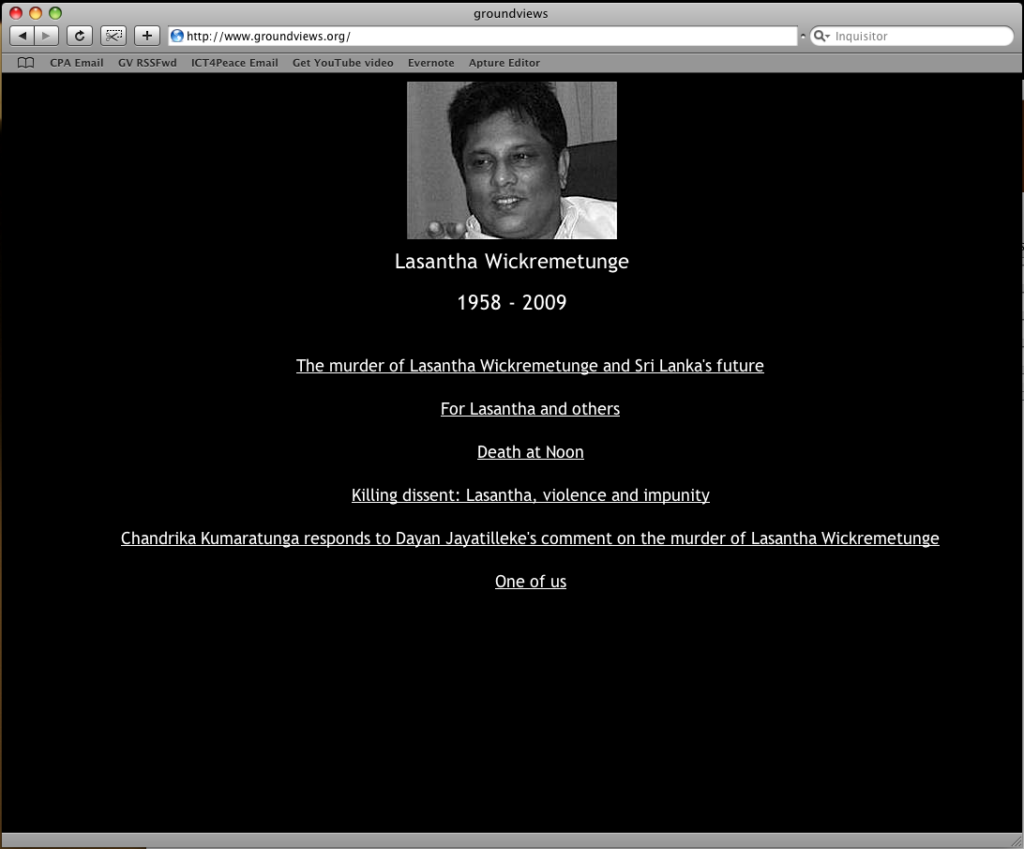 This site exists to demonstrate that it is possible, using web media strategies, to create spaces for voices at risk to be heard and archived for posterity. In a small but significant way, the original content and conversations on Lasantha's assassination on this site rigorously interrogated issues of culpability, impunity, democratic governance, media freedom and violence.
At the end of the day, Lasantha's dead and gone. Yet through these evolving and vital conversations on the web and Internet, he will continue to inspire us.
Sanjana Hattotuwa
Editor
January 2009