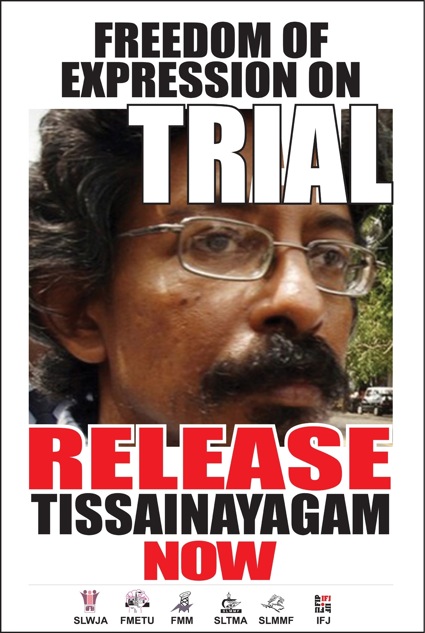 I vividly remember a question asked of me by a CID officer, i.e. "Did you try to overthrow the government?" I replied, "I have not tried but I have a right to do so. But I shall not try to overthrow the state. The CID officer was perplexed. So, I explained him the difference between the state and the government. I sensed that he was inwardly enlightened.

Excerpt from Some Gruesome Experiences: Memories of July 1983 by DEW Gunasekara, Minister of Constitutional Affairs and National Integration
The campaign by the International Federation of Journalists (IFJ) against the arrest and indictment of senior Tamil journalist J.S. Tissainayagam is the first campaign associated with a mainstream journalist, who also edited the website www.outreachsl.com, that Groundviews has chosen to highlight. It will hopefully be the last.
Groundviews has to date eschewed publishing civil society and NGO driven media campaigns on peace, human rights and democratic governance. This was largely out of an interest to support and strengthen Groundviews as a place for and source of original writing and lively debate. Therefore, the decision to feature and unequivocally support the campaign to release Tissa by the International Federation of Journalists (IFJ) was not arrived at easily.
Salient points of Tissa's case point to a larger and more chilling deterioration of media freedom in Sri Lanka under the Rajapakse administration. Tissa's case in particular reveals a particularly twisted logic, and through it, confirms fears that the regime in the South now completely mirrors the intolerance of media freedom and free expression the LTTE is known and reviled for.
Of the many curious charges against Tissa, the IFJ notes inter alia that,
The indictment reportedly refers to the printing, publishing and distribution of the North Eastern Monthly between June 1, 2006, and June 1, 2007; alleged offences to do with bringing the Government into disrepute…
On 12th August 2008, Prof. Rajiva Wijesinha in his capacity as Secretary, Ministry of Disaster Management and Human Rights published a letter to Brad Adams from Human Rights Watch on the Government's anachronistic Secretariat for Coordinating Peace Process (SCOPP) website which quoted a passage from one of Tissa's articles,
'Such offensives against the civilians are accompanied by attempts to starve the population by refusing them food as well as medicines and fuel, with the hope of driving out the people of Vaharai and depopulating it. As this story is being written, Vaharai is being subject to intense shelling and aerial bombardment'.
Prof. Wijesinha goes on to note that,
"The passage is cited in the indictment which details the reasons for believing that he has transgressed our laws."
Embarrassing the Sri Lankan government, or bringing it into disrepute is thus one of the key charges against Tissa. A flippant response that matches the absurdity of the charge would be that the government does more than any one else to bring itself into disrepute, with sickening frequency to boot.
But a more considered response is required, and that is what this campaign by IFJ seeks to generate through discussion and debate on a case that has very grave consequences for the freedom of expression in Sri Lanka. Tissa's case is more than a set of ludicrous charges against an individual. The charges, the length of time he was held without any charge and the manner in which he was treated while imprisoned are all carefully engineered to generate fear and anxiety amongst independent journalists and media. In this, the Rajapakse regime has been tremendously successful. Most journalists today are fearful of even writing about Tissa's case, much less writing publicly against his unjust predicament or agitating for his quick release.
Yet the incredible charges against Tissa call for defiance and outrage. Every blogger, every journalist, virtually everyone who has articulated an opinion in public through any media should take very careful note of the charges against Tissa. Their nature place us all at risk of arbitrary detention and criminal charges.
As Asanga Welikala, Senior Researcher at the Legal and Constitutional Unit of the Centre for Policy Alternatives, and a renown contributor to this site (writing as Publius) notes in the Introduction of his recent book titled A State of Permanent Crisis: Constitutional Government, Fundamental Rights, and States of Emergency in Sri Lanka,
it is plain that Voltaire's dictum on the freedom of expression is a value that is nowadays wholly subordinate to the paranoid nostrums of the 'National Security State.'
Please support the campaign to free Tissa.
I do.
Update – 1st September 2009
In May 2009, President Barack Obama referred to Tissa as an emblematic example of the distressing reality of journalist's jailed for their writing. On 31st August 2009, Tissa was sentenced by the High Court in Colombo to 20 years of rigorous imprisonment under the draconian Prevention of Terrorism Act (PTA).
Key links: