Shahidul Alam is no stranger to Sri Lanka. In January 2005, the renowned photojournalist and activist documented damage wrought by the tsunami. His blog titled 'Boxing Day blues' shows a letter sent to him, in Dhaka, by one S.M.K Priyantha from Peraliya, the site of the worst train crash in railroad history that Alam had covered during his time on the island.
In a series titled 'Portraits of Commitment' shot in 2007, Alam tells the stories of activists, doctors and community organisers who live with HIV, allowing it to guide and enrich their work.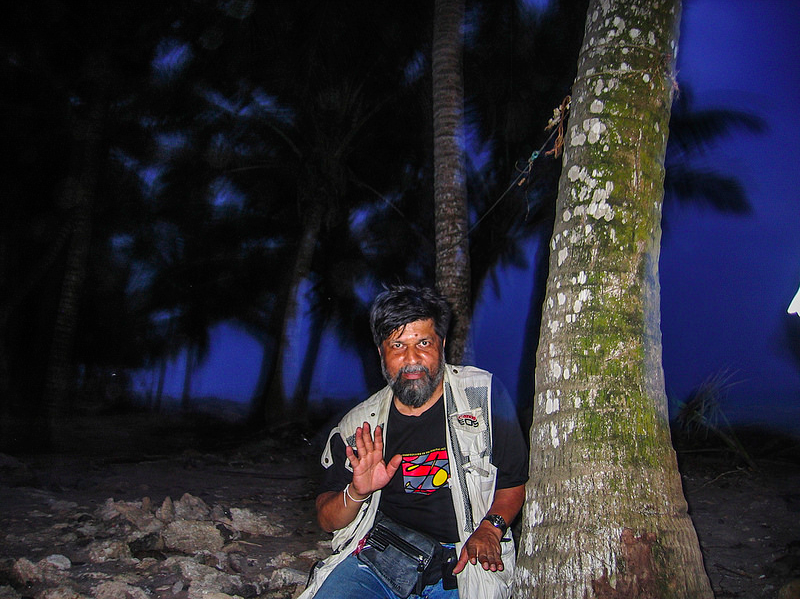 Photo and caption courtesy Alam's Flickr account: Portrait of Shahidul Alam taken by Tsunami survivor Shanika Prasadini near Galle Road, Telwatta Sri Lanka – January 6th, 2005
His career spans decades of acting as a witness to the struggles of the Bangladeshi people and the government's shortfalls to serve them. It extends from highlighting mismanagement of flood relief in 1988 to documenting violence against the Rohingya people in 2018. Through the Drik Picture Library and the Pathshala South Asian Media institute, Alam brought voices of local photographers to the forefront of photojournalism and discussions on human rights.
On October 2, a protest was held in front of the Bangladesh High Commission, calling for his release from imprisonment in his home country, Bangladesh.
#FreeShahidulAlam protest in front of the #Bangladesh High Commission today, calling for the photojournalist and activist's immediate release. #lka #SriLanka @FreeShahidul @bdhcsl pic.twitter.com/pfa1XE8Tlq

— Groundviews (@groundviews) October 2, 2018
Alam's crime? Speaking out about the violence exacted by police and government-aligned groups on students protesting for safer roads in Bangladesh. In a video interview with Al Jazeera, he speaks of the gag on media, widespread bribery and corruption, and extra-judicial killings and disappearances conducted by an 'unelected government that has no mandate'.
He was charged under Section 57 of Bangladesh's Information Communications Technology Act, a broad law against electronic communication that "tends to deprave or corrupt" the image of the state.
A translation of section 57 (1) says: "If any person deliberately publishes or transmits or causes to be published or transmitted in the website or in any other electronic form any material which is false and obscene and if anyone sees, hears or reads it having regard to all relevant circumstances, its effect is such as to influence the reader to become dishonest or corrupt, or causes to deteriorate or creates possibility to deteriorate law and order, prejudice the image of the state or person or causes to hurt or may hurt religious belief or instigate against any person or organisation, then this activity will be regarded as an offence."
With Bangladesh's new Digital Security Act being recently passed, activists warn of  further limitations on freedom of speech, especially with regard to social media. The Act has come under scrutiny by Heads of Mission of the EU Member States, the European Union Delegation and the Heads of Mission of Norway and Switzerland in Bangladesh, who have asked that it be revised and brought in line with the ICCPR.
Sri Lanka has its own history of grappling with issues pertaining to freedom of expression. In the past, activists and journalists who speak out against an authoritarian state have been arrested, owed in part to laws aimed at combating terrorism but that have also been used to stifle dissent. The overbroad provisions of Bangladesh's ICT Act echo Sri Lanka's own Prevention of Terrorism Act (PTA), Section 2 of which has been used in the past to stifle criticism of the state.
An often-cited case where the PTA was used with punitive effect is that of J.S Tissanaiyagam, a senior Tamil journalist who at the time was the editor of the North-Eastern Monthly magazine. Tissanaiyagam was arrested in April 2008 for reporting on the reality of the conflict zone, detailing how civilians were being starved by the forces and being subject to heavy shelling. His crime was that of bringing disrepute to the State and stoking communal tensions. Tissanaiyagam remained in prison for more than a year before he was charged, in August 2009, under the PTA.
That Sri Lanka is only set to replace, and not fully eliminate, its counter-terrorism legislation is also cause for concern. Change in legislation is only a step toward addressing a culture of impunity, in a country where conversations around national security, sovereignty, individual liberties and fundamental freedoms remain heavily polarised.
Alam's case rings more sinister in Sri Lanka at a time where the government has periodically spoken of regulating social media in the guise of controlling hate speech, and citing problematic legislation such as Germany's Network Enforcement Act in order to justify such claims.
Carrying posters in English, Tamil, Sinhala, and Bengali, around thirty protesters stood facing the road outside the Bangladeshi High Commission, calling on the Bangladeshi government to release Alam. At the start of the protest, a few of them turned in the opposite direction and held their posters up to the open upper floor window of the embassy, where people inside the building were watching and taking photos.
'It signals also what is happening throughout the (South Asian) region, where intolerant governments are finding ways through law and process to strangulate media.' – @aunohita, editor of @himalistan #lka #SriLanka #FreeShahidulAlam @FreeShahidul pic.twitter.com/dSYiLm0Uh6

— Groundviews (@groundviews) October 2, 2018
Speaking to Groundviews at the protest, Aunohita Mojumdar, editor of Himal Southasian, noted that Alam's case was but one of many across the region. 'Intolerant governments are finding new ways through law and processes to strangulate media' she said, referring to a string of arrests of journalists by Asian states.
The executive director of the Committee to Protect Journalists, speaking recently at a United Nations General Assembly event titled 'Press Behind Bars' noted that "the entire criminal process against Dr. Alam has been only a means of intimidation and retaliation and a gross subversion of the Bangladesh justice system."
'If the government of #Bangladesh stands for human rights, democracy and media freedom, we ask that they immediately #FreeShahidulAlam' – @sampathslk, editor @vikalpavoices. #lka #SriLanka @bdhcsl @albd1971 pic.twitter.com/Fgph9ADmk7

— Groundviews (@groundviews) October 2, 2018
Protesters eventually handed over a petition calling for Alam's release to Muhammad Alimuzzaman, Counselor and Head of Chancery of the Bangladesh High Commission.
"Due process should follow and not this kind of arbitrary detention," journalist and media analyst Nalaka Gunawardena told Alimuzzaman, a request from 'friends of Shahidul in Colombo'.
"Let me tell you one thing – due process is actually being followed", Alimuzzaman said. "I understand that you are a friend of [Alam], but the government is not interfering [with] the judicial process." He said he would convey the petition to the High Commissioner.
"The due process is being actually being followed. Government is not interfering" representative from the #Bangladesh high Commission in #srilanka says while handing over the petitions by #lka #activists @FreeShahidul #Bangladesh pic.twitter.com/vGj3x9WekE

— Vikalpa (@vikalpavoices) October 2, 2018
The petition protesters handed over argues otherwise.
Journalist, human rights organizations & Friends gathered today in front of the #Bangladesh High Commission in #Colombo, #SriLanka to protest and ask for the release of #freeshahidulalam. A petition was handed over as well. @_MAQUETTE_ @FreeShahidul @amnesty @hrw @RW_UNP pic.twitter.com/WyPeZJIOqH

— Majority World (@Majority_World) October 2, 2018
"Global protests on Shahidul's incarceration continue unabated and have included statements by 12 Nobel Laureates, many eminent citizens, and journalists around the globe. We add our voices to theirs," it states in part.
"His photographs echo the voice of the people. His continued detention is counter to the principles of democracy."
When Alam was brought to court after his arrest, he said that he had been beaten while in custody, and needed assistance to walk. The international outcry against his detention surged when the Bangladesh high court denied his bail application. Regular updates on a Facebook page and Twitter account maintained by his wife, Rahnuma Ahmed, state that he has been denied medical assistance while in prison, and has stopped the jogging and exercising he used to do. Ahmed also writes about his requests from his visitors to collect musical instruments and books to be donated to the prison, for use by those serving time.
Shahidul Alam's status on Google+ continues to read 'If you are not making certain people uncomfortable with your presence, you are probably doing something wrong.'
View a full album of photos from the protest on our Facebook page.
Tweets around the protest are collected at this Twitter moment.