Among the Buddhist monks to rise to fame (or infamy) in Sri Lanka in recent times, the 47-year-old Venerable Ampitiye Sumanarathana Thero from the Batticaloa District is surely the star of the moment; admired and perhaps even envied, by many. A viral video of the Ven. Sumana's barrage of choice expletives directed at a Tamil civil servant has made him a social media sensation. Previously the Ven. Sumana starred in videos where he attempted to assault a Policewoman and went on a slapping spree after demonstrating his formidable command of Sinhala obscenities.
If this rise to fame was insufficient, a recent video[1] by YAMU, a food review site, reviewed the Ven. Sumana's latest performance. It has since attracted more vitriol in one week than the many banal reviews have over YAMU's entire existence and propelled the Ven. Sumana to greater fame. It also seems to gained him a fierce army of Facebook defenders.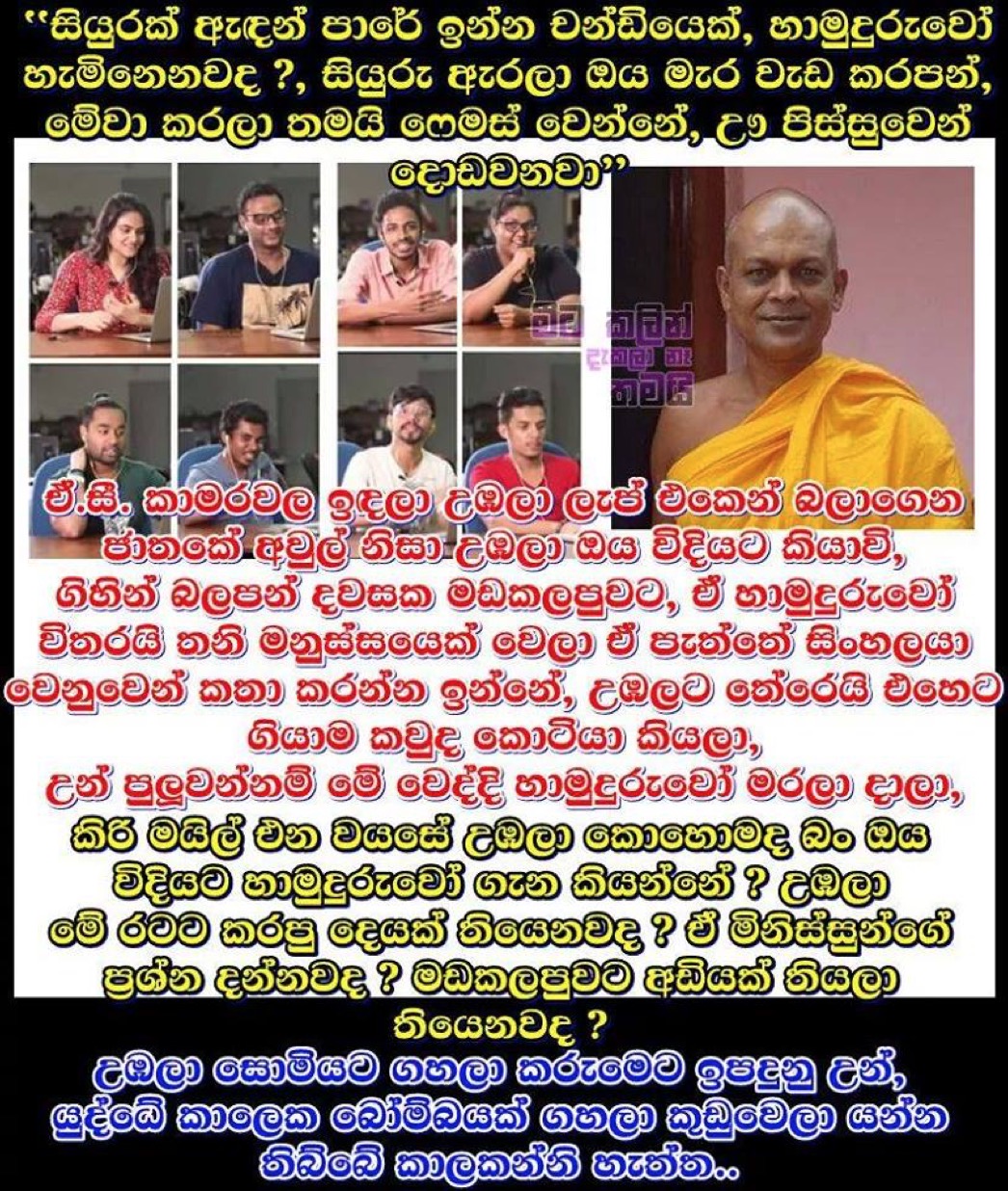 One of dozens of memes attacking the YAMU reviewers and one of the more politely worded, despite the parting thoughts of wishing them death by explosives
The Ven. Sumana's meteoric rise to fame is set to reach new heights however, as two video appeals made to his nearly 27, 000 followers on Facebook[2] is calling for all good Sinhala-Buddhists worth their salt to march to Batticaloa this Saturday (December 3rd). This is to, among other things, save Buddhism from ruin in the Eastern Province. The Ven. Sumana's appeals and language is a fascinating sociological study but one appeal was uniquely interesting.
While extolling the misery of Buddhists in the East, lamenting his current misfortune of being pilloried by those who seek to label him a racist, and the assault on Buddhism being plotted by the Northern Provincial council and other Buddhist hating nasties, the Ven. Sumana mentions that he is hoping to build an 85ft Ranaviru Smarakaya (war heroes' memorial).[3] He then goes on to say that this, however, has been impossible because he is unable to even meet the bare minimum day to day expenses of his temple.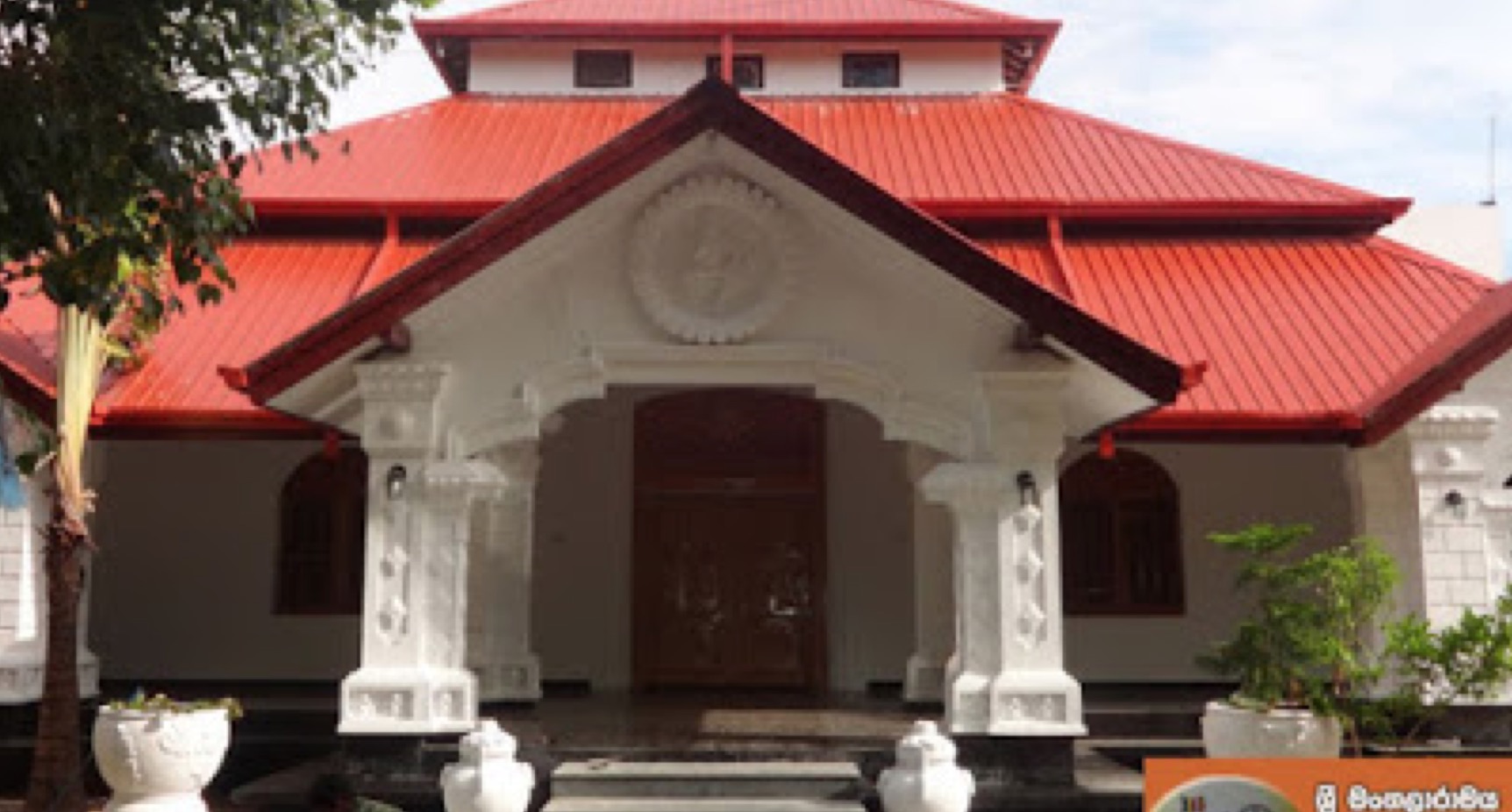 The Ven. Sumane's dilapidated Sri Mangalaramya temple
This is then followed by an appeal to Buddhists in Sri Lanka and throughout the world to support Buddhism in the East before it dies out. For those in Sri Lanka and abroad looking to contact the Ven. Sumana and donate, he helpfully lists the country code for Sri Lanka on his temple's blog, along with details to multiple bank accounts. Unfortunately, the link to his Android app does not seem to be working.
Also listed is a video tour of one of his more recent temple projects, the Rammulla Sudarshanaraamya.[4] The video thanks the many supporters and gives them due merit. It also serves to remind them that they are getting some bang for their buck. According to the blog, a third temple, the Divulapathana temple, is in the works.
Hidden among the many inane commentaries that fill the 'YAMU reacts' video, one particularly insightful commentator notes that this is now a recurring trend, 'everyone from the BBS downwards has figured out this is the way to become famous. Maybe folks in Batticaloa have caught on to it too.' Perhaps being 'pilloried' as a racist is not without its fringe benefits.
###
[1] https://www.facebook.com/YAMUtelevision/videos/1151102238276133/
[2] To access the Ven. Sumana's Facebook profile click here
[3] See Video at 3.00, by clicking here.
[4] https://srimangalaramaya.blogspot.com/2016/06/blog-post_25.html