Does art have a role in reconciliation? Does it help in healing trauma? Can the creative power of arts be used as a catalyst for action – especially among those who have been disenfranchised?
How do you document violence or curate memories?
These are questions that concern people who value creativity and democracy and want to explore the synergies between the two.
A group of scholars, researchers, activists and artists from 11 countries including Sri Lanka will discuss these questions and search for answers while sharing their own work on the theme, Arts in Reconciliation at an international conference to be held at the BMICH from 7-9th November.
The conference will feature presentations, panel discussions exhibitions, workshops and performances on a number of topics relevant to the reconciliation efforts in Sri Lanka and several other countries where violent conflicts have taken place.
On the Art of Witness the highlights include cases from Bosnia, Lebanon, Kosovo and South Africa: descriptions of museums and monuments from Sri Lanka, Germany and Argentina; experiences from artists whose lives intersected with armed conflict and how art helped one artist from Ambalangoda to transform prison walls while another session examines the limits of art. Dancing for reconciliation is a presentation from the Unites States on expressing Tamil identity through dance while Beats of Dissent features performance artists from Sri Lanka.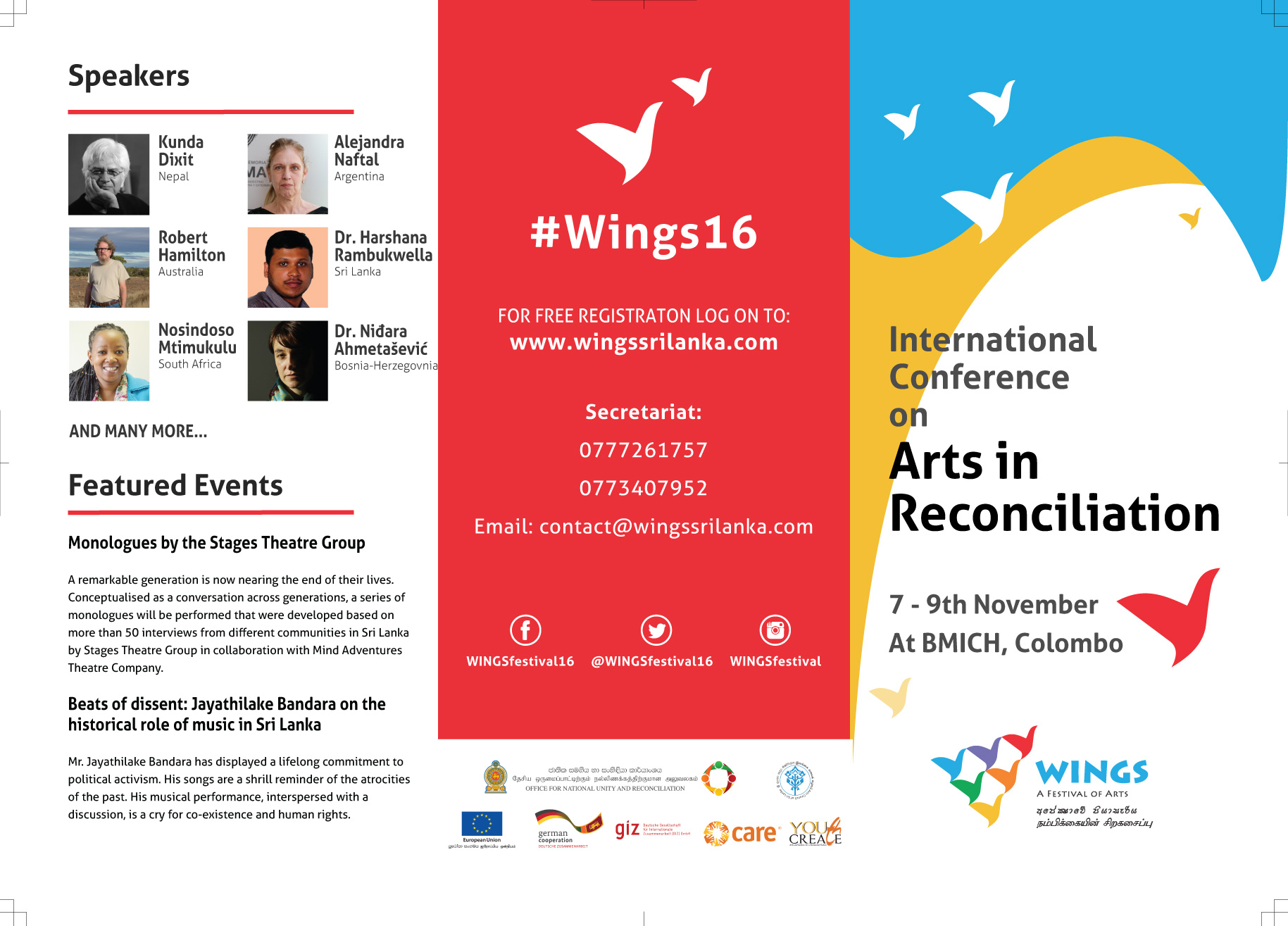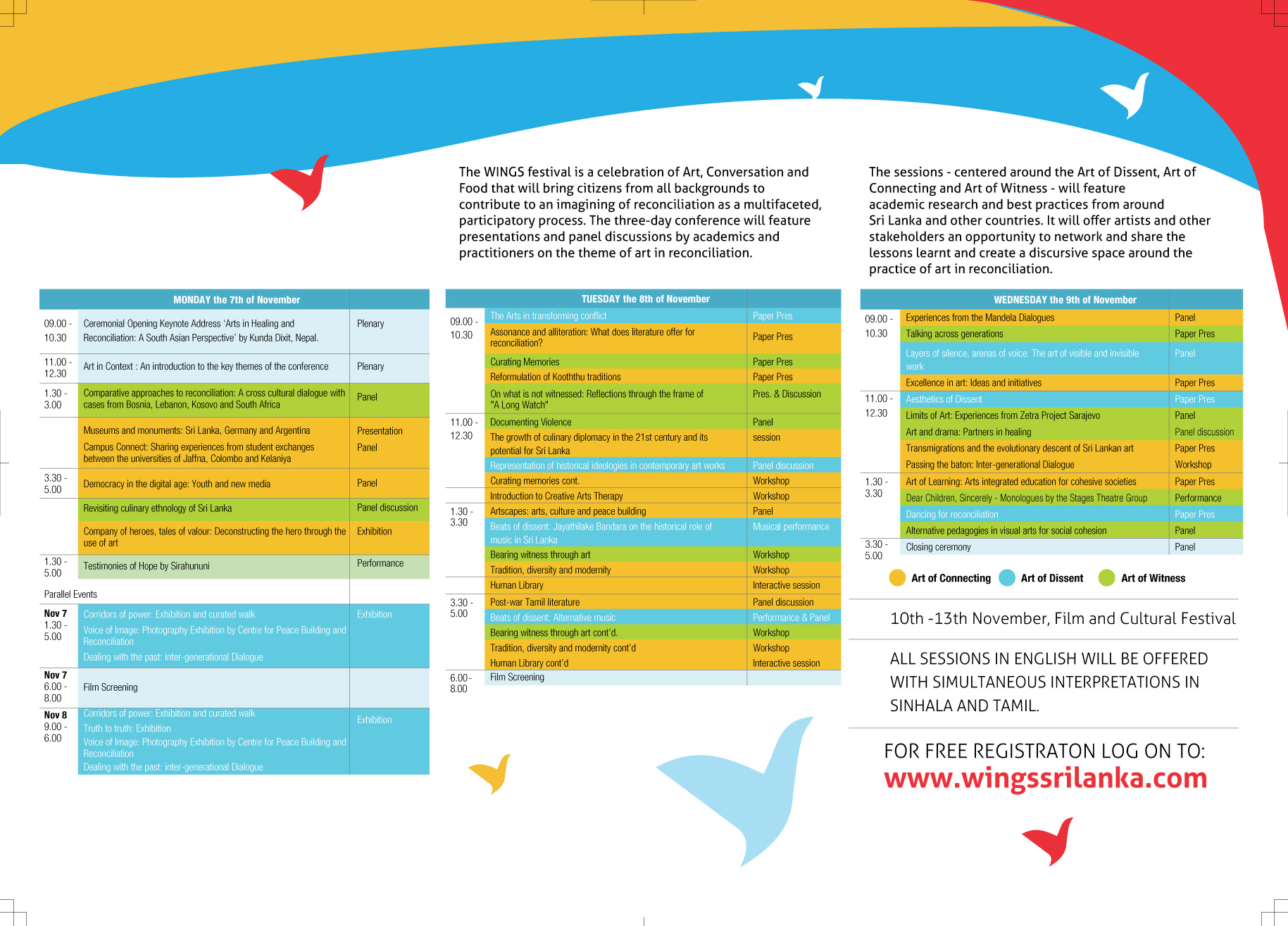 The forty conference- sessions spread out over three days are arranged under three dominant themes. Art of Witness deals with historical trauma and memory which is one of the greatest challenges facing societies in the aftermath of armed struggle. Research suggests that there is a relationship between the ability to address this legacy in a comprehensive manner and the potential to develop a sustainable peace.
The Art of Connecting is about engaging youth as change agents and advocates of peace. Youth has the potential to spearhead creative change, harness technology and seize opportunities for fostering democracy and shaping the future.
Art of Dissent relates to the ability to express dissent through art; to expand civic space for dialogue and catalyse actions in favour of the disenfranchised. Can art transform conflict?     The conference is about exploring these themes and seeking answers to questions and also raising new questions. It facilitates learning from experiences from around the world.
Exhibitions: There are several powerful exhibitions which will be held at the BMICH parallel to the conference. Company of Heroes deconstructs the hero archetype from the Sri Lankan conflict, through visual art done by children of military personnel; Corridors of Power brings together constitutional theory and architecture to examine Sri Lanka's constitutional evolution; Truth to Truth which explores transitional justice through the medium of art will promote reflection and discussion on modes of justice; artwork produced by children in 12 villages from both sides of the Sri Lankan ethnic conflict will also be on display as well as a Photovoice project where young people from opposing sides of Sri Lanka's conflict use photography to engage in conversation with the other community.
The workshops include one in creative art therapy which will focus on the therapeutic power of art to facilitate trauma healing. Another workshop is on the chronology and geography of mass atrocity which will discuss case studies from antiquity to the modern times to introduce tools of prevention- it is especially important for policy makers, public officials and civic groups. See more details on the workshops here.
Arts is a powerful way of celebrating diversity because it brings people together on matters of social and personal significance and creates space for dialogue.  The scholars and artists, drawn from diverse nationalities across the Balkans, Africa and South America, will join their Sri Lankan counterparts to discuss a range of topics including "Democracy in the Digital Age", "Culinary Diplomacy" and "Music for Social Change". More information and registration for sessions is available at www: wingssrilanka.com.
The WINGS festival is organised by the Office for National Unity and Reconciliation (ONUR) and the Arts Council of Sri Lanka in collaboration with Deutsche GesellschaftfürInternationale Zusammenarbeit (GIZ) GmbH and CARE International Sri Lanka. It is financially supported by the European Union. The festival is built around a three factors crucial for appreciating the richness of diversity: Art, Food and Conversation.
Also at the BMICH in the evenings during the conference, starting on 8 November and continuing till 10th there will be a festival of films on the theme of reconciliation. A food festival showcasing the wide diversity of traditions, spices and tastes of Sri Lanka will be held on Sunday 13 the November along Nelum Pokuna Mawatha (Greenpath). Meantime, the cultural festival will continue from the 6th to 13th at different venues in Colombo featuring performances by renowned artists.
The events are free of charge, but prior reservations are recommended to avoid disappointment. For reservations or additional information please call +9477 726 1757 or email [email protected]
###
Editors note:  'Corridors of Power' will be showcased at WINGS. See original Facebook event page here, and a recent presentation on the exhibition at the World Economic Forum's Shape South Asia 2016 conference here.
What is a constitution? What place and relevance, if any, does it have in the popular imagination? Do citizens really care about an abstract document most would never have seen or read, when more pressing existential concerns continue to bedevil their lives and livelihoods, even post-war?
Led by the input of Asanga Welikala and in collaboration with Channa Daswatta, 'Corridors of Power' through architectural drawings and models, interrogates Sri Lanka's constitutional evolution since 1972. The physical exhibition, held first in late 2015, critiqued Sri Lanka's tryst with constitutional reform and essentially the tension between centre and periphery.
The original exhibition output included large format drawings, 3D flyovers, sketches, and models reflecting power dynamics enshrined in the the 1972 and 1978 constitutions, as well as the 13th, 18th and 19th Amendments.
Facebook event page at http://bit.ly/corridorsofpower
Note by Curator at http://bit.ly/corridorsofpowercurator
Full colour catalogue of exhibition at http://bit.ly/corridorsofpowercatalogue