Featured image courtesy South Asian University Archives, 2016
As an idea, project and dream of considerable proportions, South Asian University has been discussed for more than a decade among leading intellectuals of the region, including people like Asish Nandy of India, Imtiaz Ahmed from Bangladesh, Kanak Dixit from Nepal and many others. The initial idea was to set up a university for critical knowledge with different campuses in different cities of the region. What transpired on the ground in 2010 saw the establishment of the entire university in New Delhi, with the undertaking of the Indian government to bear a hundred percent of the capital costs of construction. Different countries still have the right to set up regional campuses of the university in their own countries, should they so wish.  Even in its present form, South Asian University is a significant political and social effort that can only evolve amidst multiple challenges. It is one of the few initiatives of SAARC which has clearly taken off.
The first convocation of South Asian University was held on 11 June 2016 amidst much color, pomp, pageantry and excitement at Vigyan Bhawan, New Delhi. The convocation, which came six years after the university started its operations marks very clearly that the university has formally and physically arrived in South Asia's intellectual landscape.  This is important when seen in the context of university's relative invisibility in the region so far.  The university's present dynamism and visibility, augmented by its campus-construction programs and outreach work is largely credited to the work of its recently appointed President, Dr. Kavita Sharma and her new team.  Taking its South Asian credentials seriously, the University had invited Deputy Prime Minister and External Affairs Minister of Nepal, Kamal Thapa to preside over the ceremony. The Chief Guest was General V.K. Singh, the Minister of State for External Affairs of India. Officials from all member states associated with the University's statutory bodies as well as those serving in missions in New Delhi had been invited to the event. A number of Sri Lankan officials were among the distinguished invitees including the Vice Chairman of the UGC, Prof P.S.M. Gunaratne, Sri Lanka's Deputy High Commissioner in New Delhi, Mr. M.R.K. Lenagala, Prof Athula Ranasinghe, the Dean of the Faculty of Arts, University of Colombo, who serves as a member of South Asian University's Academic Council and Mr. M.H.M.N. Bandara, Director, SAARC Secretariat, Kathmandu and Prof Sasanka Perera, Vice President of the South Asian University.
Over 450 gradates received their degrees. Thirty of them received SAU Gold Medals for excellence in academic performance. Students from all the eight SAARC countries who had completed their degrees were present at the convocation. These included some who had graduated prior to 2016 as well. Though the university has been functioning since 2010, convocation could not be held previously due to a number of logistical issues. The following graduates are among the Sri Lankans who have passed out of the University since its inception up to 2016: Nelum Uttamadasa, Shriyani Douglas, Sunderamoorthy Thushani,Vajira Daluwatta, Kalyani Mala Jayasekera, Mohamed Minver, Unnathi Samaraweera, Ama Wijjweera, Surangika Jayaratne, Samithamby Santhirakumar, Sanjeevani Gunawardena, Mahesh Premarathna, Jean Brenda Soundaralingam,  Thiraviyam Selvamalai, Niththiyanantham Baskaran and Janaka Selvaras.  Some of them attended the convocation on June 11th.
Nepal's Deputy Prime Minister addressing the gathering described the university as a "testament" to the shared aspirations and collective anticipations of prosperity of all South Asians. He said the university has set a clear example of successful   regional cooperation to the world. In his address to the graduates, General Singh observed, "while the programme at SAU must have armed you with academic knowledge and the most marketable and relevant skills needed for the region and the international job market, your stay at the SAU – the friends you have made, the discussions you had and the activities you have organized – would have helped in experiencing the sense of unity which links all of us in the region."
In institutional terms, South Asian University (SAU) is an international university established, funded and maintained by the governments of the eight member nations of South Asian Association for Regional Co-operation (SAARC), which includes Afghanistan, Bangladesh, Bhutan, India, Maldives, Nepal, Pakistan and Sri Lanka. SAU started its operations in   the academic year 2010. The university now offers Masters and Mphil/PhD courses in seven disciplines, which include Economics, Computer Science, Biotechnology, Applied Mathematics, Sociology, International Relations and Legal Studies.
SAU attracts students from all over South Asia, and all the eight SAARC countries formally recognize its degrees. Many of its graduates have already found meaningful employment in the region and others have been offered higher education opportunities in countries beyond South Asia as well. Sri Lanka has been consistently and extensively funding the university since its inception. In 2014 alone, Sri Lanka's contribution towards the university's operational costs constituted of US$ 1, 227, 000. Despite this and the availability of good funding possibilities for prospective students, the university has so far not attracted many students from Sri Lanka. Countries like India, Bangladesh, Afghanistan and Nepal have supplied the bulk of students. Similarly, it has also not attracted teachers or non-academic staff from Sri Lanka. At present, the country has supplied only one faculty member and two non-teaching staff members. Returning gradates and university insiders have noted this is because the university is not well-known in Sri Lanka. Both the university itself and the Sri Lankan government have failed to promote the institution in the country.
The university is currently functioning from Akbar Bhawan, a former five star hotel in Chanakyapuri, which is located within New Delhi's diplomatic enclave.  Its permanent campus is being constructed over a 100-acre plot in Maidan Garhi, South Delhi. Construction work on the new campus began in late May 2016. It is anticipated that the university will shift to its new premises within the next few years.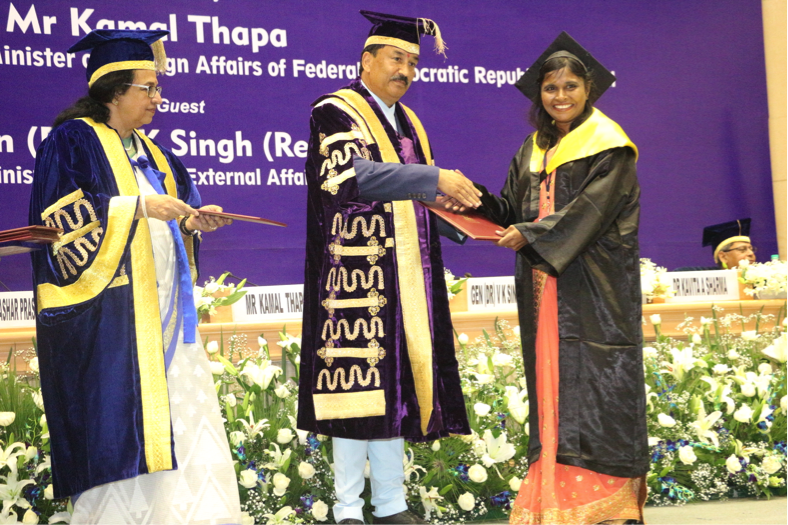 Sri Lankan Sanjeevani Gunawardena receiving her MSC degree in Biotechnology from Mr Kamal Thapa, the Deputy Prime Minister and External Affairs Minister of Nepal while President of SAU, Dr. Kavita Sharma looks on (Image courtesy of SAU Archives, 2016).