The first EleFriendly bus in the world was launched on the 23rd of May, in a village in the Wasgamuwa National Park. The launch was held in the Pussellayaya Temple within the Wasgamuwa National Park, located in the middle of Sri Lanka.
This bus will help reduce human-elephant conflict by allowing the villagers to safely cross the ancient elephant corridor in Wasgamuwa.  It will also make the road less busy and more comfortable for the elephants.
The human-elephant conflict is a very serious problem in Sri Lanka, especially in places like Wasgamuwa. This conflict happens when humans and elephants fight over the same land. The result is usually violence. This has been going on for a long time in Wasgamuwa. The violence is so bad, the people now call the road they travel on "the bloody elephant corridor". Around 200 elephants and 80 people die a year in Sri Lanka from human elephant conflict.
At the launch I spoke to 11-year old Chamodi who lives in Gamburuwewa. She explained that she is very frightened to go to school because of the big elephants she's seen on the road. She is very happy to travel on the bus because she knows she will be safe from the elephants. The bus will be looked after by the villagers and the driver and the conductor are also from the area.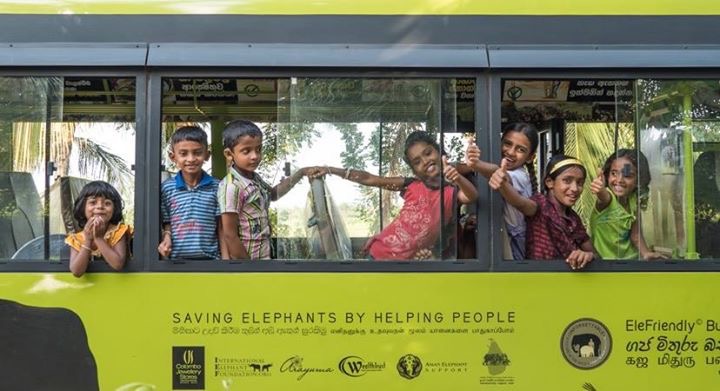 Ravi Corea, the founder of the Sri Lanka wildlife conservation Society said he had been working on this project for 4 years. He also explained that the bus cost Rs. 3.75 million. Mr. Corea said the idea for the project started when he and his team noticed how frightened the children were on their way to and from school.  The team started to give the children lifts in their jeep to protect them from the elephants. They realized they couldn't do this forever, so the idea for the EleFriendly bus service was born.
The Sri Lanka Wildlife Conservation Society bought this bus with generous contributions from my school, The British School in Colombo and many others.
###
Editors note: The author is 11-years old, and is the youngest contributor to Groundviews. See all her contributions here.