Featured image courtesy the Straits Times
[Editor's Note: This piece originally appeared on Yudhanjaya's blog, accessible here.]
Gripped by a desire to help out our fellow Sri Lankans, we've cooked, delivered, run supplies by the truckload and picked clean the shelves of our supermarkets over the past few days.
The result? Incredible good – people fed, clothed, supported for another day by people they've never even heard of; and at the same time, incredible waste – truckloads of spoiled food, supplies being shuttled with no tracking or double-checking, massive oversupply to areas like Aranayake and Wellampitiya while camps like Wattala struggled to make do, well-meaning volunteers heading out to areas they're barely capable of surviving in, let alone helping. And chaos on every possible front.
I don't blame anyone. To be honest, I'll take the good and the bad over indifference any day. And yes, there's plenty of indifference – I see enough of it walking into work. But enough people reached out to truly make the gigantic task ahead of us bearable.
The situation right now
The major areas that were hit – judging by severity and freqeuncy of donation requests – are Aranayake, Wellampitiya, Kelaniya and Wattala. Secondary points seem to be Kilinochchi, Kolonnawa, Biyagama, Malwana, Athurugiriya, Avissawella and Kaduwela. New camps have been set up at Atkalupahana, Digala, Maniyangama and Boralankada. There are isolated pockets popping up all over the map that are unaccounted for – usually clusters of between 100 and 200 people.
Aranayake has been hit by landslides. It's getting the most amount of media attention, and is oversupplied with dry rations (rice, dhal, soya, milk powder) and in need of with what I call Stage 2 essentials – candles, clothes, soap, underwear – all the requirements that come immediately after a meal in the belly.
Water is everywhere and disease is spreading, in Kelaniya, even among the volunteers. It's undersupplied on every front but badly needs medicine, medical personnel and swimmers to combat the conditions.
Wellampitiya is returning to normalcy. While most of the electricity grid is out, people are moving back in and cleaning up.
Wattala is a network of 9 camps held together mostly by one central Army camp, and it's the subject of sporadic lack of cooked food. Dry rations are being stocked and it's limping along two days at a time.
Atkalupahana, Digala, Maniyangama and Boralankada are brand-new camps sorely in need of everything, including dry rations.
Biyagama, Malwana, Kolonnawa/IDH and Athurugiriya are flooded in pockets, and while they're sorted for rations, they need underwear, candles, soap, toothbrushes, medicine – more Stage 2 needs.
A complete list of items required has been released by the DMC and is available here.
Note that this may or may not tally with our observations. I make no claim for the accuracy of the DMC. Here's a general list for cleaning and reclamation put together by one of my co-workers for donations. For posterity, here's the old Google sheet we were using a couple of days ago.
What is the government doing?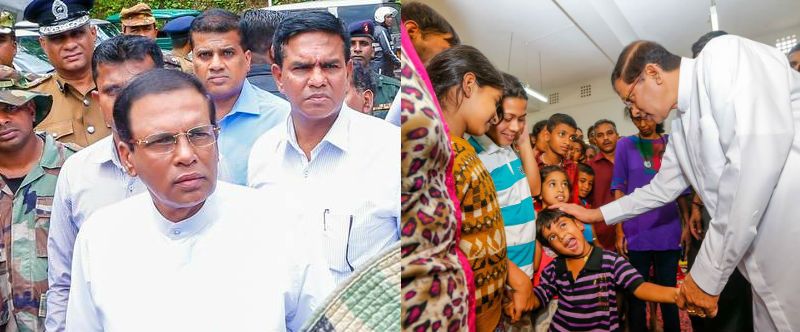 They've allocated Rs 150 million for flood relief, apparently. Let me put that in perspective. Here's the math, courtesy of Dr. Sanjiva Weerawarana.
"Sri Lanka government has reportedly spent (budgeted? not sure) Rs. 150m for flood relief.

In April, our parliamentarians voted to give themselves a USD 62,500 car permit:  Each permit has a street value of at least Rs. 20 million – and for every such imported vehicle effectively way more in lost taxes. Conservatively, let's assume that the lost taxes are Rs. 25 million.
So 225 parliamentarians * 25 million is Rs. 5,625 million. So, the government has offered only 2.66% of lost revenue as flood relief."
Put another way, they gave themselves a Rs. 20m*225 = Rs. 4,500M cash bonus in April. Flood relief is just 3.33% of that.
What are volunteers doing?
On my personal networks, the volunteer forces have coalesced into a handful of rough networks all relying on each other for transport and caching. We're operating mostly off a couple of Facebook and WhatsApp groups; it's chaos. On the ground, every day, are people who'd warrant a Medal of Honor if we had that here.
Private companies have done their part. John Keells Holdings has reportedly injected Rs. 10 million worth of goods into the system. Takas.lk's  handled over 2 million rupees in flood donations. I believe WSO2 have sent in about a quarter of that amount, and we definitely aren't the only ones.  This money and goods are generally sent to the Air Force. PickMe is, of course, the hero of the day. And Sirasa seems to be fielding a veritable army of volunteers.
The mad rush for food is coming to an end. While we'll probably be stockpiling dry rations for the month, that's a job for the government. We're entering the second stage: sanitation. The need of the hour is Dettol, gloves, brushes, soap, personal sanitation stuff, rubber boots – things you need to recapture territory, so to speak. The third stage is, of course, cleanup and recovery. Some of us have started prepping for the long, slow climb – post-flood relief.
What should we be doing?
Collect money.
No, seriously. Unless you're a survival expert, or you can pilot a 4×4 or have heavy transport at your command, stay home. Collect money.
At some point we have to transition from packing off  x  amount of supplies on a mate's jeep to a system of camps, close to the ground, that can monitor need and spend. That's where we'll need money. This is where the government needs to come in.
The good news is that the government is finally making noise.
If you are a volunteer, be careful. Disease is spreading. 
Anyone coming into contact with the water should be aware of cuts, wounds and the possibility of dengue, dysentry, typhoid, tetanus and flat-out infection. Get gloves, talk to a doctor, arm yourself.  Anisha Niyas pointed out that 200mg of Doxycycline taken weekly should help you, but don't take my word for it – double check, triple-check.
As Faizer Shahied pointed out, cleaning up is difficult. I'll quote him: "Make sure you wear the right kind of SHOES and not slippers (A mistake I made today). Use ekel brooms, not ordinary brooms. And cleaning a mess of this nature is very difficult without chemicals. Take pohora bags or any other suitable alternatives to put in the dirt, or its pointless simply cleaning without taking out the dirt. Make sure you and your team/s are properly equipped."
Why are you using Facebook? What about Sahana / DEWN / <insert software here>? 
People diss Facebook for being the chief cause of waste and overzealous volunteerism, but what they don't know is that it was tools like WhatsApp and Facebook that made even the slightest co-ordination possible.
I was reminded today that tools like Sahana exist – but they don't exist for us. They exist only for a group of people in a government office. Apparently the National Disaster Relief Center had the tech. What use was that to us when the time came?
Disaster Management tech's a wonderful thing – on paper. In practice, it doesn't translate, especially when it comes to being used by volunteers.  Here: