I spent some time with 12 visual artists and 1 dancer, from Sri Lanka and India, at the Taj Samudra Hotel in Colombo today, who are part of an interesting and pioneering artistic collaboration between the two countries, from the 18 – 23 January. The artists work in the open near the hotel's pool. Anyone from the hotel and from outside can choose to meander through their workspaces, and if moved by what they see, even engage with the artists. The project's co-architects Sanjeev Bhargava from the Seher Foundation and well-known Sri Lankan artist and activist Chandraguptha Thenuwara envision a process through which the participating artists – who span multiple generations and visual styles – can see and learn from each other's worldview, process of creation, vision and execution.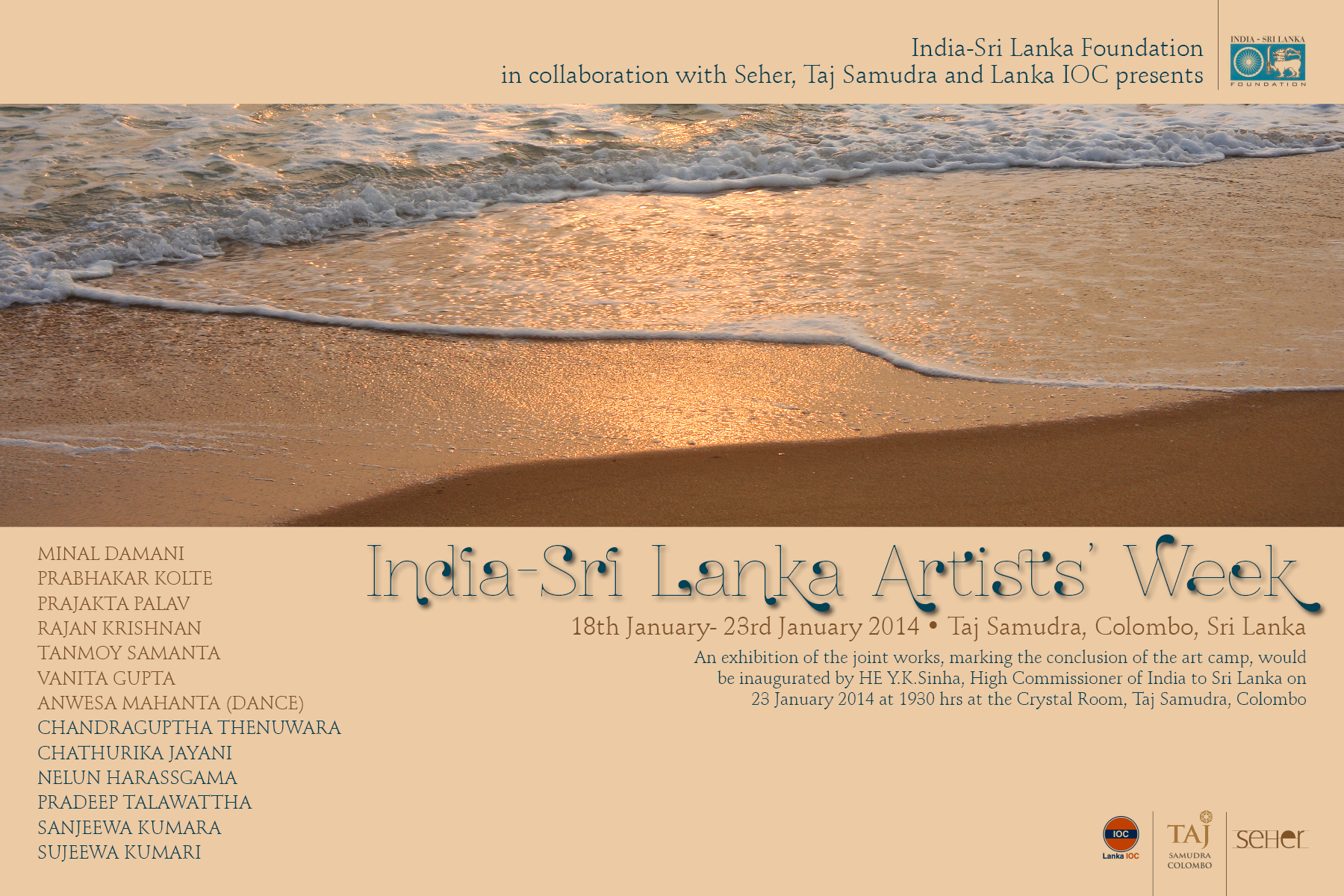 As noted in the project's press release,
The first ever India- Sri Lanka Artists Week intends to bring the two countries closer through the medium of its artists working closely together at one place. While the corridors of power are making efforts through various diplomatic initiatives, this cultural initiative is definitely the first of its kind which will see artists of the two countries interacting with each other and working collaboratively on the theme of "art unites". There will be a lot of stress on interactions and discussions which will help both the Sri Lankan artists as well as their Indian counterparts to expand the scope of their own art form.
As Sanjeev noted, the addition of a dancer to the project was intended to give the visual artists a different interpretation of space. Anwesa – a gifted proponent of the relatively unknown Indian classical dance form Sattriya – was intended to help the artists interrogate their own use of the space on a canvas.
The participating artists are well-known in their respective countries.
India
Prabhakar Kolte
Rajan Krishnan
Tanmoy Samanta
Vanita Gupta
Minal Damani
Prajakta Palav
Anwesa Mahanta (Dance)
Sri Lanka
Chandragupta Thenuwara
Sanjeewa Kumara
Pradeep Talawattha
Sujeewa Kumari
Nelun Harassgama
Chathurika Jayani
What's really different about this project is not the exhibition which will take place on the 23rd, but the way in which the art was created. The artists don't mind you looking at them while they paint, or intruding in what would otherwise be a space you wouldn't be invited to or able to approach (taking care of course to avoid stepping on or upsetting the acrylic paints and other material strewn across the workspaces). You can spend as much time as you want going from one to another, interacting with them, asking them questions, and learning about the choices they have made on canvas, in their framing, selection, technique, vision or material. It doesn't matter that some of the participating artists are amongst the best known and most senior from India and Sri Lanka respectively – they are equally approachable to both the casual visitor and each other.
View larger versions of these images on Flickr here.
I spent some time talking with Thenuwara (Thenu), where I asked him how the idea for the project came about, how the Sri Lankan artists were selected, what he has learnt from the exercise, how it has helped him create (I noticed that what he was working on at the time was strongly influenced by his compelling exhibition from last year), what he saw as the future of this collaboration and what would happen to the art that was created once it was exhibited in Colombo.
I also spent some time talking with Sanjeev Bhargava from SEHER, to understand his interest in creating what is the first collaboration of this nature between leading artists from both countries, how he selected the artists from India, why SEHER always included a dancer in this exercise, what to him the value is of bringing 12 artists together over a week and what if any qualitative difference this kind of collaboration contributed to in the final artistic output.
The project's press release ends by noting that,
This artists camp is open to public for viewing. Anyone especially students of art can witness the artists working together at a common space and creating works of art.