Science writer Nalaka Gunawardene in conversation with Dr Ajith de Alwis, engineer and public intellectual
Sri Lanka was ranked at No 98 among 142 countries worldwide in the
Global Innovation Index 2013 (GII 2013) released in July. The ranking in 2012 was 94.
GII 2013 looks at 142 economies around the world, using 84 indicators including the quality of top universities, research spending, availability of microfinance and venture capital deals. It gauges both innovation capabilities and measurable results, and also places them in a broader socio-political context.
Significantly, the methodology adopted by GII 2013 takes into consideration factors such as the rule of law, regulatory quality, press freedom – institutional considerations vital for good governance, where Sri Lanka has scored especially poorly. This underscores that simply investing public and private funds would not necessarily create a culture of innovation and entrepreneurship.
GII 2013 is an authoritative assessment is published by Cornell University in the US, global business school INSEAD and the World Intellectual Property Organization (WIPO). Since its launch in 2007, the annual Global Innovation Index has become a chief benchmarking tool for business executives, policy makers and others seeking insight into the state of innovation around the world.
To understand the underlying dynamics and significance of this assessment, science writer Nalaka Gunawardene spoke to engineer and public intellectual Dr Ajith de Alwis, BSc Eng (Moratuwa), PhD (Cambridge), Professor of Chemical and Process Engineering at the University of Moratuwa, Sri Lanka. Dr de Alwis is also the Project Director of COSTI (Coordinating Secretariat for Science, Technology and Innovation), which is a newly established State entity with the mandate of coordinating and monitoring scientific affairs.
Commenting on the birth of COSTI in an op-ed, he wrote in July 2013: "Sri Lanka hopes for not only a per capita income upliftment but a different economic status too. An innovation driven economy implies internal innovativeness and an excellent national competitiveness in a global marketplace. Science and technology play a significant role in this transition. Having mere expectations with any type of activity will not deliver this situation. It is not easy to be an innovative economy."
In this interview with science writer Nalaka Gunawardene, Dr Ajith de Alwis takes a close and candid look at Sri Lanka's performance and potential in innovation. He also shares his vision for a Sri Lanka Innovation Index (SLIINDEX), which he is working on to be consistent with international practices "to ensure that we are on top of our own data".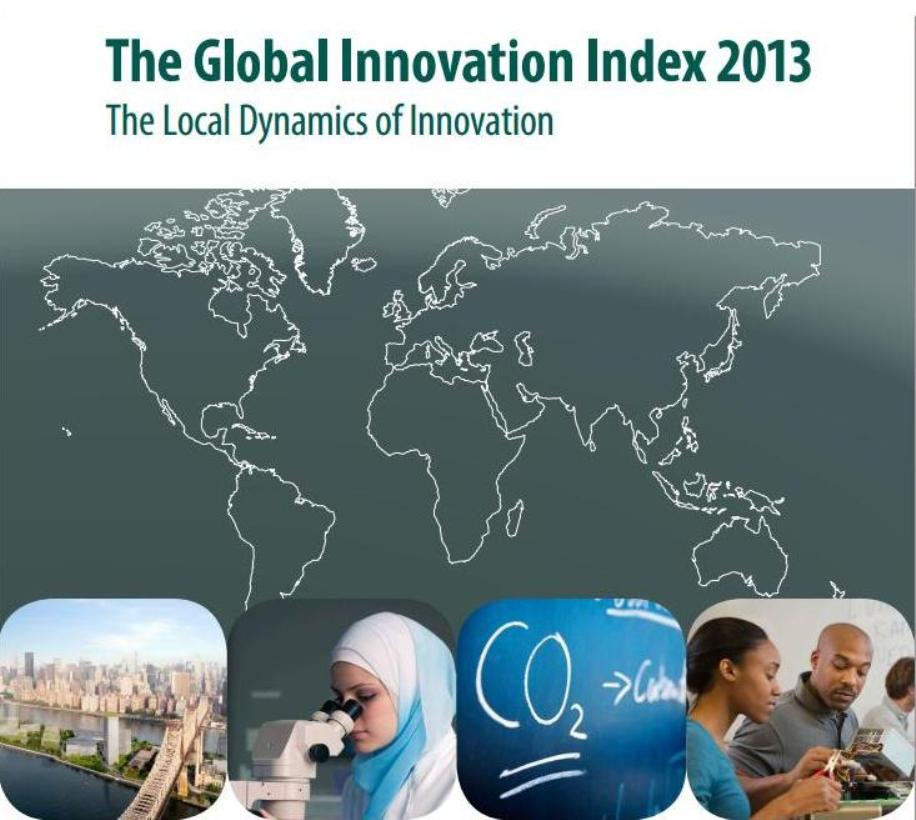 Nalaka: What is your overall impression about Sri Lanka's score of 30.4 (out of total possible 100), giving us a relative ranking of No 98 among 142 countries assessed in the Global Innovation Index 2013 (GII 2013)?
Ajith: It is not possible for Sri Lanka to be happy with that ranking — though there are some positive indicators hidden within. We must understand that, as a key international publication, GII findings carry weight in impacting decision making and directing investments too.
As a nation with a high literacy – in fact, the highest among the developing nations — if we project ourselves as 98 among 142 for innovation, it is not at all healthy and no way to be proud about.  Being innovative is considered to be a primary factor today for an economy to be competitive. This only opens up questions about our economy's inherent ability to grow sustainably too (some may say sustainable growth is an oxymoron) taking growth as a prime objective in policy.
We do understand that data used may not be quite accurate and we may identify many issues.  However, ensuring that reliable data are available is an internal responsibility and that is why at COSTI (Coordinating Secretariat for Science, Technology and Innovation of the government of Sri Lanka), we have taken on to develop a parallel SLIINDEX (Sri Lanka Innovation Index) in line with international practices and to ensure that we are on top of our data and understand the process much more clearly.
At this stage I am not sure we can exactly respond with authority on the publication findings as we lack coherent data across all our sectors equally.  The GII is happy when more than 63% of data requirement are available and also as a minimum 2 of the 3 sub-pillars of the requirements are minimally met.  However, the absence of data can impact on the overall positioning (of a country).  Note that we are sandwiched between El Salvador (97) and Philippines (99) in GII 2013.  These rankings give us an analysis and a baseline picture which we should consider seriously in internal activities of policy and policy implementations.
Sri Lanka's ranking in Global Innovation Index 2012 was 94. It has slid down to 98 in the 2013 Index. Why?
We may have slid down — or others may have been more active!  Our "neighbours" in 2013 rankings are the same as in 2012 rankings.  However, of the six GII reports so far in projecting Global Innovation as a ranked index, Sri Lanka's position had been one of general decline.
In the first ever GII (2007/8), Sri Lanka was placed 71 among 107 nations.  Subsequent positions had been 58th among 130 (the best positioning so far), 79th among 132, 82nd among 125 and 94th among 144. Immediate comparisons between years too are not possible as GII methodologies have changed every year.
These ranking positions — and especially the current one — may sound unacceptable considering some of the action we have seen on ground. And it is in this regard we believe we must understand well and spend some time on these indicators and measuring ourselves internally from a planning and monitoring perspective.
We forget such issues quite quickly, and then suddenly the next year's set of ranking rudely awakens us (again).  Still this index does not make headline news in the media and many may not understand the significance of an innovation index or its measurement.
Where do you think are we most out of step as a country?
Some data, when analyzed, may indicate the root cause of the problem – Sri Lanka's research and development (R&D) expenditure as a percentage of GDP is even below that of a low income country average expenditure of the same.  Hence as a basic rule on return on investment, we can say that minus investment results are difficult to come by.   That is what we may be experiencing with the published results.
However, I see potentially things are happening on the ground and happening over a period too.  These have not caught the attention of the public at large and some of these developments — though exciting – have failed to arouse interest among segments of the decision making community, especially the private sector.   State funds have gone in but the state cannot do this alone and a healthy partnership is necessary (with private sector).
These developments are perhaps not yet available when opinion based surveys are utilized in building some of the indicators.  GII for some of their indicators uses the World Economic Forum's Executive Opinion Survey.   You may be lucky at times when such surveys are the basis as perceptions play a major role in the final answer.
Although Sri Lanka has come down in overall GII rankings, it has been recognized for being among the "top 3 performers" in the Central and Southern Asia region. What exactly does this mean?
The current GII report card considers 10 economies in the Central and Southern Asia region.  The country that is topping for the region is India which is actually in the 66th position in the GII ranking.  The second placed is Kazakhstan, which is in the 84th place.   The rest of the countries are Tajikistan, Islamic Republic of Iran, Kyrgyzstan, Nepal, Bangladesh, Uzbekistan and Pakistan.
What may be of interest is since the inception of GII rankings, the top three countries in this region have maintained their regional position on the ranking.  A country such as Iran with the current strength in Science and Technology — as shown in the area of nanotechnology — may have its own views on this positioning.
Again, a pure scientific capability is not what an innovation index conveys.  I personally would not take this segmental analysis seriously to draw out specific conclusions.  It should be noted that the innovation in the GII scheme covers a broad definition as outlined in the Oslo Manual (for collecting and interpreting innovation data) in the OECD economies.
According to the Oslo Manual, an innovation is the implementation of a new or significantly improved product (good or service), a new process, a new marketing method, or a new organizational method in business practices, workplace organization, or external relations.  We can see how broad the definition of innovation is and also see the opportunities to innovate by a wider group of people – and not just S&T personnel.
I would, however, stress that the importance of S&T driven innovation should be considered seriously by the planning community.  India is a regional example for that.
In GII 2013, India was ranked at 1 in the Central and South Asia region, followed by Kazakhstan and Sri Lanka. How does Sri Lanka compare with India vis-à-vis  some key indicators (among the 84 considered by GII)? What can we learn from India's approach to innovation?
In Sri Lanka, we do see innovative practices very much in the service sector and higher efficiencies are evident.  In the region, during the analysis these specific implementations do come out in the 10 economies in this geographical group.  The difference between India and the rest too is evident: we can visualize how the final picture emerges.
India has taken the Innovation Bull by its horns, so to speak.  Consider what they are doing.  For example, the Confederation of Indian Industry (CII) is strongly involved with the GII process as a knowledge partner.  The national government has pledged continuous increase to the percentage of GDP invested on R&D and they will be taking an above average investment pathway.
Within the top echelons of the Indian state, there is the National Innovation Council looking after the process of invention to commercialization and linking actors and developing networks.  There is much to be learnt from India in this regard: that has always been the case in science and technology.  India had this idea from Independence and has not really wavered in their expectations from S&T as a means of growth for the economy.
Sri Lanka has scored relatively well in GII 2013's Innovation Output Sub-Index (score of 30.3 and ranked 76) while we have a lower rank in the Innovation Input Sub-Index (score of 30.6 and ranked 118). What is the reason, in simple terms, for this disparity?
The Innovation Input sub-index covers five pillars – institutions, human capital and research, infrastructure, market sophistication and business sophistication.  The input sub-index considers and captures the elements of the national economy that enables innovative activities.
Innovation output sub index, meanwhile, captures the results of innovative activities within the economy. There are two output pillars: Knowledge and technology outputs, and Creative outputs.  A higher output sub index can come from outputs resulting from 'innovation without research'.
Thus systems may apply knowledge from elsewhere – quite valid in this day of open innovation — and deliver outputs which are then counted.  However, they were not part of the internal innovation value chain thus disconnecting input sub index and the output sub index but contributing to the latter.
Sri Lanka's ICT sector appears to have contributed significantly to the better showing in the innovation output sub-index.  It is also seen that a data point such as national feature films per million population has not been made available in the calculation – a simple data point as I see it.
An acknowledged innovation leader Singapore has also fallen in the GII overall rankings this year. How did that happen?
The displacement of Singapore from third to 8th in the rankings had resulted from the changes made in the Output sub-index calculation this year. This again indicates to us the importance of being on top of why and how of the analysis methodology in projecting a nation to the outside world.  An exercise and resources into this type of area is not an investment in vain as repercussions of a wrong projection can be quite adverse.
We have spent more money, effort and discussions perhaps on the ranking of our cricket team though the number of cricket-playing countries is a very small fraction of the global list of economies!
Sri Lanka has scored relatively well in GII 2013's Innovation Efficiency Ratio, ranking 13 among 142 countries. What exactly does this mean? Is this something to be proud of?
I suppose whenever you are placed on a high position in a ranking covering an important area, then you can be happy about it.  This had been the case in the past too for Sri Lanka.  We were 10th among 144 countries last year for Innovation Efficiency Ratio though we were placed 94th overall in the index.
The innovation efficiency ratio is the ratio of the Output Sub-Index over the Input Sub-Index. It shows how much innovation output a given country is getting for its inputs.  Thus, it is an indication of the conversion of inputs to outputs and a decent ratio suggests that we have been efficient in conversion of inputs to outputs in a better way, with less waste. In short, we are getting more out of less.
The efficiency ratio may position us in an interesting position but the importance is in the actual index.  I don't think that those who consider their FDI based on innovation capabilities will consider the innovation efficiency ratio as a primary determinant.
For the last three years, Switzerland has been ranked No 1 in the overall GII.   Singapore, a city state, has been on the top 10 countries.  That indicates size does not matter.  While efficiency is an indicator, the lessons to be had is with an above average efficiency shown then why not actually consider more inputs to realize actual economic and social prosperity? At least currently we are showing that we do convert inputs well into outputs!
In the GII indicator clusters, Sri Lanka's lowest overall performance is in the institutions cluster, where we ranked close to the bottom, i.e. 134 out of 142 countries. This was due to very low scores in factors like rule of law, regulatory quality, press freedom, and ease of paying taxes. So can innovation and enterprise thrive in such restrictive conditions?
By and large restrictive conditions may thwart innovation and enterprise — but history has shown that this need not be so.  There are many examples of successful innovations coming out of rigid systems.  China is high on patenting intellectual property today.  United States dominance in this area is (now) challenged.  We see two vastly different economic systems when we compare China and USA.
At times, creativity thrives in adversity.  It is in the mindset whether to fight or flight — or get into a boat and float away!  Necessity is the mother of invention!
In Sri Lanka, we do have a quite a salubrious environment and taking life easy appears to be a way forward.  When things do not turn out well, we resort to conspiracy theories and crying out for help instead of strengthening ourselves!
You give low scores in these areas as per your internal benchmarks.  Some international benchmarks may not necessarily be accurate or applicable to us immediately.
In the proposed SLIINDEX, under the current thinking, we have taken some of these out as they are governance parameters and thinking that individual inventiveness can happen irrespective of press freedom, etc. — as long as key parameters of education and talent management is supported and enabled.
As for the ease of paying taxes, it is more the issue of interest in paying taxes that matters in our economy.  Government supported policy of triple taxation benefit when one engages in research and development has been largely ignored in pursuit of other mechanisms of growth.  We do not have a clear idea of the BERD (Business enterprise expenditure on R&D) as businesses do not specifically account in this area though it is heartening to note some significant changes in investment by large business players taking place now.  Normally you will find in an emerging and developed economies private sector funding R&D more than the state.  In Sri Lanka, government shoulders (much of) the responsibility.  This should change.  However, supporting basic research is the primary responsibility of the state.
As innovation is a broadly defined activity, governance too can benefit from innovation: public sector innovation in the area of administration, financial management, human resource planning can really bring in a sea change for the overall innovation space.
In GII 2013's human capital and research cluster too, Sri Lanka's overall rank was 110 out of 142 countries. We are held down by the low current expenditure on education as a percentage of gross national income, and low public expenditure per pupil (% GDP/cap). Our gross expenditure on R&D is 0.1% of GDP. The malady is well recognized. But what is being done?
As you say, the malady is well recognized and spoken about. One may say there had been too much talk and too little action!  Some may argue that though the public expenditure figure is low, it does not tell the whole story as public money is allocated to research and education in different ways.  Some can even say that some expenditure items on education are actually not taken into account thus clouding the picture.
For these answers, the response should be having better data and transparency and exactly knowing what is going on.  We have education under many authorities and education as a business too — thus distorting the investment picture.  With data known and available, better decision making can be done and perhaps that too is a need of the hour.
As for our R&D investment, this definitely must go up and that should be done differently from the current practice.  More directed, result oriented basic and applied research is needed.  Sri Lanka still possesses the talent as has been shown in recent times.  Understanding such strengths is necessary.
On the plus side, GII 2013 has highlighted Sri Lanka's relatively impressive performance in a few indicators. These include: ICT and business model creation; ICT and organizational model creation; Knowledge diffusion; and Communication, computer and information services exports. How do you see these positive factors?
ICTs' growth is welcome.  That is an enabler that no society can do without today.  We must realize the best from such developments.  In my view, Sri Lanka has not reaped benefits from the high literacy we have.  Similarly, a high IT literacy can suffer from the same situation. As we heard in the news media recently, what are we as a nation known for searching in Google?
The recent positioning of Sri Lanka in the World Economic Forum's Global Network Readiness Index is important and ICT in Sri Lanka is visible.  In 2013 listing, Sri Lanka is placed 69th among 144 nations, and is just behind India.  Our mobile phone penetration is very high.  Of our exports, it is perhaps only in ICT that we have seen a steady growth without a drop.
Thus GII 2013 report highlighting Sri Lanka's progress in this area is no surprise.  As a young and a dynamic sector, the ICT data too are readily available which facilitates such assessment.  It is important that the rest of the economy to gear itself up for speedy assimilation of ICT strengths.
On the whole, Sri Lanka has scored better in GII 2013's in the clusters on infrastructure, knowledge and technology outputs; and creative outputs. But the fundamentals – such as business sophistication, human capital and research, and institutions – score poorly. Can we advance on such an uneven footing? Isn't it a bit like trying to run a motor vehicle on differently sized wheels?
May be on rough terrain, you need different-sized wheels!  Different horses for different courses!
The world did not see the same size of wheels as inventions took hold of modern society.  As we progress, we will see differences and striking a balance or trying our best to even out the field should perhaps not be the main goal.  That is perhaps energy expended on the wrong direction.
Sri Lanka lacks an enabling environment for innovation, and this is perhaps the first target area of work.  What one may do in a few seconds in some economies, a Sri Lankan may have to endure a few months!  Examples are a plenty.  This may sound heretical, but this is the truth.  Social networks may have built-in abilities to achieve results quickly for some individuals, but that is not what I mean by an 'enabling environment'.  It should be enabling for all.  All innovative economies have examples as regions where innovations thrive, R&D investments go, patenting come out, etc.  Such thinking is missing in Sri Lanka right now.
Note that the GII is a composite indicator that rank countries on the enabling environment (the 84 parameters considered are to reflect the constituent components) to innovation and innovation related outputs.  If Sri Lanka is keen on being positioned as a knowledge hub, then it is important that we pursue an interim goal of coming into the top-25 nations of the GII — as that is quite an interesting territory to be in. It will speak volumes for the type of economy that we have.