Photo courtesy Wikipedia
"One of the biggest gaffes by an External Affairs (Foreign) Minister in post-independent Sri Lanka" is how the Sunday Times in April last year chose to describe a remark by Sri Lanka's current Foreign Minister, G.L. Peiris. Far be it from us to accuse Minister Peiris of terminological inexactitude, but given a distinct tendency to confuse himself, our interest was piqued by public statements made in London after the visit of UN High Commission for Human Rights Navi Pillay to Sri Lanka.
Minister Peiris takes particular umbrage at Pillay's statement over the militarisation in the North and the East of Sri Lanka, a fact that many before her have flagged with concern. Read for example Sri Lanka's North II: Rebuilding under the Military and this report in the mainstream media, two of many others a Google search away.
The Ministry of External Affairs website, the Daily Mirror and other websites quote Sri Lanka's Foreign Minister as saying,
Navi Pillay refers to the intimidating presence of the military in the north and the fear of the people and women there.

Rejecting this out of hand, he said it is pity that the High Commissioner had not read the reports produced by UN officials in Colombo who belie this claim having themselves interviewed nearly 200 people, chosen by the UN itself, 90% of who said they were comfortable with living there.

"Why does she ignore this evidence produced by the UN itself. What is the justification for ignoring this? This is again a classic example of pre-judgment." he said.
Simple question – what is the UN report Sri Lanka's Foreign Minister is referring to and quotes figures from?
Is a report sent out by email (but unavailable, at the time of writing, on the web) by the UN High Commissioner for Refugees (UNHCR) around June or July 2013 what the Minister is referring to? Yet, if so, there is absolutely no substantiation in this report of what the Minister stated to the media and others in London.
Groundviews was able to secure a copy of the report. Download it as a PDF here, or read it online here.
Some graphs from the report which show the nature and degree of militarisation in the North and the East of Sri Lanka.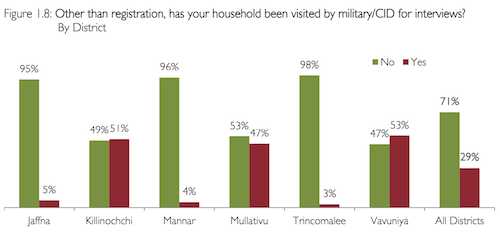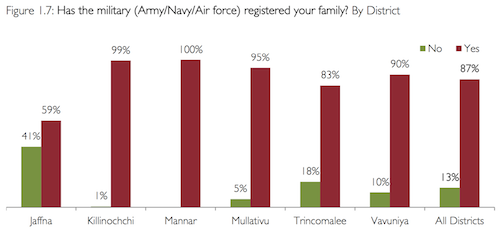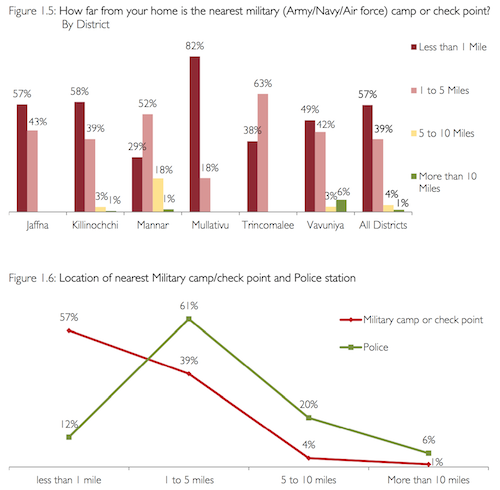 Is there some other report the UN Country Office has given the government, which is not yet in the public domain, that gives a factual basis for the Minister's assertions in London? If not, what is the Minister talking about, and on what basis?
Is Sri Lanka's foreign policy based on fact, or fiction?