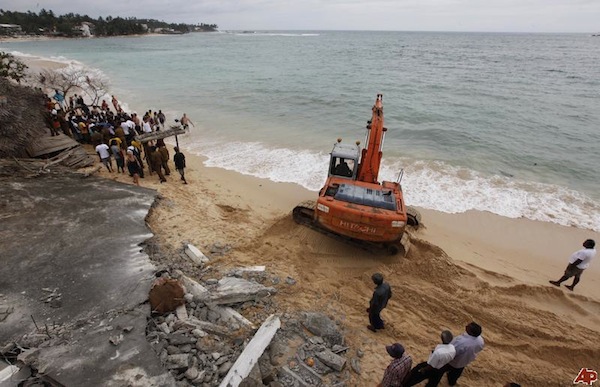 Photo by AP Photo/Gemunu Amarasinghe, via Sulekha
Tourism will bring millions to Sri Lanka but will we see any of it?
During the last week of October this year, the BBC Sinhala Sandeshaya service featured a story about Sri Lankan tourism, which was in turn aired by the Sri Lanka Broadcasting Corporation. The piece drew particular attention to irregularities in development and other environmental concerns caused by the tourism industry in Sri Lanka.
In the same dialogue, a civil society organization (CSO) representative raised the issue of poor environmental management, referring to the establishment of camp sites within the country's nature reserves. This action is illegal under the provisions stipulated in the Flora and Fauna Act of Sri Lanka. The Deputy Minister Laxman Yapa Abeywardena responded to these allegations by slinging mud against the CSO engagements on various aspects of the issue:
"When there is a tourism project proposed by an investor, we follow all the rules and regulations according to the National Environment Act strictly. There is no any malpractice against the environment law. All those allegations are totally rejected and definitely the NGOs are making such allegations for their benefits. We do not need to bother about those allegations at all".
So the response from government authorities, specifically by senior politicians, is very clear. According to the government, concerns about development in the name of tourism are part of an NGO conspiracy intent on limiting Sri Lanka's progress. However, what desperately needs highlighting is the real picture for people who are about to lose their land, water and natural environment, and eventually their livelihoods.
In response to growing concerns about the detrimental impact an unchecked expansion of Sri Lanka's tourism industry will likely have, the Sri Lanka Campaign has launched its 'Think Again' campaign with a view to help visitors to the country make informed choices about where and how they plan to holiday. The campaign aims to encourage tourism that will help in the reconstruction and rehabilitation of Sri Lanka, rather than line the pockets of the few. Campaigns such as this one can go a long way towards identifying the realities in the face of such negligent 'development'.
It would be nice to hear what the stance of government ministers and bureaucrats is when coastal communities themselves have openly voiced their concerns about such tourism projects. Can these claims of discrimination be denied without any clear investigation by the authorities? No. There should be such an investigation if the government claims, as it does, that it is a patriotic, people-centered, egalitarian administration. It is crucial that the concerns of the Sri Lankan people be heard by those who should listen, to enlighten those who should see them.
The following are extracts from statements made by members of fisher communities around the country:
"When they [Authorities] enforced the coastal buffer zone just after the tsunami, we lost our small hut at the beach. Now we have lost the place where we kept our fishing equipments. But in the same place the tourist hotels are being built and no any law enforcements are made against them. Those regulations are applicable only for small fisher people like us."  says Piyasena Mathangaweera of Uhapitagoda, Hambantota.
Who then are the beneficiaries of the coastal zone regulations? The fisher people cannot even put up a small hut on the beach, while the same beaches are now becoming jam-packed with tourism projects, hotels and other leisure facilities. The coastal buffer zone regulations were introduced just after the 2004 tsunami, in the name of security for the local population. Is there no such need to guarantee the security of those tourists visiting Sri Lanka's beaches?
"We are losing our own land, coastal areas and our access to sea due to the tourism industry. All those resources are being handed over to tourism investors. Where should we go with our families? We lose our livelihoods, our life and also future of our children", S. Anthony Fernando, of Poruthota, Kochchikade narrated.
People like Anthony Fernando, who are coming from tourist-heavy regions, do not have serious grievances against tourism.  They have previously experienced tourism in these areas with some co-existence. However, now they see the danger an over-promotion of the industry might represent to their futures.
Nalinie Kalupahana is a fisher woman who is from the southern coast of Modera, Pathuwatha, Dodangoda, Galle. She has been living in Dodangoda for five decades. The tsunami devastated her life and destroyed her house, but government authorities did not allow her to repair or reconstruct her house on its original site.  In stark contrast, a house belonging to a foreigner and slightly nearer than Nalinie's to the sea, was granted permission for reconstruction.
"I was not allowed to repair my house which was damaged during the tsunami. But, a foreign lady whose house is situated within the high tide zone is allowed to repair her house. What is this law? Poor people like us lose our land, our coast, our livelihood. These are our customary rights. Who cares about our rights? Don't we have any rights in our own country?"
Important questions are raised here by Nalinie Kalupahana, a woman with the courage to ask them. Sadly, most of the people in the country are in a numbing situation and do not open their mouths to protest at all. This is because people are terrified of criticising the government, a fear stimulated by continued threats, intimidations and harassments. This situation rings true in many parts of Sri Lanka.
"The laws and regulations enacted by the government are violated by them. We lost our house due to 100 meter coastal buffer zone regulations. But the same land has been sold to the foreigners and we have lost our land now."
This is not a NGO, nor a conspiracy. This is Mr. Manoj Ambesuriya, a genuine fisherman's voice from the Southern fishing village of Kalamatiya at Hambantota, where the President Mahinda Rajapakse comes from. What is the response from the ministers? Can they deny these facts? Are those not the real life stories of the coastal communities?
The situation is no different on the east coast. K. Somasiri is a lagoon fisherman from Panam patthuwa Protection organization, who is fighting against land grabbing in his community by the military. It is a well-known fact that the military occupied the land in Paanama and forcefully evicted farmers from their agricultural lands.
"We fight for our land for more than 2 years now. The military occupied our land and we will not give up our land for tourism and hotel constructions. On one hand, they forcefully evicted us from our farm land. On the other hand, they are attempting to take our lagoon for sea plane landing. Farming and fishing are our only livelihoods. We do not know anything else to support our families. We will fight for land and our water bodies 'til the end, because this is our life and also only livelihood."
It is only the politicians, bureaucrats and investors who see the land and sea grabbing in coastal areas as being 'development' promoting the wonders of Asia. Bringing 4 million tourists to the country and seeing an $8 billion boost to Sri Lanka's economy by 2016 is the dream and the route towards prosperity.
When Kalpitiya's island communities approached the minister of fisheries for a solution to the threat of their eviction from the peninsular following government plans to lease out fourteen islands, they received the following response from the minister concerned:
"Can you see the prosperity of fishermen in Negombo? Also fisher communities at Unawatuna and Hikkaduwa? All those people who were fishermen those days are millionaires now.  Don't you want to become millionaires as those people are? You have been misled by some NGOs. Tourism will bring prosperity to the fisher communities."
So, it is clear that fishers are seen by the government to be of no importance. As are farmers. As are all small food producers who provide rice and fish to the people of Sri Lanka, who feed the nation with their sweat and tears.  There is no questioning of the farmer's losses of land. No issues arise when lagoons and inland fresh water bodies are blocked with sea plane landing. Many newspapers have recently reported that there are proposals to lease out some inland fresh water and brackish water bodies for such landing sites. What will the future hold for those communities who depend on these natural resources? This is not an issue of concern for policy makers.
There are a great many rules and regulations addressing the protection of the coastal areas. The coast conservation act of No 59 of 1981 is very important and should be enforced fully to prevent all tourism projects which are a hindrance to the livelihoods of small-scale fisher people around the country. At the same time, plans prepared by the post-tsunami development program for the establishment of fifteen tourism zones around the country should be halted. There were plans prepared for coastal zone development and conservation in 2004 and the guidelines set out then should be followed in all future policy making.
The government of Sri Lanka should endorse acts and policies which will ensure the customary rights and preferential access to resources of the coastal communities. In such policies, it should be clearly mentioned that the right to land is a basic right of the people they govern, and that they too have a right to sustain themselves for future generations.
The right tone for a positive vision of the country's future is heard in the hopes and aspirations of Dinesh Suranjan, a small-scale fisherman, social activist and trade union leader from Kalpitiya islands:
"My parents were living on this island, Uchchimune.  And today, I am living there.  We are collecting water from a spoon and we are safe living under a coconut tree after our daily fishing activities and other daily routines. So, we have very simple life. We do not have big dreams.  But, we need not to be disturbed with our lives. My mother and I want to die in this land. My bones should be mixed with this soil and fertilise the land for future generations. I urge not to disturb our simple way of life through tourism."
Dinesh echoes the concerns of most fishermen in the country, whether inhabiting coastal or inland water bodies. How do we make sure their voices are heard by those policy makers and bureaucrats who dream only of the financial prospects of Asia's wonders?
This is a real challenge for the citizens of this country. It is not a conspiracy. It is not the act of traitors. There is real patriotism and dreams for Asia in Sri Lankan society today, but no media to expose common views and no effective civil society or dominant political party to support action on such sensitive issues.
How do we proceed to change this? This is the million dollar question ahead of us.