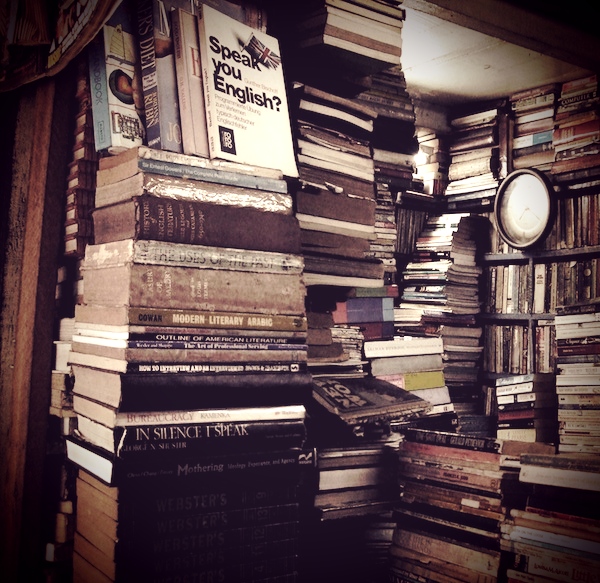 Original photo courtesy Tarika Wickremeratne
Being small, thinking Big: Publishing for the International Market from the perspective of an independent small publisher concentrating on fiction)
Sri Lanka, like many countries of the Asia-pacific region, has long been an exotic destination for travelers in search of the unusual, and as can be expected, there are quite a few stories set in or about Sri Lanka.   From the famous 14th century Moroccan traveler Ibn Battuta, to the equally famous science fiction visionary Arthur C. Clarke, writers from many nations have passed through or taken up residence in Sri Lanka, weaving her indelibly into their writings. Although hugely popular, these tales were always from an outsider's perspective, leaving the local reader vaguely dissatisfied at perceived factual discrepancies or inaccuracies and until recently there were very few Sri Lankan stories told with the authenticity or genuineness of a home-grown Sri Lankan voice. With a view to changing all of that, and giving the Sri Lankan reader a credible and well written story with all the subtleties, nuances and cultural complexities that only an insider could provide, nearly ten years ago, Ameena Hussein and I set up a publishing company to showcase excellence in Sri Lankan writing. We didn't focus on stories that targeted an imagined international audience but concentrated instead on those stories that were primarily for a local readership. If it so happened that the story was capable of traveling, of appealing to a wider global audience, then so much the better – but our primary market was and to a large extent still is Sri Lanka.
Although writing is a creative enterprise which can be as esoteric as it pleases, publishing is a commercial one that must appeal to the widest possible audience of average or general readers in order to survive. This is especially true when we speak about small scale or niche publishing. So, as soon as any of us small publishers have recognition and market share in our primary market, we all begin to look around to see how we can expand production, where else we can sell our books and who else might be interested in reading them. The most attractive book buying public, the widest range of genres, the best retail prices, the most famous authors, the most prestigious literary prizes, the swankest bookshops, the largest volumes in terms of sales – all belong elsewhere, namely to the UK and US regions. Beyond any doubt, this is truly a covetable market and one that is fully worth penetrating. However, when we try to do so, we are confronted by the hard reality that not only is the publishing industry dominated in no uncertain terms by British and American Publishers, there are invisible trade barriers which keep other publishers and their books out.
Undeterred, we will look for ways to enter the fray. When we find a Distributor capable of placing our books prominently in global bookshops that suit our reading public, the Distributor will tell us that our production values must conform to those of the west. Printing, binding and packaging must be at least as good as those churned out by western presses; he will be concerned by anything that looks like a low quality or second rate product. Furthermore, he will tell us, we must have a sufficiently large advertising budget to ensure our books get noticed – if not, they will just gather dust on the shelf. Fair enough we think, it's their market – and we have little choice but to sit with our printer to achieve the production standards of the arena we want to enter. That done, we will look at relatively inexpensive ways to promote our books. We all know that as soon as a novel is nominated for an international prize, its sales soar globally, catapulting the author to fame and making its publisher very happy. Hoping to capitalize on this, when our latest book comes out, we eagerly try to enter it for the Orange Prize, the Man Booker Award, the Costa (Whitbread) Award or the Pulitzer Prize only to find out that these prizes, though they may be open to writers from any country in the world, are strictly reserved for UK or US publishers! The number of prizes on the domestic market – and this is particularly true of Sri Lanka, is disappointingly small and equally restrictive. However, today there are a few less prestigious international prizes floating out there, for which most publishers can submit work, and these are, definitely, all worth pursuing.
So, what are the books that get noticed on a global scale? Apart from the Bible, the Qur'an, Quotations from Chairman Mao and a few other books in a similar vein for which no reliable sales data exists, the biggest number of best-sellers has been published in the Anglo-Saxon world and have predominantly been written in English. Topping the list of best sellers, having sold 200 million copies or more is A tale of Two Cities by Charles Dickens, followed by Tolkien's Lord of the Rings, Agatha Christie's Mystery Stories, CS Lewis's Narnia Series and Dan Brown's Da Vinci Code, all having sold between 50 and a 150 million copies! Does this then mean that readers in the English speaking world read the most, or do their authors just tell the most interesting stories? And, would writing in English provide a key to access this market? The evidence would suggest so, with a few exceptions, translated works which made it big: mainly Japanese writers like Haruki Murakami, Sachiko Kiyono and Eiji Yoshikawa whose home market propelled them to fame or with perceived fads as when the world discovered or re-discovered magic realism through Garcia Marquez who's One Hundred Years of Solitude opened the door for writers like Isabel Allende (House of Spirits) and Laura Esquivel (Like Water for Chocolate) or even the current, enduring wave of Swedish crime fiction which kicked off with Stieg Larsson's Girl with the Dragon Tattoo and continues even today with writers like Henning Mankell, Karin Fossum and the husband and wife team Sjowall-Wahloo.
Would translations then work? Asian countries all have a rich and varied culture – and traditions rooted in time which contemporary writers can draw on; we all have classics that are literary masterpieces that surely will have global appeal; we have contemporary local language writers who are witty and innovative, who have new styles of writing and appeal to a wide local audience. If however, we continue to look at the UK and US market, we realize that the readership in these countries is quite insular and seems totally content reading their own authors and their own stories. Less than ten percent of books sold in these markets constitute translations. Continental Europe on the other hand is more avid of exotic writing and therefore has a greater number of translated works on their shelves. Although collectively, it is a large market with a big book buying public, given Europe's linguistic diversity, it is a fractured market that must be approached individually. Certainly, if we are willing to go through the trials of translation, it will prove a fruitful exercise. Saint Exupéry who wrote in French, Umberto Eco who writes in Italian, the global phenomenon Paulo Coelho who writes in Portuguese, have all been read more in translation than in their original languages.
If putting physical books on a global bookshelf proves too daunting an exercise, or turns out to be a logistical nightmare, selling Rights to an overseas publisher provides a viable option as an entry point into a foreign market. Of course, this means that we relinquish our own claims and ambitions in that region and any supplementary efforts we expend in the way of promotion – either building up the book or the author's reputation, will benefit us only indirectly. The book will be marketed under the new publisher's imprint and may fare better than in the home market, giving the author and the new publisher more recognition than the original publisher if the book gets nominated for a prize or becomes a best seller. Still, it remains an attractive option as it takes away the potentially tedious tasks of distribution, marketing and promotion. When it comes to selling Regional Rights or even translation Rights, we must remember that there are a limited number of buyers and that the biggest and best known isn't always the easiest to access. Quite often, small is beautiful and it might be better to form an alliance with a publisher of a similar or slightly larger scale to your own. Personally, we have been lucky enough to experience some success in trading Rights, and we find that the most amount of interest in our books is expressed by Indian publishers – our immediate neighbours!
This makes eminent sense, as, logically, countries geographically closest to us often share the same cultural values and norms, similar political structures and socio-economic outlook to our own. They would find the least amount of strangeness in our work and still be delighted by the window that opens up cultural variations. It is no surprise that Bollywood movies appeal more to South Asian citizens than any other, and even though these movies have made inroads all over the world, their biggest audience still remains their own region rather than the western world. If we shift our focus a little, the same strategy used by film producers can effectively be applied to books, simply by Asian publishers and booksellers joining hands to form strategic alliances with each other so that our books find themselves on a solid trading platform. Imagine the reach of locally famous authors like the Bangladeshi writer Humayun Ahmed or the Nepali author Narayan Wagle if their books were available throughout the region. A large number of writers of Asian origin like Kiran & Anita Desai, Salman Rushdie, Michael Ondaatje, Tahmima Anam and Aravinda Adigar already have global reputations. If we create a large enough reader base in Asia, it will only be a matter of time before these writers too will prefer to be published locally.
On our own list, we have published authors who previously preferred to find international publishers. By raising our collective standard, inevitably Asian readers will consume books published in the region – not because they have little or no choice, but because they actively want to. The DSC prize for South Asian Literature with its huge USD 50,000 prize, open to any writer from any country and any publishing company with the only stipulation of a South Asian story has not only raised the literary ambition of the region, it has attracted world famous writers who are published by western presses like Amitav Ghosh and Rahul Bhattacharya who now find themselves on the 2013 long list of that prize. More prizes of this nature can only improve the quality of work emerging from our region.
Of course, new technology is a great equalizer and still a domain where a maverick publisher can go it alone. With your own website you can promote and sell your own books and maximize profits, even circumventing global internet booksellers like Amazon.com. The advent of e-books with their low production cost, zero storage and transmission cost will prove, at least for publishers, a massively attractive medium for book publishing and dissemination. The only foreseeable drawback in the immediate future is the purchasing power of the South Asian reader – not because e-books are expensive, they can be as cheap as we please, but the cost of e-readers and personal credit facilities still puts it beyond the reach of the average man on the street.
So, to wrap up, the ideal Asian strategy to attack the international market might be a mixed approach. Attract good writers, produce a limited quantity of well crafted traditional books along with low cost e-books, either publish stories written in English or translate good stories into English or other international languages, promote excellence in literature through prestigious prizes and most importantly, form alliances with as many regional publishers and booksellers as possible in order to expand our regional base which could quite easily be seen as a mini international market.
###
Speech delivered by Sam Perera at the Publishing Forum of the Asia Pacific Publishers Association (APPA) Annual General Meeting held in Colombo on the 17th of Nov 2012 on the theme 'Publishing for the International Market'. The author is Managing Partner, Perera-Hussein Publishing House.