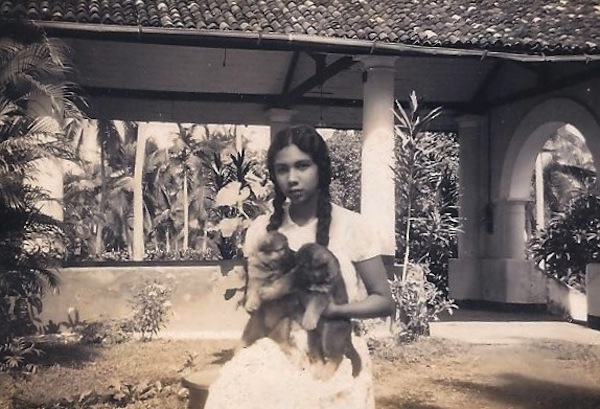 One of the earliest photos of Manel Tampoe, around age 15
Manel Tampoe, school teacher turned journalist and environmentalist, was a force to reckon with – but she didn't look the part. Beneath her soft spoken and demure personality, she harboured a keen intellect, steely resolve and a strong sense of justice that lasted for all her 85 years.
Those who underestimated Manel soon discovered their mistake, similar to what happened with Agatha Christie's Miss Marple. Such comparisons go only so far: unlike the fictional detective, Manel raised a family, travelled the world, wrote a book, and left her mark in at least three fields: education, journalism and environmental activism.
Born in 1927, Iranganie Manel Tampoe (nee Goonesekera) graduated from the University of Ceylon with an honours degree in English shortly after Ceylon gained political independence in 1948. The first two decades of her working life was mostly devoted to teaching English at leading schools — Visakha Vidyalaya (her Alma mater), Nalanda College and St Thomas' College, Mount Lavinia.
After marrying Ariaratnam Frederick Tampoe — whom she met in University — in 1951, Manel had three children. But her life didn't simply oscillate between home and school.
Her son Keith Jayawickrema, a tree breeder based in Oregon, USA, recalls how she obtained her driving license before her husband did. She had bought a Morris Minor with her salary at the Inland Revenue Department where she worked for a short period. These were uncommon feats at the time.
Manel worked at the University of London in the early 1970s when she accompanied her banker husband to the UK, where he was posted to the London branch of Bank of Ceylon. It was upon return to Sri Lanka in 1975 that she joined Lake House as an editorial staff member of Daily News.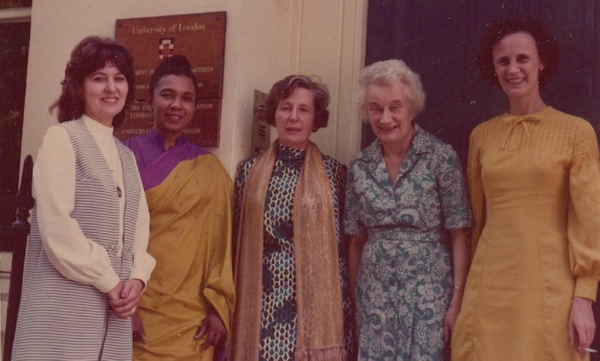 Manel Tampoe (second from left) with her colleagues at University of London circa 1973
Green Activism
There, she was able to pursue her interest in environmental conservation more publicly. Sri Lanka's environmental movement was still in its nascent stages, but activists and researchers had already noticed early signs of an ecological crisis in the making.
In the early 1970s, a group of Nature lovers and wildlife enthusiasts had come together to resist government-sanctioned logging in the Sinharaja rain forest. Manel got involved in the campaign on her return, and enlisted the whole family's support. The initial suspension and later cancelling of Sinharaja logging is one of the few reversals of governmental development projects in Sri Lanka. Most of the time, they bulldoze through protected areas, farmlands and even human settlements.
Manel became an active campaigner just when the interests of economic development and environmental conservation were seemingly on a collision course. A generation earlier, Ceylon had experienced a population boom that followed the end of Second World War and independence. High fertility rates coincided with drastically reduced deaths from malaria, a result of the rampant (and indiscriminate) use of DDT.
By the time a pro-market government was elected in July 1977 with a five-sixths majority, Sri Lanka's "DDT Generation" (as I call it) was beginning to enter the work force. The new rulers correctly read the tide of rising expectations — for jobs, higher incomes and better physical and social infrastructure.
How they responded to that challenge is still being debated in some academic circles. But it's easier to be wise — and critical — in hindsight. The reforms swept away some discredited socialist misadventures of the previous regime — not a moment too soon! — but such preoccupation with rapid growth left little room for nuance or reflection. Concerns such as protecting the environment, gender equality and indigenous people's rights would have to wait…
As the Jayewardene juggernaut flexed its muscle to make sweeping policy reforms that, in turn, triggered massive societal changes, only a few public intellectuals and activists had the courage to question — let alone challenge — any of it.
Those few brave individuals found support and space in an unlikely place: in the state-controlled newspapers of Lake House, especially its flagship English titles. In particular, they found common ground with Mallika Wanigasundara, then features editor of Daily News, and her equally passionate colleague Manel Tampoe.
For much of the 1970s and 1980s, Mallika and Manel were at the forefront in highlighting conservation issues through the columns of Daily News. It mattered, too, when that newspaper was the 'journal of record' wielding much influence in policy debates.
Informed and Opinionated
While they shared the same concerns, the two ladies adopted very different approaches.
Mallika reported and analysed environmental issues as a life-long journalist: with clarity, depth and empathy, but falling short of making calls to action. Nevertheless, she was an early practitioner of advocacy journalism in Sri Lanka, a trail-blazer whose path I too followed.
Manel, on the other hand, used newspaper op-ed pages to present ecological perspectives that openly critiqued development policies and projects, and even questioned their underlying premises (such as trickle-down economics and heavy reliance on foreign aid). I'm not sure if she introduced herself as an environmentalist while still on the staff of Lake House, but she certainly did so in later years.
To her credit, however, Manel the environmentalist achieved that difficult balance between heart and mind. Her writing was always well researched, and her arguments cogently expressed without the typical activist shrill that rarely wins new friends for the cause.
She did come across as a bit scholarly at times, but she was a product of her times when more lengthy and analytical discussions were encouraged in both public forums and the media. The op-ed had not yet shrunk to 800 words…
Manel was also especially interested in protected area management, the marine environment (with emphasis on dolphin and whale conservation), human-elephant conflicts, and coastal zone management issues. In these and other issues, she enriched public debates through articles in newspapers as well as participation in scientific, official and academic discussions.
Mercifully, though, Manel wasn't a single-issue or single-species activist. She had the capacity to grasp the bigger picture, connect the dots and also work out future scenarios. (While she was an early member of Ruk Rakaganno, or the Tree Conservation Society, she didn't miss the forest for the trees.)
An example: in an essay titled 'Economic Development and Coastal Erosion in Sri Lanka' published in The Ecologist issue of Nov-Dec 1988, she wrote: "Coastal erosion in Sri Lanka provides an example of the complex interplay of international and local factors operating to aggravate environmental problems of Third World countries."
She ended that essay with these words: "Here, then, is another instance of World Bank-IMF funding resulting in grave environmental destruction…the price for the entire exercise has been paid by the very underprivileged group whose housing predicament it should have been the government's priority to solve – namely, the poorest sections of the fishing community, who have experienced the trauma of their frail huts swept away by the raging seas."
Beware of Donors!
She was consistently critical of the foreign aid 'tail' wagging the development 'dog' and faulted our own politicians and officials for allowing it. The multilateral aid agencies of World Bank, IMF and Asian Development Bank (ADB) came in for particular criticism.
Commenting on the controversial Sri Lanka Forestry Master Plan of the late 1980s, she wrote: "Foreign investment is a double-edged weapon; to make it work for you, you have to be astute and imaginative, capable of planning several moves ahead. Our record in the utilization of aid and investment has been dismal. In reality it is a dangerous tool in our hands because we use it so naively."
She was similarly critical of an ADB-funded Project for the Management of Protected Areas and Wildlife Conservation, which some conservationists saw as an attempt to 'privatize' the country's protected areas. The conservation community was polarized over this, between the purists and pragmatists. Not having a strong attachment to the subject myself (I focus on life going wild, not wildlife), I wasn't too moved by either side's arguments.
Manel outlined her and fellow critics' concerns in a long article that appeared in two parts (Part 1, Part 2). I found these to be more conspiracy-inclined than most of her earlier writing: perhaps drastic times (in her view) called for more drastic language?
My own interactions with Manel, during the late 1980s and early 1990s, were wonderfully instructive. She was already a grandmother when I used to visit her at her Nawala home, from where she watched the world go by, perceptive of the undercurrents that shaped daily events.
In April 1992, Manel and I travelled together to Dhaka, Bangladesh, for a week to be part of a South Asian workshop on environmental journalism. We had a day-long field trip which involved going on a boat to see part of the Ganges–Brahmaputra Delta (the world's largest), and nearby flood embankments. At 65, Manel might well have been the oldest in our group but was agile and had a child-like sense of wonder. She had been an avid traveller all her life.
The Dhaka workshop's organisers, the Asian Media Information and Communication Centre (AMIC), had designated me and a Filipino colleague as resource persons. If I felt slightly awkward at this – Manel had been professionally active for longer than I'd lived – she quickly put me at ease.
Her own presentation in Dhaka was on the Environmental impacts of the Lunugamvehera Kirindi Oya irrigation project. It looked at how a pure technocratic development project had ignored sociological aspects and made existing, harsh conditions worse for many farmers who were its intended beneficiaries. Engineer D L O Mendis has argued that this development failure fuelled the southern youth insurgency of 1987-89 that cost at least 50,000 lives. So there was blood in the irrigated water.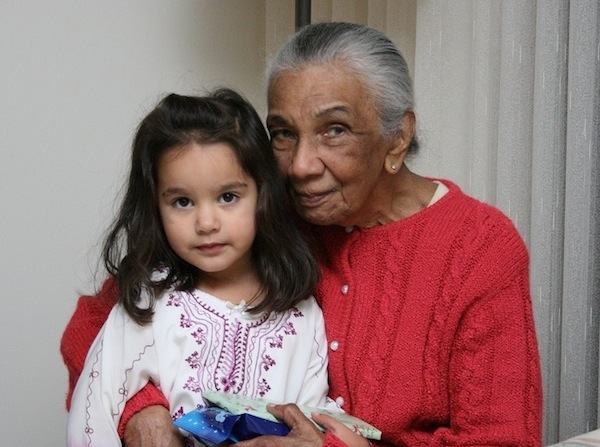 Manel Tampoe with grand-niece Amaya, circa 2010 in Toronto
After retiring from Lake House, Manel continued for many years as a freelance writer and journalist. Among many articles, she wrote one published book, The Story of Selestina Dias: Buddhist Female Philanthropy and Education. Published by the Social Scientists' Association in 1997, it traced the social, cultural and economic factors that shaped the life of a wealthy heiress who supported Buddhist educational revival in early 20th century.
Manel was working on another book at the time of her death: on the history of conservation in Sri Lanka, where had got as far as the end of the Portuguese period. "She waded through the classic Sri Lankan texts, and found information on hunting, use of elephants in warfare, logging of forests, etc.," son Keith said in his eulogy.
Manel stayed on in Sri Lanka even after all her children left the island by 2001. They are now scattered on two continents: Tara Weerasuriya (Toronto, Canada), Moira Tampoe-Mahendran (Sydney, Australia) and Keith Jayawickrema (Corvallis, USA). Manel joined Tara's family in Toronto upon reaching 80.
Manel Tampoe's legacy continues: in her family and former students, through the writing she left behind and the activist causes she championed. Kamini Vitarana, a fellow traveller, says Manel has bequeathed a small sum to Ruk Rakaganno for managing the Sam Popham Arboretum, the country's only Dry Zone arboretum that a British planter set up half a century ago.
Iranganie Manel Tampoe. Born 27 May 1927 in Magalle, Sri Lanka. Died 26 May 2012, Toronto, Canada.
###
Nalaka Gunawardene was trained as a science writer and still tries to make an honest living by asking more questions than he can answer. He thanks the Tampoe family and Kamini Vitarana for information and images. The opinions are all his own.