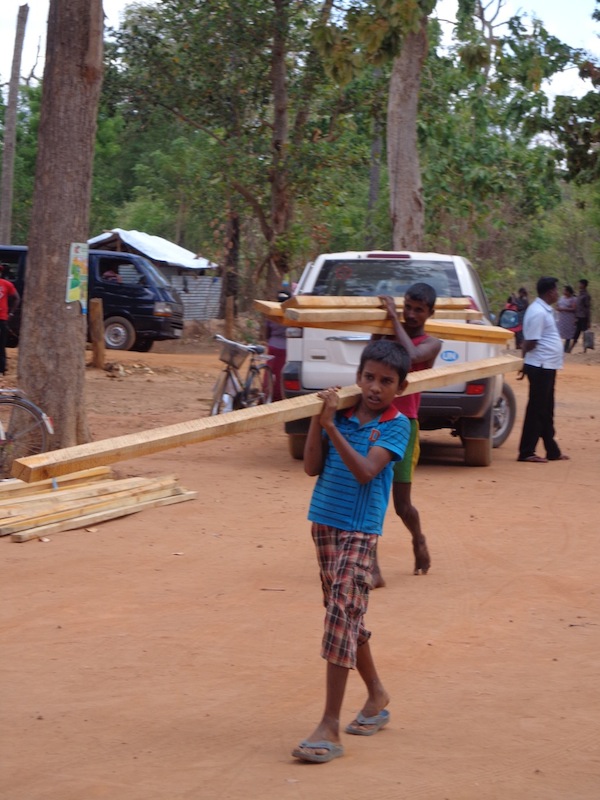 Rajini (pseudonym) was amongst the ten women we met in a church in Vavuniya district about a week ago. At the time she and two of her children were living in Kadirgama camp in Menik Farm. The women and their families were displaced since 2008 and were prevented from going home to Puthukudiruppu. Some of us had known this community for several years and their yearning was always to go home to their villages despite the uncertainties about the remains of their houses and property.
Rajini's husband was killed on April 17th 2009 during the last phase of the war between the Government of Sri Lanka and the Liberation Tigers of Tamil Eelam (LTTE). Her eldest son, now 23, was forcibly recruited by the LTTE in 2007. Two years later, at the end of the war, he and other former LTTE combatants were detained by the police and moved to the Boossa detention Centre in the Galle District. Rajini has two more children aged 10 and 16 years.
At the time of our previous meetings, the women shared with us their fond memories of the village and looked forward to returning home to their own places in Puthukudiruppu East and West in the Mullaitivu District. Ranjini and many others had spent more than three years at Kadirgama and Anandakumarasamy camps in Menik Farm. For Ranjini and the other women, their priority was to return home to a secure place in order to build a better future for their children.
Almost all the buildings in Puthukudiruppu were destroyed during the last phase of the conflict.  And even three years after the end of the war, many of the homes remain in shambles. School buildings, hospitals and churches were also destroyed by heavy artillery shelling. The displacement resulted in the abandonment of private lands and in this three year period the residential areas had become jungles.
It is to these jungles that Rajini and her children came home to on August 10th 2012. Along with Ranjini, about two hundred families returned to the jungles of Puthukudirrupuu East from Menik Farm.
At first, they were brought to the nearby Kaiveli School.  And were once again subjected to registration, interrogation and their photographs were taken by the military authorities. All the families spent the first night at the school.  The next day, 11th August 2012, they were to return to their homes in Ward 10.
Some like Rajini decided to return to their property in the interiors of the jungle. Others with infants had opted to stay on the side of the dusty gravel road. And few had sought shelter in the damaged church and the school in the area. In the two days we had spent in the village a single standing house was not in sight.  And all the remaining buildings in the vicinity had clear signs of war; with missing roofs, shelled walls and broken doors and windows.
When we last met Ranjini in Chettikulam, outside Menik Farm, she humbly invited us to visit her after the resettlement.
We promised to do so and a day after she had reached her home, we visited her in Puthukudyriuppu. We saw many people including young children lying down on the main road, under shady trees to escape the scorching heat. Rajini came to meet us near a water tank and led us through the jungle to her house.
Soon we emerged to a small space that had been cleared up amidst think bushes. This was Rajini`s home. We were bleeding with bruises from the thorns and bushes. It became impossible to navigate around the jungle without the assistance of Ranjini or one of her young sons.
Wanting their story to be heard
We asked the families around the resettlement area whether we could take photographs. Ranjini and others insisted that we capture their struggles with as many pictures as we needed to tell their stories. It was a silent plea for desperate help.
On the second day, we met up with families near a church and they invited us to "come and see our houses."
It was clear they wanted their real story told and the truth known.
Mines and explosive devises
Three days after the resettlement in Puthukudiruppu East, we received a call from Rajini. She told us that in one of the houses we visited the previous day, a live unexploded land mine was found, along with thirty-two bullets, which burst while the family was trying to clear the jungle by burning the bushes to put up a temporary shelter.
Ranjini and others from the village informed us that no one had slept that night. Before the beginning of the resettlement process, the area we visited was identified as demined. However the families had found at least seven mines since their return to Puthukudirriupu on Monday.
"While we were cooking a bullet exploded, burning my sister- in- law's back. My baby was standing next to her and miraculously escaped the blast,"was what we heard yesterday from another friend who had left Menik Farm on 13th August to be resettled in Puthukudiruppu West. We were also told that a part of Puthukudiruppu West where people were sent to resettle on 13th August had not been de-mined. The families were compelled to abandon the resettlement process and seek shelter in a nearby school. The Swiss de-mining agency FSD was called and they had agreed to de-mine this particular area on an emergency basis.
On our first day with Rajini in her jungle home, we suddenly heard a loud blast. When we followed the direction of the blast, it was the site of a family's tent house. They   warned us to be safe and pointed to bullets and shell pieces around the vicinity of their property. The blast occurred during their clearing of the jungle plants that had grown over the places that was once their agricultural property. The Adults and children had scattered and ran for safety. Later they recalled their experiences running away from shells and explosions during the war. In the evening as we were about to leave, we were led into the jungle where another family had pitched their tents and pointed to two   devises which the locals believed were mines.
The assistance received
Rajini and her children had lost most of their belongings during the war, and as they were going back home, all they could carry were their meagre belongings such as few pieces of clothes, tin sheets, pots and other items they had in Menik Farm. They also received Rs. 20,000, two tarpaulin sheets, a knife and mammoty by UNHCR. Two days later, a UNHCR lorry came to the nearby Puthukudiruppu church and distributed five pieces of wood and two more tarpaulin sheets to each family. Ranjini decided to deposit Rs. 5,000 in the bank account for her youngest son's education expenses.
"What should I do with the rest of the money?" she asked us. "Should I save it to buy a bicycle, so that we can transport water? Or should I spend it to hire a bulldozer to clear the jungle around the house? Or save it to visit my elder son in the Boossa detention centre (She had told us earlier she could talk to her detained son for only fifteen minutes after travelling for twelve hours and that each visit to Boossa costs approximately Rs. 2,150 per trip)?" We looked at each other and none of us ventured to answer her question.
Her and several others most urgent plea was to clear the access to the main road from the interiors of the jungle for security reasons. Since many of the women were widows with young children, they feared having to spend countless nights in the jungle, without an immediate access to the main road.
We asked whether the Army could assist in this process. She chuckled and said that the Army was not involved in the clearance of the resettlement area. And in fact, one Army officer had asked her why they had come back as nothing was prepared for their return home.
In addition to the mines and bullet pieces, the area seemed to be infested with snakes. Some men recounted having killed three snakes in the two days since their return. Another person reported seeing elephant dung and suggested, "Give me your phone number and I will call you when I see an elephant, so you can come and take a photograph."
As always, even in their most desperate times, Rajini served us with soft drinks and others offered us tea as we walked around.
"Better if we had been killed or committed suicide"
Was what Rajini and several others told us. Many of the families we met had survived the war by hiding in bunkers and running from artillery attacks. Almost every household we came across in the two days had a family member who was killed, had gone missing or was injured.
They had hoped for a better life after the end of the war, but instead found themselves detained behind barbed wires in Menik Farm. Many were desperate to look for missing family members, but could not do so for more than six months due to their detention in Menik Farm. They had steadfastly refused to be sent to another IDP camp from Menik Farm or be relocated to place other than their own home.
Why had the Government not demined the resettlement areas, cleared up the jungles, provide adequate assistance or carried out the needed preparations before the families resettled? Was three years not an adequate amount of time to ensure families a safe return home?
Some had repeatedly asked us whether they were being punished for insisting to return to their original homes from Menik Farm.
A school teacher and a priest we spoke to speculated that perhaps the urgency in the resettlement was because the government is keen on convincing the international community that all the IDPs were resettled safely. Especially in the face of international pressure, particularly in light of the upcoming Geneva meeting (referring to the Universal Periodic Review scheduled for the end of October).
We had spent time with Rajini and others like her while they were in Menik Farm, visited them after they went to Puthukudiruppu and continued to keep in touch with them by phone. We spent many hours talking late into the night about how we can help them. Our discussions often ended with us feeling helpless and powerless. However we write to share Rajinis and others stories, still hoping that the Government will at least now live up to its obligations to ensure the protection of their rights and wellbeing. And we continue to hope that all Sri Lankans and the international community will also address the challenges in their struggle to return home.
Authors: Ruki & Jothi