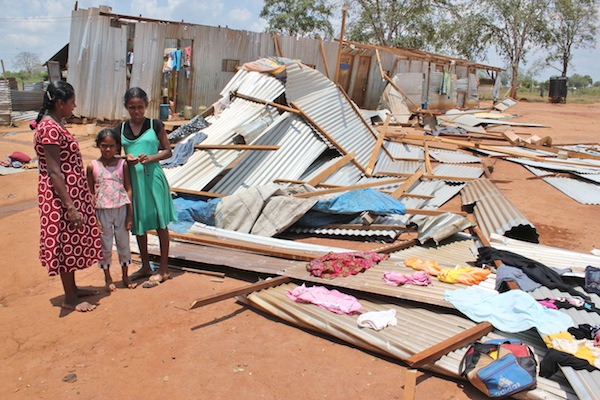 After a punishingly hot day, the skies seemed to provide some relief to the residents of Chettikulam as they opened to release heavy showers during the early evening of Saturday, March 31st. However, what was welcomed as a break from the unending heat by those ensconced in sturdy houses simultaneously proved to be a torment for the 6,022[1] residents in the Menik Farm IDP camps a few kilometres outside of town.
Reports of injuries and the destruction of homes in the camps started coming in shortly after the 30 minute shower dissipated. We rushed to the Chettikulam hospital in the Vavuniya district and were greeted with the sight of ambulance after ambulance pulling in, unloading an unfortunate array of patients: an elderly man too weak to walk who has to be taken in with a wheelchair, another woman in a blue nightgown with two young children and another who has been cut on the head. She told us that the wind ripped off the tin sheets that had been serving as their roofs, and the rain had quickly turned to "pannicutti" – hail – that had pelted them relentlessly. We met another tearful woman and her frail mother who had both been electrocuted by an electricity pole which had crashed onto their home. The patients continued piling into the hospital, and people could be heard outside on the phones, breaking down in tears as they recounted what happened to relatives and friends.
The next day, when we enter to visit the camp, the destruction – visible even from the road – is horribly breath-taking up close. Exactly as we were told the previous night, the corrugated metal sheets which had been serving as roofs lie askew everywhere – on the ground, caught in the branches of trees, or collapsed inside the homes. The few belongings of the residents are out, drying underneath the hot sun. "We do not know what will happen today. We have no rice to cook today. All of it got wet and it is in the sun," said one woman, who appeared to still be dazed from the shock.
As we walk around, we see entire houses collapsed in on themselves, and both the church and school in the camp are completely levelled. According to an update by UN OCHA, 16 people received medical treatment from a nearby hospital, while 942 out of 1031 shelters for families living in Zone 1 of the camp, the school and several Sri Lankan Red Cross Health facilities were destroyed or damaged.[2]
We talk to many residents, and it is immediately clear that their frustration and fatigue have reached peak levels.  "See the state in which we are, all the things are lying on the ground. We don't have a second set of clothes to wear," said one woman whose house had been decimated by the strong winds and hail. "We are going through trauma mentally, physically and psychologically," she added tiredly.
Above all, most residents were upset that after almost three years in the camps which had been constructed at the end of the war in May 2009, there were still no signs that they would be able to return to their original homes anytime soon.  "Please take us to our home. Look at the things we have now. We have no place to stay, no clothes to wear, no food to eat," pleaded another resident. "They [government] don't have to take us, we will go. Just let them permit us to go away from here," she said. Similarly, many said that the only assistance they wanted was permission to return to their original villages. This is in line with the formal complaint several people had made to the Sri Lankan Human Rights Commission more than six months ago[3], asking that they be resettled in their original villages.[4] This was echoed by another woman in the camp, who seemed to summarize the feelings of many when she said, "if anyone wants to help, please do one thing: that is, take us to our own home."
So why have these people been unable to return to their homes when most of those formerly interned in Menik Farm already have? With the Sri Lankan government pursuing a program of "speedy resettlement" and proudly claiming in mid-2011 that over 95% of IDPs have been resettled, why not round up the statistic to an even more impressive "100%" by sending home those who clearly hunger for it?
The answer lies in understanding the remaining residents' original hometowns: most of them are from the Puthukudiyirippu and Maritimepattudivisions – the site of the last, infamous battle between the Sri Lankan armed forces and the LTTE. This was where the most intense fighting during the last phase of the war between January and April 2009 took place, and survivors' testimonies given to the Presidential Commission of Inquiry[5] and the conclusions in the final report indicate large numbers of civilian casualties. Similar allegations have also been made by UN experts and local and international rights bodies.[6] The government denies these claims and says that the area is still full of mines which must be cleared before people can come back. However, others contend that the real reason is fear over evidence that might be found on the military's violations of international humanitarian law. "The government is depriving these people from their lands to cover up atrocities committed during the last days of war," MP SivashakthAnanthan told BBC last year[7].
The area continues to be heavily militarized, and a large new military base has even been built in Maritimepattu. And while demining has reportedly started in some of the villages, it has yet to begin in others which continue to be closed even to visits by humanitarian agencies[8]. Instead, the government has announced plans to relocate the remaining IDPs to 600 acres of land cleared from the jungle and re-named as the village of "Kombavil". Not only is there almost no infrastructure here, but this would mean the loss of many of the residents' traditional livelihoods such as fishing – poor compensation for those who have suffered not only the loss of loved ones and property during the war, but also multiple displacements and almost three years in a make-shift camp.
Back at the destroyed camp, we learned that earlier the same morning, the industries and commerce minister, Rishad Bathiudeen, had also paid a visit to the site. Upon his arrival, bombarded by residents' desperate pleas to finally be allowed to return to their homes, he responded that he had only come to see what could be done to help them after the storm and ordered, "don't try and turn this into a political issue". Unfortunately, what Mr. Bathiudeen does not seem to know or acknowledge is that the reason for not allowing these people to return to their villages for almost three years is a political decision.
"They [government] promised to take us to our place within 188 days. We are here more than three years. When we protest they ask us whether we are LTTE supporters. How long can we survive in this situation?" asked a resident. A valid question indeed – and one that deserves an answer after years of delay.
Statement of the IDPs living in Ananthakumaraswamy IDP Camp, Menik Farm, Cheddikulam
---