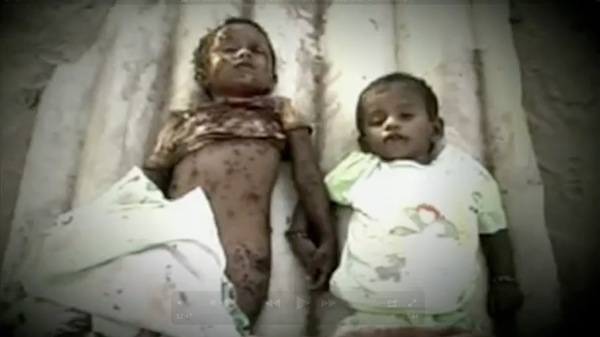 Channel 4's new documentary on Sri Lanka, Sri Lanka's Killing Fields: War Crimes Unpunished aired for the first time in the UK last night. Before it is even available on Channel 4's official web based on-demand service, it's now up on YouTube.
It is likely that the video is soon taken down by Youtube over copyright violation claims, and Channel 4 notes the video will be officially available soon. In a series of tweets to Channel 4, we informed that the Adobe Flash based on-demand service of the channel, not just because it won't play on any Apple iOS device, is far less suitable for the viral dissemination of the video than featuring it, like this unofficial version, on YouTube or Vimeo. Not doing so, and not making the video more easily downloadable, we said severely limited its access within Sri Lanka. We also asked Channel 4 to take a page out of the viral dissemination of KONY 2012. Finally, we inquired whether DVD copies will be made available, since not everyone who can and should see this video, particularly in Sri Lanka, enjoys the broadband access most in the UK do. There is also a remote possibility that Channel 4's website is blocked by ISPs in Sri Lanka, in line with existing blocks of other websites critical of government, in which case featuring the video on YouTube and Vimeo is even more vital.
We have closed comments on this post, since it points to content on the web that will possibly not be available over the long term.
In 2011, Groundviews was the only website, and indeed, news organisation in Sri Lanka to interview Callum Macrae, the director of Channel 4's Sri Lanka's Killing Fields. Over the past year, we've posted a number of articles generating tens of thousands of comments, and read by as many, over the previous Channel 4 video.
We expect the same over the new video, and will open the forum for discussion when articles responding to the new video reach us.
We have also started a Bundlr curation of content on the new Channel 4 documentary. It is embedded below and can be directly accessed here. Over the coming weeks and months, this Bundlr bundle will be continuously updated by us.