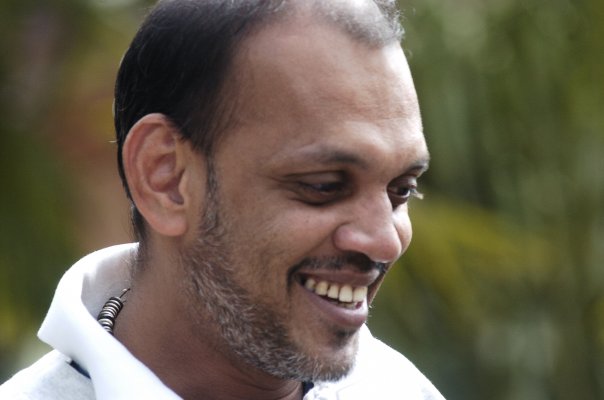 Prior to Nigel's passing everytime I heard a song by ABBA I angrily turned it off, Nigel loved ABBA – if he wasnt singing or dancing along he was playing it at full volume. After Nigel passed, everytime I hear a song by ABBA I crank up the volume and sing with as much gusto as I can muster. This is how I remember him.
Charles Nigel De Silva's life was prematurely ended a year ago at the age of 40. He was a proud Josephian with more extra curricular activities than academic achievements. After leaving school he travelled the world on a cruiseliner working as a chef. He was young, vibrant and living out every opportunity he had. A horrific experience, better left  unsaid, resulted in Nigel later testing as HIV positive around 1998. His life then began to change at a frantic pace. He lost his job, family ties, emotional support and even the roof over his head. There was a time he lived on the streets, passing one day at a time, in absolute despair.
Nigel began effecting change when he began positive speaking. His personal story, brutal honestly and infectious personality were a cool recipe for effective communication to audiences that I have seen rapt with attention, often with tears rolling down their faces promising Nigel they would carry his story forward. He soon began to work solely on HIV/AIDS awareness and prevention programmes for various organisations and became a well-respected and trusted colleague within the movement.  He became an asset, a confidante, a much needed out-spoken voice that represented the Sri Lankan Gay HIV positive man.
I met Nigel when all this experience was behind him.  He had found a small place to live and had begun working with EQUAL GROUND, leading their HIV/AIDS prevention programmes targeted at the queer community in Sri Lanka. He was wildly passionate about his work and was instrumental in setting up the foundations of many of the organisation's active programmes today. His brainchild the counselling helpline is to date the only exclusively queer helpline operated in Sri Lanka by operators who are specifically equipped to deal with issues related to sexual orientation and gender identity. Nigel spent much of his time training the counsellors, recruiting them and teaching everyone in painstaking detail just how important a gesture of support to those confused about their sexuality really is.
Nigel signed his emails off "yours positively" and chuckled away at those who didnt understand why, and went so far as to celebrate, each year, the day he found out he was positive. He said there is no other way to look at it except from a positive angle. He chose to do this mostly I feel to set an example to the PLHIV and HIV movement that at the time he felt engaged in too much guilt and pity. He rejected pity and demanded compassion, understanding and REAL care and support.
At the same time, Nigel was accutely aware of death. He didnt fear death itself but rather the uphill battle he would face. Sometimes I smile at how cheekily he escaped what I feel he feared the most – dying of AIDS.  Nigel lived his life without medication, no exercise, excessive amounts of Pall Mall cigarettes, and a healthy diet of spice and more spice. He didn't eat any fruit. He maintained what his doctors called 'healthy' relative to his HIV status. He visited the clinic on a monthly basis and always came back smiling with his rations that he promtly distributed to those around him and in need. He was a living example of how HIV was no longer a death sentence. Nigel sometimes spoke of young men like himself that he had buried – he bathed and fed these young men and wept like a father when he buried them. He did this in dignified silence. A dignified silence many did not afford him when he passed, albeit not of HIV or AIDS.
There is enough discourse these days about 'champions', 'leaders', 'heroes' and 'role models'. Nigel was perhaps more than any of these words can describe. But what i remember and admire about him the most is his spirit of resilience. He had more reasons than all of us to be an angry, deperate, ugly and broken person. He chose not to. He used every negative energy thrown at him as a bouncing board for something inately good. Each one with more finesse than the next. His open heart guaranteed this.
It is often easy to remember Nigey. Most remember him for his work within the HIV/AIDS movement, the positive speaking he did or because they had seen him perform and just had to know if it was a man or a woman. What I remember is that he smelled like eau de cologne in the mornings, he wanted everyone to have a good morning when he greeted them, he said bless you everytime I sneezed. He gave massages if you looked tired, he told the most horrifying ghost stories, he reprimanded wasting food, he listened to aretha franklin, latin love songs and ABBA on loop. He was probably the only activist that hated the word 'empower'. He was forgiving, and he loved unconditionally. He spoke in a cacophony of sinhala and english, always gesticulating wildly – even the most morose of people had no choice but to warm upto him. He took audible breaths in between ill-timed jokes, each one dripping with more vulgarity than the next. He was gifted in almost every creative aspect, constantly morphing from activist, counsellor, drag queen, artist, positive speaker, flamboyant gay man, doctor and chef! This was the very essence of Nigey, he was no jack of all trades but a true queen of all of our hearts.
I have a foolish fear that he will be forgotten, that his life and premature death had no significance. The two short years I knew Nigel were wrapped up in so much love, laughter and unique friendship that he is impossible to forget. Nigey undoubtedly touched the hearts and minds of many of us, and I believe that people of such resilience are few and far between.  If ever in your lifetime you have the opportunity to be around someone like Nigey you are lucky to learn from them as I have, to realise that we are capable of – insurmountable strength and love.
Nigey I hope you are boogying in heaven in the most garrish pair of platforms, the most lavish pair of wings, dancing to ABBA, and painting rainbows where we never thought we would see them.