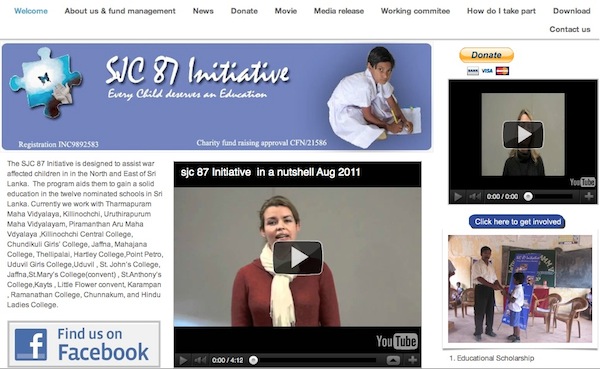 Editors note: Also read Reply to the Rebuttal of my article by the SJC87 Initiative by Muttukrishna Sarvananthan.
###
A Response by the SJC87 Working committee to Mr. M. Sarvananthan's 'research note,' titled Outing a Counterfeit Guerrilla: A tale of lies by Tamil Tigress by Niromi de Soyza published on Groundviews (19 Nov, 2011) and Sunday Leader (20 Nov 2011).

Mr. Sarvananthan's so called 'research note' has seriously undermined the reputation of the SJC87 initiative and its ability to function as a non-political, non-profit charity organization purely involved in humanitarian efforts. His baseless accusations have compelled us to bring to the attention of your readers and the public the facts about the SJC87 initiative and defend the name and work of our organization against this defamation.
History of the SJC87 Scholarship Initiative
In the early 1990s several like minded old boys of Jaffna St. John's College class of 1987 (SJC87) who were scattered across the world came together to form the SJC87 to help their alma mater. The colossal impact of the Tsunami in 2004 influenced the SJC87 to move beyond merely helping its alma mater to also assist those in their community who were affected by the great tragedy. The final stages of the military conflict in Sri Lanka made SJC87 realize the challenges that had to be met to assist especially children who had lost one or both parents and other family members during the conflict. In June 2009 SJC87 started the scholarship initiative (SJC87 Initiative) to help children who were victims of the three decades long civil war. We are registered to function as an organization involved in charitable activities in Australia and Sri Lanka.
The initiative is run mostly by Sri Lankans but a few non-Sri Lankans periodically volunteer their time. The SJC87 Initiative is a non-political, non-profit charity organization that believes in empowering children through education. The donors of the initiative are mainly Sri Lankans who directly or indirectly experienced the effects of the civil war in their country and A few non-Sri Lankans who are passionate about helping children affected by the civil war. Niromi de Soyza is one of the donors of the initiative.
The SJC87 Initiative promotes holistic educational development of children and youth through the following programs: Education/Accommodation sponsorship of children who lost one or both parents during the civil war; vocational training for youth with incomplete formal education; English language training for teachers and students; Information and Computer Technology program; Art Therapy (Art of Hope) and Playwright Award Program; Infrastructure Development in schools; and Betterment Programs, which includes motivational sessions, agricultural and nutritious meals programs, procurement of sports/educational equipment, excursions for school children and exam preparation workshops. In the last two years hundreds of children have been helped by these programs. Over 150 children have been awarded education/accommodation sponsorship.
Mr. Sarvananthan disregarded all this. Indeed, the abysmal quality of "research" by the author is illustrated by the several errors in his "note" and the numerous false conclusions drawn, which are discussed below:
The crucial link between the subject of Mr. Sarvananthan's article and the SJC87 Initiative is what he heard Niromi "claimed her alma mater is" and this had provoked his "intense curiosity" and "profound suspicion". And he goes on to make one of the true statements which are only a few in the entire article that "SJC is the acronym of St. John's College (Jaffna) which is a boys-only school and therefore cannot be an alma mater of Niromi de Soyza, who is a woman." But this doesn't make his point right because of what he claims to have heard Niromi say about her school is totally incorrect. The author is either intentionally misquoting Niromi or he misheard what she said. Friends of SJC87 Initiative who also attended the event heard Niromi say that she would be donating part of the proceeds of her books sale through her alma mater and a charity called SJC87 Initiative. The author who claims to have read the book by Niromi in "its entirety under scrutiny" should know that in her book Niromi claims she attended two different girls-only schools in Jaffna; although, without revealing the names of the schools. Common sense should guide us here as to why a highly acclaimed author whose book is on the list of '50 books you can't put down' in the Australian Government's "Get Reading!" 2011 campaign, would lie and contradict her memoir at a literary festival event celebrating the book's success. But the supposedly erudite Mr. Sarvananthan is lead to mere speculations and fantasies and he starts off defaming SJC87 Initiative without any grounds.
The author, without any evidence whatsoever, claims that "it is highly unlikely that this purported charity is providing scholarships to children of the schools in Kilinochchi district mentioned on the website" and "the pictures of classrooms in the beneficiary schools on the website could not have been taken in the past two years." These are mere speculations. By writing a "research note" during his short stint in Australia without trying to find facts or contacting the schools in Sri Lanka, the author is obviously making false statements. The author claims to be the Principal Researcher at Point Pedro Institute of Development, Point Pedro, Sri Lanka. But he apparently failed to even contact the renowned Hartley College in Point Pedro, which is one of the partner schools of SJC87 programs. All the photographs published on our website were taken by SJC87 local staff and other volunteers and donors who visit Sri Lanka on a regular basis to evaluate the progress of our initiatives, and they were taken during the last two years. Also, SJC87 newsletters are available online to be downloaded and they evidence photographs taken with members of the SJC87 working committee, school principals and staff [1]. The author either failed to research these documents online or he simply could not recognize the names and faces of prominent school principals in Jaffna district, including the one from Point Pedro!
The author claims that the working committee members have used mobile numbers and email addresses and that this has raised his suspicion. This is factually incorrect because there are both landlines phone numbers and mobile phone numbers [2]. The author obviously lacks the knowledge to recognize the difference, given that there is hardly any distinction anymore in North America between mobile phone numbers and landline phone numbers. In this day and age people on the go prefer to use mobile phone numbers both in Sri Lanka and around the world. It is stunning to realize that the Principal Researcher of the Point Pedro Institute of Development with a supposed Ph.D. from Wales was not aware enough to send an email inquiry or a phone call to at least one of the eleven working committee members listed.
The author claims that "an active member of the St. John's College (SJC) Old Boys Association (OBA) could not recognize any of the three working committee members living in Australia and New Zealand." The fact, however, is that the author could not identify this 'active member of OBA' when a friend of SJC87 Initiative contacted the author over phone (Nov.23rd ~8.30 A.M) inquire about this claim.
The author also claims that not using a native Sri Lankan speaker to promote the charity suggests that the organization is targeting Australians and not the Sri Lankan Diaspora. He fails to understand that thousands of Sri Lankans now living overseas try their best to speak using native accents as part of their assimilation process and that for the second generation Sri Lankans living in foreign states their natural accent is the native accent!. Further, our charity invites donors and volunteers, regardless of their nationality or background. Our volunteers are from all parts of the world.
The author fantasizes that the SJC87 Initiative website must have been created after July 2011, when Niromi released her book. In fact, the website was up and running from June 2009, following the end of the military conflict in Sri Lanka. A domain search online would reveal real facts and one of the comments posted by jaffnaboy [3] has done this proving the author's inaptitude in doing research online–something as basic as a Google search, let alone a domain search, would have relieved.
Furthermore, the author equates the SJC87 Initiative's promotional efforts with LTTE fund raising methods simply because our promotional video is done by native Australian – This is a serious accusation that we do not take lightly. We reiterate that all funds go directly towards the education of war-affected children. These false accusations made by Mr M. Sarvananthan, put in jeopardy the future of these children who have already undergone immense hardship. This shows the author's irresponsibility, and his eagerness and hypocrisy in promoting himself at the expense of innocent children and his own community in Sri Lanka.
It is inexplicable as to why the author questions whether four of our working committee members do have doctoral qualifications. Is this due to his own insecurities based on his lack of qualifications to engage in decent research or his inability to comprehend that dozens of Sri Lankans who have settled abroad now have doctorates in all sorts of disciplines?
From our assessment of this 'research note' we cannot help but conclude that it is nothing but a slanderous report written with dubious motives and malice. Further, the conclusions drawn by the author evidences neither journalistic merit nor academic rigor. He may have, for whatever reason, sought to ruin our charity organization's reputation and compromised the safety of our members and put the future of the war-affected children in trouble. We insist that the editors of the Groundviews to refrain from publishing unfounded defamatory writings as exposé. We want to thank our well-wishers and donors for their support and know that the SJC87 Initiative will continue its charity work to help the children affected by the war.
We also want the readers to know that we are currently receiving legal advice to seek reparation for the baseless smear attack on our humanitarian work by Mr. Muttukrishna Sarvananthan.
Websites Cited
1.  "SJC87 Initiative News Letter." SJC87 Initiative. Version June 2010., <www.sjc87scholarship.org/Download_files/newsletter_June_2010.pdf>.
2.  "Working commitee." SJC87 Initiative. <http://www.sjc87scholarship.org/Working_commitee.html>.
3.  "Outing a Counterfeit Guerrilla: A tale of lies by Tamil Tigress Niromi de Soyza  – Groundviews." <http://groundviews.org/2011/11/19/outing-a-counterfeit-guerrilla-a-tale-of-lies-by-tamil-tigress-niromi-de-soyza/#_edn5>