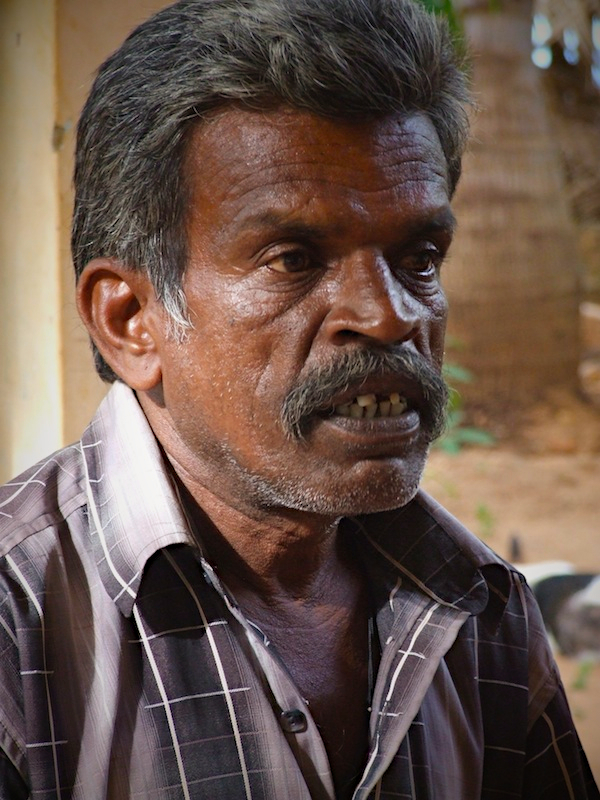 Jaffna: Two years ago, Sri Lanka's three decade long war ended in May 2009. But, those who witnessed the brutality of the war are still suffering and struggling to forget the traumatic past.
Apputhurai Arumainathan (53) is one among many. He lost his wife Gunaambaal Arumainathan (50) in the last phase of the war in Vanni.
"My wife was killed in a shell attack, when she went to the shop on 28th of April 2009 in Mullivaaikkaal. She got injured in her waist, and died on the spot" says Apputhurai Arumainathan with pain in his heart.
Like many others Apputhurai Arumainathan too got displaced many times, and spent time in the internally displaced camp in Vavuniya. Finally, he managed to physically relocate himself in Jaffna peninsula with his other relatives. But he still struggles to forget his traumatic memories.
Roman Catholic priest and a trained psychologist Father Damian Soosaipillai is helping the war affected children and widows in Jaffna. The dedicated service provided by the team is to help them adjust to normal life after the traumatic experience.
"Thirty years of civil war has caused tremendous problems both physically and psychologically for the children as well as for the adults. The innocent civilians became the victims of this war. These civilians have already had many displacements, and above all they had been hit very badly by natural as well as manmade disasters. The fierce fighting has caused severe psychological damage and scarred mind" says Reverend Father Damian Soosaipillai.
Father Damian Soosaipillai and his team of eight counselors work in 21 villages in Jaffna. Father Damian Soosaipillai has been involved with psycho ~ social activities in the Jaffna Peninsula since 1980s.
"I am a farmer and have been living in Maankulam for more than 30 years. I have a lot of farm lands there on Mallaavi road in Maankulam. I visited twice after the war ended in 2009. But, I am unable to go and live there permanently, because memories of my beloved wife always keep bothering my mind and thoughts. Both of us led a blessed life together. We never fought. I am unable to forget the wonderful memories of our wedded life. I always treasure them. She took care of me like a mother. I do not even know how to make a cup of tea. Now, I feel terribly lost and helpless without my wife. I will not be able to live peacefully without her. Everyday, I am struggling to come to terms with the reality, but I fail. War is cruel. Loss, displacement and trauma continued in our lives. On the other hand, the survivors are struggling to lead a life even after the war ended" laments Apputhurai Arumainathan.
There is a need for more counseling for the survivors of the war in Sri Lanka.
"During the past few months people who came for psychological assistance including children have suffered much trauma and other symptoms like PTSD ~ Post Traumatic Stress Disorder such as grief, loss, depression, anxiety, psychosomatic illness sleep disorder, nightmare, starling for sudden noises, loss of interest, trust in the future irritability, poor concentration, poor memory aggressiveness. This evidence shows that there is an urgent need for psychological assistance in the North" further says Reverend Father Damian Soosaipillai.