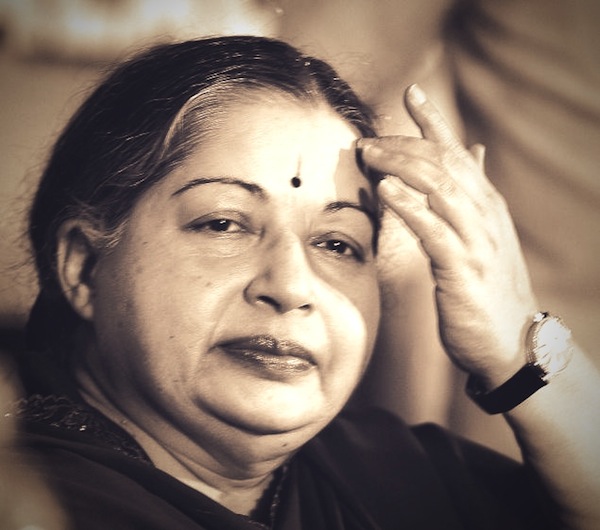 "Declare Rajapakse a war criminal: Jayalalithaa tells Centre" was a banner headline on 13 Friday in the "Indian Express", following AIADMK leader Jayalalithaa's march to victory, at the Tamil Nadu assembly elections concluded last week. No analyst expected the DMK-Congress alliance in TN to be so unmercifully smothered, at this elections. Never has the DMK fallen to third place in assembly elections ever before. Not even after MGR created the AIADMK in 1972 and turned himself into a political demigod in Tamil Nadu politics.
Jayalalithaa and LTTE
MGR's brightest co-star for long with a continuing run of box office hits and a popular playback singer too, Jayalalithaa Jayaram though qualified herself to lead the AIADMK, over riding MGR's wife Janaki, after MGR's demise in 1987 December, wasn't beyond MGR in popularity. Yes, she took total control of the party as its revolutionary "Thalaivi", but was never expected to drub "Kalaignar" Muthuvel Karunanidhi, the veteran and maestro in political manipulation, the way she did this assembly election.
Jayalalithaa, quite contrary to her mentor MGR, who had very close personal links with Prabhakaran, was a well known "anti Prabhakaran" politician in Tamil Nadu. She was quite open in her statements against the LTTE, having enjoyed a resounding victory in coalition with the Congress(I) in 1991 TN State assembly elections. She bagged 224 out of the 234 seats. That was a sympathy wave after the assassination of Rajiv Gandhi. Karunanidhi's sympathy for the LTTE was then considered the fault line in DMK politics. This 2011 assembly elections was the first TN State assembly election that had no LTTE factor, but a Sri Lankan Tamil tragedy that carried its agony across the Palk Straits. An agony that for the first time in its history saw 02 self immolations, in solidarity with the SL Tamil people.
Karunanidhi and his family stakes
Was that Tamil sentiment, the aggrieved factor which brought Jayalalitha to power in TN this time ? Certainly not. That was not a decisive factor in TN politics during this assembly elections. It was family politics and mega corruption that decided TN politics this time. Tamil Nadu was Karunanidhi's fiefdom. That was his treasure trove which allowed him to appease his friction ridden large family brood. "Karunanidhies" as an extended and branched out large family, had to have complete empires of their own. Karunanidhi's tenure as Chief Minister of TN and his life as an octogenarian  could only compromise by giving his high appetite, power hungry large brood, adequate access to power in Delhi and Chennai Centres, to keep infighting at its lowest manageable level.
During the past 07 years, having an alliance with the Congress allowed the DMK Supremo to provide for his brood what they wanted but not what the TN middle class wanted as clean, decent, democratic life with development. The growing middle class in India was becoming more conscious of a decent, quality life. They were all educated, professionally employed and were open to the Western world than those previous generations under Nehru and Indira Gandhi. Theirs was a modern culture with new ethics and values in life. India was thus a growing and expanding contradiction. The neo liberal economy after 1979, allowed for massive growth in the corporate sector that created a thick periphery of middle class life, leaving a much larger, poor India, below that growth.
Rich India, corruption and DMK
This new rich India in the world's largest democracy, is corrupt inside out and its influence trickles into Indian life, steady and sure. Two most recent scandals, the "Commonwealth Games 2010" and the "2G Spectrum Scam" alone speak out on that. This new rich India brought criminals into politics and dented systems in their favour. The Indian Lok Sabha by itself is proof with increased numbers of Lok Sabha members with criminal records in 2009, than in 2004. The National Election Watch (NEW) scanning official affidavits of 533 of the 541 MPs elected to the 15th Lok Sabha in May, 2009 says, 150 of them have criminal charges against them and 72 have serious charges amounting to murder, attempted murder and even extortion. The remaining 08 MPs whose affidavits have not been available for public scrutiny are all from Tamil Nadu (TN).
DMK family leadership hitched into this politically corrupt and criminalised Indian corporate world, while nursing the poor TN constituency with State funds. They doled out 16 million colour TV sets free, at a cost of 39,600 million Indian rupees for the State government, as an election promise in 2006. That election in 2006, the DMK promised free electricity, waiving off of co-operative loans given to farmers, free gas stoves to all women, that had a train load of 36 such State donations, if voted to power. This year, the DMK election manifesto had free laptops for school children and rice at a subsidised price of 02 Indian rupees along with other promises. And they launched a "cash for vote" project too, during elections.
Seven years of UPF rule at the centre with the DMK as an ally and 05 years of DMK rule in TN, saw the biggest financial scam ever in the history of India, now popularly talked of as the "2G Spectrum Scam". The estimated fraud runs to around 39.2 billion US dollars, a sum equivalent to about 03 times Sri Lanka's national annual budget. The "2G Spectrum Scam" has landed DMK Supremo's Lok Sabha elect nominee A. Raja as Union Minister of  IT and Communication and his daughter Rajya Sabha MP Kanimozhi as main suspects along with corporate sector allies and bureaucrats. All except Kanimozhi whose bail plea remains to be announced on 20 May, are remanded for further investigations.
The 2G Spectrum Scam is all about DMK and the Karunanidhi family. Raja whose tenure as minister of IT and Communication put him in charge of Telecom and is investigated for the 2G Scam was again lobbied to be appointed as minister in charge of Telecom, after the 2009 May Lok Sabha elections. The lobby had included some members of the corporate world and implicates popular media personality Barka Dutt of NDTV, who is said to have assisted Niira Radia with political facilitation for lobbying. Karunanidhi family, high profiles in the corporate world and TN State government under DMK, have all been seeping in massive corruptions that ran right to the heart of TN life.
Anti-corruption and TN Middle class
This corruption was what stirred the TN voter this time. There were new civil society initiatives by middle class professionals, social activists and new youth organisations that came up to monitor election fraud. Most such civil society initiatives were urban middle class initiatives that challenged the integrity of the DMK leadership. Jayalalithaa's strength and her main campaign plank against DMK and Karunanidhi was this anti corruption lobby. She pledged to remove all debris, after demolishing the DMK mansion of corruption. Her stand against corruption, despite she been accused of corruption with 09 cases against her when she was previously the CM in TN, gave the civil society campaign the political strength to take the DMK and its father figure, Karunanidhi to task.
Jayalalithaa and SL Tamils
While that campaign sealed off the results in TN assembly elections, Jayalalithaa the shrewd and seasoned politician she is, crowned her campaign by reaching out to the Tamil sentiments too. She demanded 02 well articulated interventions from the Congress-DMK alliance in the Centre. One, to positively respond to the UN Advisory Panel Report and support an investigation on accountability and crimes committed during the war and two, declare an aid embargo on SL, until the grievances of the Tamil people are fully met with. She knew quite well, the Central government of Congress-DMK partners can not meet such demands, having played a very covert role in supporting the Rajapaksa government's war against the LTTE. Such turn around for the two is virtually impossible and thus gave Jayalalitha the throne and the crown both, in TN.
Her politics, whether she intended or not, has now given a new life to Tamil nationalist politics in TN. Her stand galvanised small Tamil groups across TN, into activism during the election time. Groups like "We Thamil" with celebrity names like Seiman on stage, who were cowed down by the TN CID and "Q Branch" sleuths under the DMK rule, would now surface with new vigour and with a binding on the new CM to honour her own demands. Its a common practice in TN that all major administrative positions including those in the police get a complete overhaul with every change of State governments. That would give, at least in the first year or two, a wider space for agitations, campaigns and lobbying in TN, on the SL issue. It won't be easy for Jayalalithaa to leave them and go.
Delhi –  Colombo axis and convalescing DMK
With pressure building up in TN on the SL Tamil issue and Jayalalithaa compelled to maintain heat on the Delhi administration over the SL Tamil issue, more because that would have the Centre reaching out to her for compromise and in turn give her leverage to deal with the now mutilated and discredited DMK, Colombo would have to feel the heat. For the DMK, this election would leave Karunanidhi topping 87 years in June to seriously ponder on his final exit from active politics.
It would give heir apparent M.K. Stalin the space to take over the DMK, but family disputes would not make it that easy with especially M.K. Aligiri also wanting to enter State politics, a turf that was left for Stalin as Deputy Chief Minister. With Raja and Kanimozhi now in deep waters, Karunanidhi would still be wanting to intervene in soothing family disputes that had always been issues for DMK. While having family disputes, the DMK would still have to take a position on Jayalalithaa's demands on the SL Tamil issue, that would once again emerge as a bargaining slot in Indian politics.
That basically gives Jayalalithaa a free hand, but, Delhi can not afford to allow TN to be totally controlled by Jayalalithaa and her AIADMK. They would have to carve out space for Congress(I) in gaining a political foot hold in TN. Whether Rahul who blundered very much in Kerala assembly elections this time, but still has his say in State politics, would ditch DMK to compromise with Jayalalithaa is one that needs to be watched.
What can the Rajapaksas in Colombo do in such hostile situation ? One, it could compromise with Delhi and live on its mercy. But what compromise Delhi would have with Jayalalitha is also uncertain, except for the single consolation that Delhi can not give into Jayalalitha, lock stock and barrel, on the SL war issue. It has many war porns that would be too lewd for others to see. But a more safer and a firmer terrain for SL regime to tread is to compromise with the TNA as a pragmatic leadership. To negotiate with the TNA on Tamil political issues with a more democratic and sincere agenda and perhaps agree to have the APRC final report out for discussion, as the TNA was no party to that.
The Rajapaksas need to know that DMK and Karunanidhi were at one time the all powerful family dynasty, the  kleptomaniacs in Tamil Nadu life. It took only a single slogan to leave them battered and bruised like a limbless Gulliver. Politics and repressive power over a deceived people, have always been temporary and pretty dangerous at the end.