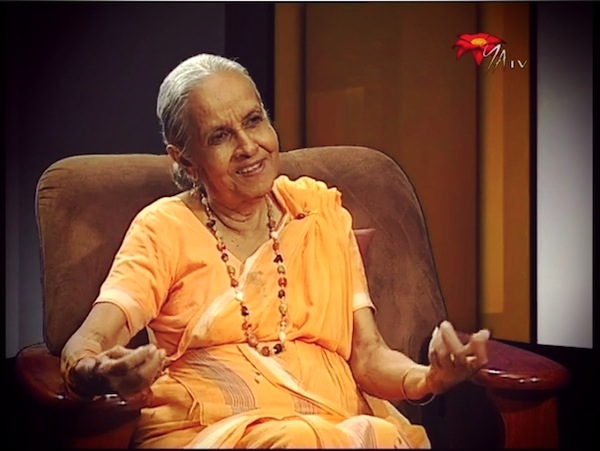 Iranganie Serasinghe needs no introduction to many Sri Lankans. For decades she has graced stage, cinema and televisions with characters indelibly etched in memory. I grew up with Iranganie playing Sudu Hamine in Yashorawaya as staple viewing, as much as her role in Doo Daruwo which over 5 years was an epic narrative played out on our televisions every week.
Iraganie is part of the old guard of actors, trained in English method acting, starting out in theatre and then branching out to cinema and television. Her entry into cinema was with Rekava, the first Sinhalese film which was fully shot in Ceylon, the first in the country to be shot outdoors and to date, the only Sri-Lankan film to be nominated for the coveted Palme d'Or at Cannes.
Film-making was fundamentally different over 50 years ago, and Iranganie begins our conversation by recalling what it was like to be part of Rekava directed by the famed Lester James Peiris. We talk about her travails of working in Sinhala cinema and speaking Sinhala, given that it was a very distant second language for her. She spoke of how her rural upbringing helped her to learn the expressions and their delivery, and also flags the Sinhala Only policy as one that divided our people, "a tragedy of Sri Lanka".
Iranganie speaks of her childhood, her university years, the relationship she had with her father and her background in theatre. There is a wonderful moment in the conversation when she is surprised, after a brief pause, when I note that she is the last surviving actor of the first production at the Lionel Wendt in 1953, Maxim Gorky's 'The Lower Depths' produced by E. F. C. Ludowyk. In her inimitable style, she laments that at one stage, theatre was so bad in Sri Lanka that she stopped going for it, and that now, even though she loves theatre, her inability to drive around in the evenings makes it difficult for her to see productions.
We talk at length about Iranganie's commitment to the preservation of the environment. She is a founding member of Ruk Rakaganno and there is another wonderful moment when she, with just a half sentence and glance, speaks volumes about the collapse of the rule of law in relation to the manner in which the environment is being placed at risk and degraded.
Finally we talk about Iranganie's sources of inspiration, for her work in cinema in particular. She speaks of Flora Robson and her meeting with Sybil Thorndike.
But the real bombshell in the interview Iranganie saves for last, when she speaks of the incredible devastation of the environment in Hambantota (the electoral district of Mahinda Rajapaksa), where over 6,000 acres of forest land are earmarked to be cleared. It is a powerful lamentation and brings to a poignant end a conversation with someone who is a living treasure, a Sri Lankan of a mould we sadly do not find anymore. Iranganie truly is sui generis.